Caractérisation Physico-Chimique Des Lixiviats Des Décharges : Cas De La Décharge Non Contrôlée De Niamey 2000 (Niamey-Niger)
Moumouni Wage Abdoul Razak

Laboratoire Valorisation de Matériaux, Eaux et Environnement, Faculté des Sciences et Techniques Université Abdou Moumouni de Niamey (Niger)

Zanguina Adamou

Laboratoire Valorisation de Matériaux, Eaux et Environnement, Faculté des Sciences et Techniques Université Abdou Moumouni de Niamey (Niger)
Keywords:
Décharge, Lixiviat, Niamey 2000, Paramètres Physico-Chimiques
Abstract
Les lixiviats produits au niveau des décharges constituent un grand danger pour l'environnement. Dans le but de répondre aux questions d'un environnement sain, une analyse physico-chimique des lixiviats a été faite. Les prélèvements ont été effectués entre 13 et 16 heures au niveau de différents endroits de la décharge. Les paramètres déterminés sont : la température, le pH, la conductivité électrique, l'oxygène dissous, les matières en suspension, la turbidité, les cations (sodium, potassium, calcium, magnésium et ammonium), les anions (sulfate, chlorure, nitrate, ortho-phosphates et bicarbonate), les éléments traces métalliques (fer, cuivre, le chrome, le cadmium, le nickel, le cobalt et le zinc) par un spectrophotomètre DR 3800 de marque Hach, la DBO5 et la DCO. Les résultats des analyses montrent que les lixiviats produits à la décharge de Niamey 2000 sont basiques (pH minimal 7,6), très chargés en matières en suspension (590mg/L), très turbides (297NTU) et très pollués (oxygène dissous inférieur à 3mg/L). La pollution minérale est caractérisée par une forte conductivité électrique moyenne de 2441,5 μS/cm, une forte concentration en chlore (1276,5 mg/L) et en orthophosphates (3,31mg/L). La charge organique est traduite par une DCO moyenne de 2248mgO2/L et une DBO5 moyenne de 530mgO2/L. Les lixiviats étudiés sont caractérisés par des concentrations élevées en élément fer, zinc, cadmium et cuivre qui sont respectivement en mg/L de 9,26 ; 8,75 ; 0,19 et 2,3. Les éléments comme le nickel et le chrome sont présents à des teneurs inférieures aux limites fixées par la norme nigérienne de rejet.
Landfill leachate is a great danger to the environment. In order to answer the questions of a healthy environment, the leachates produced at the Niamey 2000 landfill site were characterized. Samples were taken at various points around 1 and 4 o'clock in the landfill. The parameters determined are: temperature, pH, electrical conductivity, dissolved oxygen, suspended solids, turbidity, cations (sodium, potassium, calcium, magnesium and ammonium), anions (sulfate, chloride, nitrate) , ortho-phosphates and bicarbonate), metallic trace elements (iron, copper, chromium, cadmium, nickel, cobalt and zinc) by a Hach DR 3800 spectrophotometer, BOD5 and COD. The results of the analyzes show that the leachates produced at the Niamey 2000 landfill are basic (minimum pH 7.6), highly charged with suspended matter (590mg / L), very turbid (297NTU) and highly polluted (dissolved oxygen less than 3mg / L). The mineral pollution is characterized by a high average electrical conductivity of 2441.5 μS / cm, a high concentration of chlorine (1276.5 mg / L) and orthophosphates (3.31 mg / L). The organic load is translated by an average COD of 2248mgO2 / L and an average BOD5 of 530mgO2 / L. These leachates are characterized by high concentrations of iron, zinc, cadmium and copper which are respectively in mg / L of 9.26; 8.75; 0.19 and 2.3. Elements such as nickel and chromium are present at levels below the limits set by the Nigerian release standard.
Downloads
Download data is not yet available.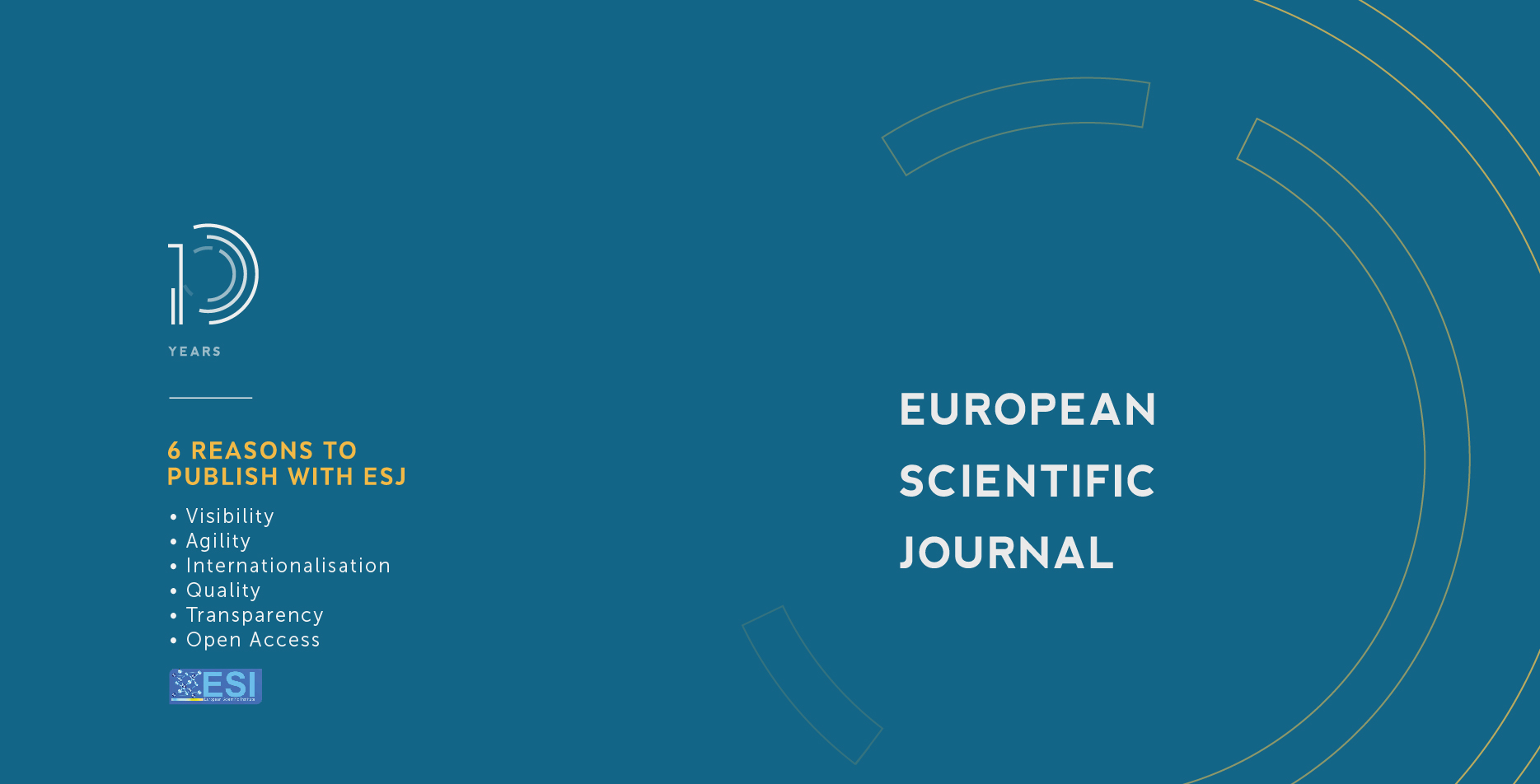 How to Cite
Razak, M. W. A., & Adamou, Z. (2020). Caractérisation Physico-Chimique Des Lixiviats Des Décharges : Cas De La Décharge Non Contrôlée De Niamey 2000 (Niamey-Niger). European Scientific Journal, ESJ, 16(9), 42. https://doi.org/10.19044/esj.2020.v16n9p42
Copyright (c) 2020 Moumouni Wage Abdoul Razak, Zanguina Adamou
This work is licensed under a Creative Commons Attribution-NonCommercial-NoDerivatives 4.0 International License.