Chemical Characterization of the Essential Oil of Syzygium Aromaticum and its Antimicrobial Activity Against A Probiotic Lactobacillus Acidophilus
Jhunior Abrahan Marcía Fuentes

National University of Agriculture, Faculty of Technological Sciences, Honduras

Ismael Montero Fernandez

University of Extremadura, Departament of Organic and Inorganic Chemistry, Spain

Ricardo Santos Aleman

Louisiana State University Agricultural Center, School of Nutrition and Food Science

Selvin Antonio Saravia Maldonado

National University of Agriculture, Faculty of Earth Sciences and Conservation, Honduras

Leonardo Flores Roger

National University of Agriculture, Faculty of Technological Sciences, Honduras

Nelys Herrera Funez

National University of Agriculture, Faculty of Sciences, Honduras

Leonardo Antonio Chavarría

National University of Engineering, Faculty of Chemical Engineering, Nicaragua

Aryana Kayanush

Louisiana State University Agricultural Center, School of Nutrition and Food Science
Keywords:
Clove, Natural Products, Antimicrobial, Eugenol
Abstract
Eugenol is the main constituent of clove (Syzygium aromaticum) essential oil. It is liquid and oily in consistency, light yellow, with a characteristic aroma, slightly soluble in water and soluble in alcohol. In addition, it is considered an essential oil of high antibacterial, antifungal, and antioxidant capability. Studies related to its effect on probiotic bacteria are scanty. The objective of this research was to determine the chemical composition of clove essential oil and the antimicrobial influence of clove extract from clove on the growth of Lactobacillus acidophillus. Among the main constituents in clove essential oil, eugenol stands out with 79.47%, β- cariophilene with 7.67% and α-humulene with 2.65%. L. acidophilus was inoculated in MRS Sorbitol agar containing 0%, 0.1, 0.50, 1, 2 and 3% essential oil and incubated for 0, 24 and 48 h. Pour plates were incubated anaerobically at 35°C ± 1°C for 48 h. A colony counter was used to enumerate bacteria. The clove extract showed an inhibitory effect against L. acidophillus from concentrations greater than 1%, but at concentration less than 1% essential oil did not adversely influence growth of L. acidophilus. The inoculation time at 0 h showed significantly highest counts compared to 24 h and 48 h which had counts not significantly different from each other. Although counts were lowered, L acidophilus survived the 48 h exposure. Clove essential oil use and L. acidophilus probiotic benefit can both be had when essential is used at less than 1%.
Downloads
Download data is not yet available.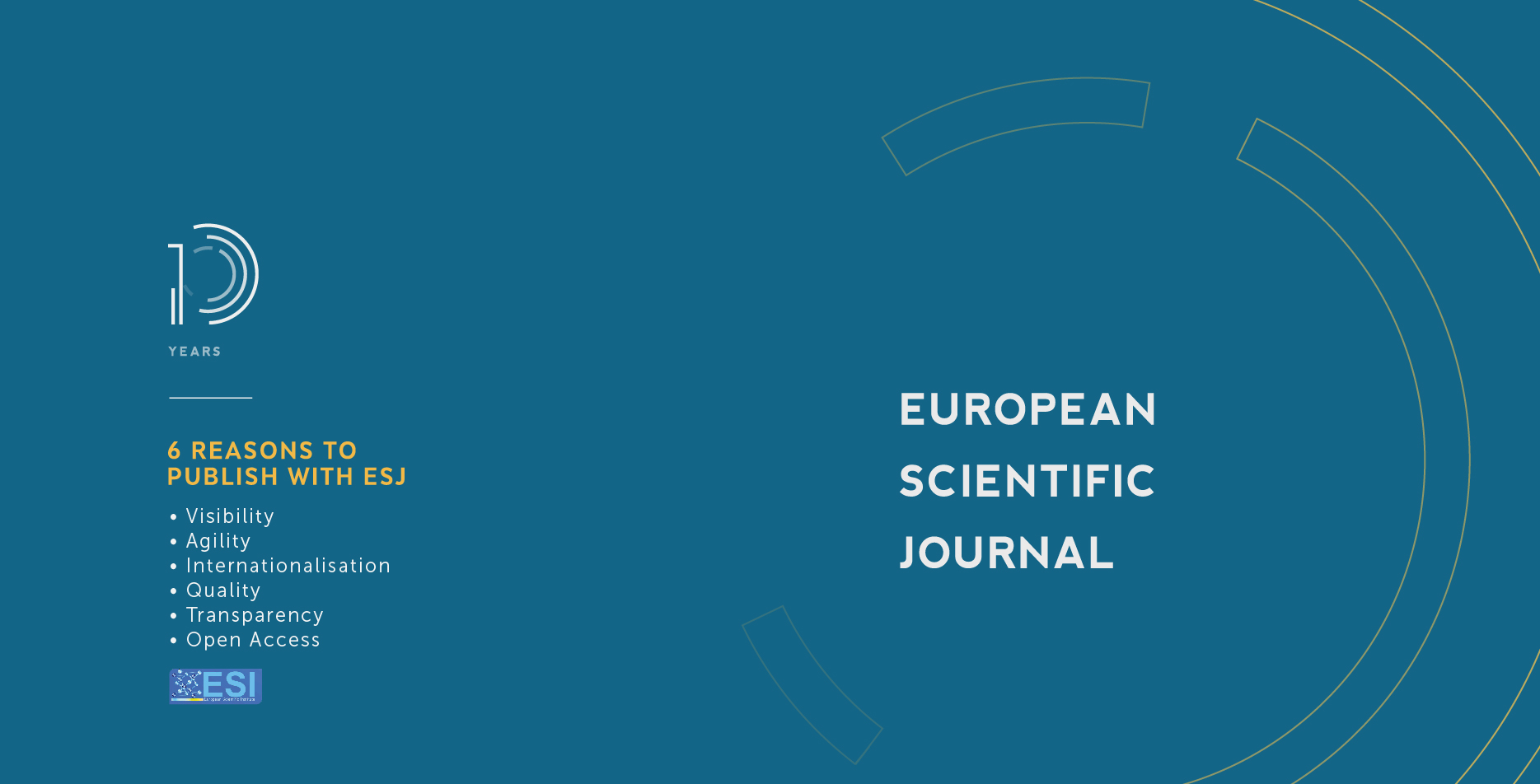 How to Cite
Fuentes, J. A. M., Fernandez, I. M., Aleman, R. S., Maldonado, S. A. S., Roger, L. F., Funez, N. H., Chavarría, L. A., & Kayanush, A. (2020). Chemical Characterization of the Essential Oil of Syzygium Aromaticum and its Antimicrobial Activity Against A Probiotic Lactobacillus Acidophilus. European Scientific Journal, ESJ, 16(15), 33. https://doi.org/10.19044/esj.2020.v16n15p33
Section
ESJ Natural/Life/Medical Sciences
Copyright (c) 2020 Jhunior Abrahan Marcía Fuentes, Ismael Montero Fernandez, Ricardo Santos Aleman, Selvin Antonio Saravia Maldonado, Leonardo Flores Roger, Nelys Herrera Funez, Leonardo Antonio Chavarría, Aryana Kayanush
This work is licensed under a Creative Commons Attribution-NonCommercial-NoDerivatives 4.0 International License.