Parasitoses Intestinales Et Statut Nutritionnel Chez L'enfant À Guédiawaye Au Sénégal
Diouf Jean Baptiste Niokhor

Service de Pédiatrie de L'hôpital Roi Baudouin de Guédiawaye, Sénégal

Kane Mariama

Service de Pédiatrie de L'hôpital Roi Baudouin de Guédiawaye, Sénégal

Sow Doudou

Service de Parasitologies - Section Biologie et Explorations Fonctionnelles UFR Sciences de la Santé, Université Gaston Berger, Saint Louis, Sénégal

Sougou Ndèye Marème

Département de Santé Publique et Médecine Préventive Université Cheikh Anta Diop de Dakar, Sénégal

Oumy Kaltome Boh

Laboratoire Parasitologie, Université Cheikh Anta Diop de Dakar, Sénégal

Babacar Faye

Laboratoire Parasitologie, Université Cheikh Anta Diop de Dakar, Sénégal

Ndiaye Ousmane

Service de pédiatrie Université Cheikh Anta Diop de Dakar, Sénégal
Keywords:
Parasitoses Intestinales, Anémie, Malnutrition, Enfants, Guédiawaye, Sénégal
Abstract
Introduction : Les parasitoses intestinales constituent un problème majeur de santé dans le monde particulièrement dans les pays en voie de développement. Afin de réduire l'ampleur de ces affections, le Ministère de la Santé du Sénégal a introduit en 2005 le déparasitage de masse systématique des enfants conformément aux recommandations de l'Organisation Mondiale pour la Santé (OMS). L'objectif de ce travail était de déterminer la prévalence des parasitoses intestinales et leur impact sur l'anémie et la nutrition quelques années après l'instauration de la chimiothérapie préventive. Matériels et méthodes : Etude transversale du 1er septembre 2017 au 28 février 2018 au niveau du service de pédiatrie du Centre Hospitalier Roi Baudouin de Guédiawaye. Un effectif de 375 enfants avait participé à l'étude, avec un âge moyen 44 mois et une prédominance masculine (54,1%). Pour chaque enfant reçu, un examen direct de selles et après une concentration par technique de Ritchie étaient effectués. L'état nutritionnel a été appréciés et les paramètres hématologiques évalués. Résultats : Au total, 103 enfants étaient porteurs de parasites soit une prévalence globale de 27,5%. Les helminthes étaient beaucoup plus représentatifs que les protozoaires et les espèces parasitaires les plus fréquentes étaient Ascaris lumbricoides (18,14%), Trichocéphales (3,74%), et Entamoeba coli (2,67%). L'état nutritionnel était normal chez 265 enfants tandis que 18,9% et 10,5% avaient respectivement une malnutrition aigüe modérée (MAM) et une malnutrition aigüe sévère (MAS). Nous avons noté une association significative entre la parasitose intestinale et la malnutrition (p=0,035 et OR=1,66). L'anémie était sévère chez 4,8% des enfants et modérée chez 68,6%. Une corrélation entre les parasitoses intestinales et la survenue d'une anémie a été démontrée (p=0,001 et OR=2,6). Conclusion : La prévalence des parasitoses intestinales reste élevée en banlieue dakaroise malgré le déparasitage de masse. L'amélioration des conditions de vie et l'élargissement du déparasitage aux enfants de plus de 5 ans pourraient rendre plus efficiente cette stratégie.
Introduction: Intestinal parasitosis is a major health problem in the world, particularly in developing countries. In order to reduce the scale of these diseases, the Ministry of Health of Senegal introduced, in 2005, the systematic mass deworming of children in accordance with the recommendations of the World Health Organisation (WHO). This paper focuses on determining the prevalence of intestinal parasites and their impact on anemia and nutrition a few years after the initiation of preventive chemotherapy. Materials and methods: A cross-sectional study was conducted from 1st September 2017 to 28th February 2018 at the pediatric ward of the hospital center Roi Baudouin in Guédiawaye, Senegal. A total of 375 children participated in the study, with a mean age of 44 months and a male predominance (54.1%). Each child received a direct stool examination after a concentration using Ritchie techniques was obtained. The nutritional status was assessed and the hematological parameters evaluated. Results: A total of 103 children had parasites, with an overall prevalence of 27.5%. Helminths were much more representative than the protozoa, and the most common parasitic species were Ascaris lumbricoides (18.14%), whipworms (3.74%), and Entamoeba coli (2.67%). Nutritional status was normal in 265 children, while 18.9% and 10.5% respectively had moderate acute malnutrition (MAM) and severe acute malnutrition (SAM). A significant association between intestinal parasitosis and malnutrition was found (p = 0.035 and OR = 1.66). Anemia was severe in 4.8% of children and moderate in 68.6%. There was a link between intestinal parasitosis and the occurrence of anemia (p = 0.001 and OR = 2.6). Conclusion: The prevalence of intestinal parasitosis remains high in the suburbs of Dakar despite mass deworming. Improving living conditions and expanding deworming to children over 5 years of age could make this strategy more efficient.
Downloads
Download data is not yet available.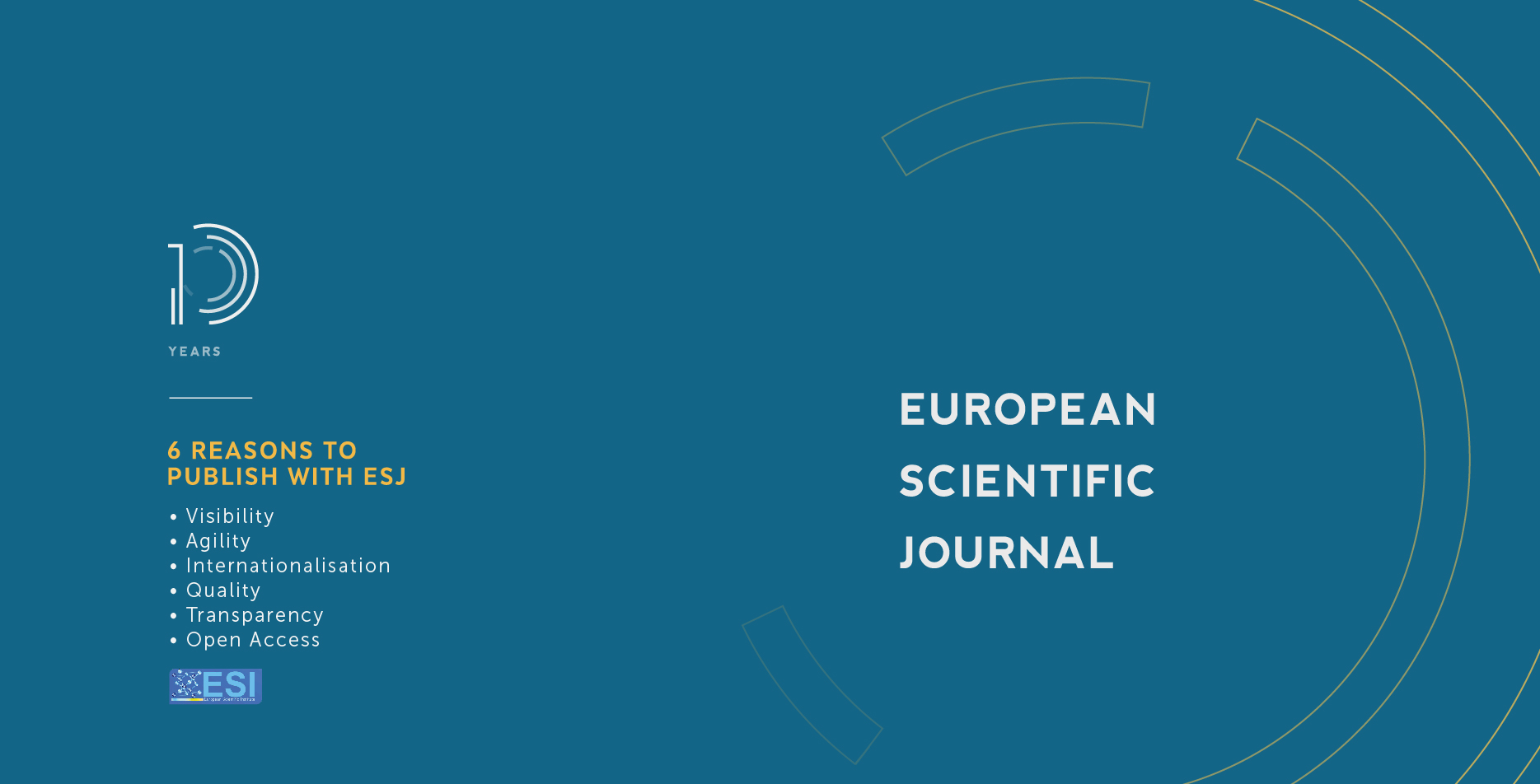 How to Cite
Niokhor, D. J. B., Mariama, K., Doudou, S., Marème, S. N., Boh, O. K., Faye, B., & Ousmane, N. (2020). Parasitoses Intestinales Et Statut Nutritionnel Chez L'enfant À Guédiawaye Au Sénégal. European Scientific Journal, ESJ, 16(15), 115. https://doi.org/10.19044/esj.2020.v16n15p115
Section
ESJ Natural/Life/Medical Sciences
Copyright (c) 2020 Diouf Jean Baptiste Niokhor, Kane Mariama, Sow Doudou, Sougou Ndèye Marème, Oumy Kaltome Boh, Babacar Faye, Ndiaye Ousmane
This work is licensed under a Creative Commons Attribution-NonCommercial-NoDerivatives 4.0 International License.