Aspects Clinique Et Paraclinique Des Paralysies Bilatérales Des Cordes Vocales
Do Santos Zounon Alexis

Unité d'ORL et Chirurgie Cervico-Faciale, Université Abomey-Calavi, Faculté des Sciences de la Santé de Cotonou, Bénin

Vodouhe Bidossessi Ulrich

Unité d'ORL et Chirurgie Cervico-Faciale, Université Abomey-Calavi, Faculté des Sciences de la Santé de Cotonou, Bénin

Aïssi Vanessa Monelle Benett Ablawa

Service d'ORL et Chirurgie Cervico-Faciale, Centre Hospitalier Universitaire Mont-Godinne, commune d'Yvoir, Belgique

Adjibabi Wassi

Unité d'ORL et Chirurgie Cervico-Faciale, Université Abomey-Calavi, Faculté des Sciences de la Santé de Cotonou, Bénin

Yehouessi-Vignikin Bernadette

Unité d'ORL et Chirurgie Cervico-Faciale, Université Abomey-Calavi, Faculté des Sciences de la Santé de Cotonou, Bénin
Keywords:
Paralysie Laryngée Bilatérale, Cordes Vocales, Diagnostic
Abstract
L'immobilité bilatérale des cordes vocales peut mettre en jeu le pronostic vital du patient. L'objectif de l'étude a été d'analyser les éléments diagnostiques à évaluer avant la prise en charge. Il s'est agi d'une étude transversale et descriptive portant sur les cas d'immobilité bilatérale des cordes vocales reçus entre 1 er Janvier 2008 et le 1 er Mars 2018. Les données socio-démographiques, cliniques, paracliniques et les étiologies ont été recueillies. En dix ans 56 patients ont été reçus et examinés. L'âge moyen a été de 56 ans avec une sex-ratio de 1,07. Les principaux signes répertoriés étaient la dyspnée (44 cas ; 78,6%), la dysphonie (8 cas ; 14,3%) et les fausses routes (2 cas ; 3,6%). Les cordes vocales étaient immobiles en adduction paramédiane (29 cas ; 51,79%), en adduction médiane (25 cas ; 44,64%) ou en abduction (2 cas ; 3,6%). Les deux principales causes retrouvées ont été l'intubation prolongée et la thyroïdectomie totale. La paralysie des cordes vocales est peu fréquente. La nasofibroscopie est la clé du diagnostic. L'intubation prolongée et la chirurgie thyroïdienne en sont les causes les plus fréquentes.
Bilateral immobility of the vocal cords can be life-threatening. The aim of the study was to analyze the diagnostic elements to be assessed before treatment. This was a cross-sectional and descriptive study on the cases of bilateral immobility of the vocal cords received between January 1, 2008 and March 1, 2018. Socio-demographic, clinical, paraclinical and etiology data were collected. In ten years 56 patients have been received and examined. The average age was 56 with a sex ratio of 1.07. The main signs listed were dyspnea (44 cases; 78.6%), dysphonia (8 cases; 14.3%) and false routes (2 cases; 3.6%). The vocal cords were immobile in paramedian adduction (29 cases; 51.79%), in median adduction (25 cases; 44.64%) or in abduction (2 cases; 3.6%). The two main causes found were prolonged intubation and total thyroidectomy. Vocal cord paralysis is uncommon. Nasofibroscopy is the key to diagnosis. Prolonged intubation and thyroid surgery are the most common causes.
Downloads
Download data is not yet available.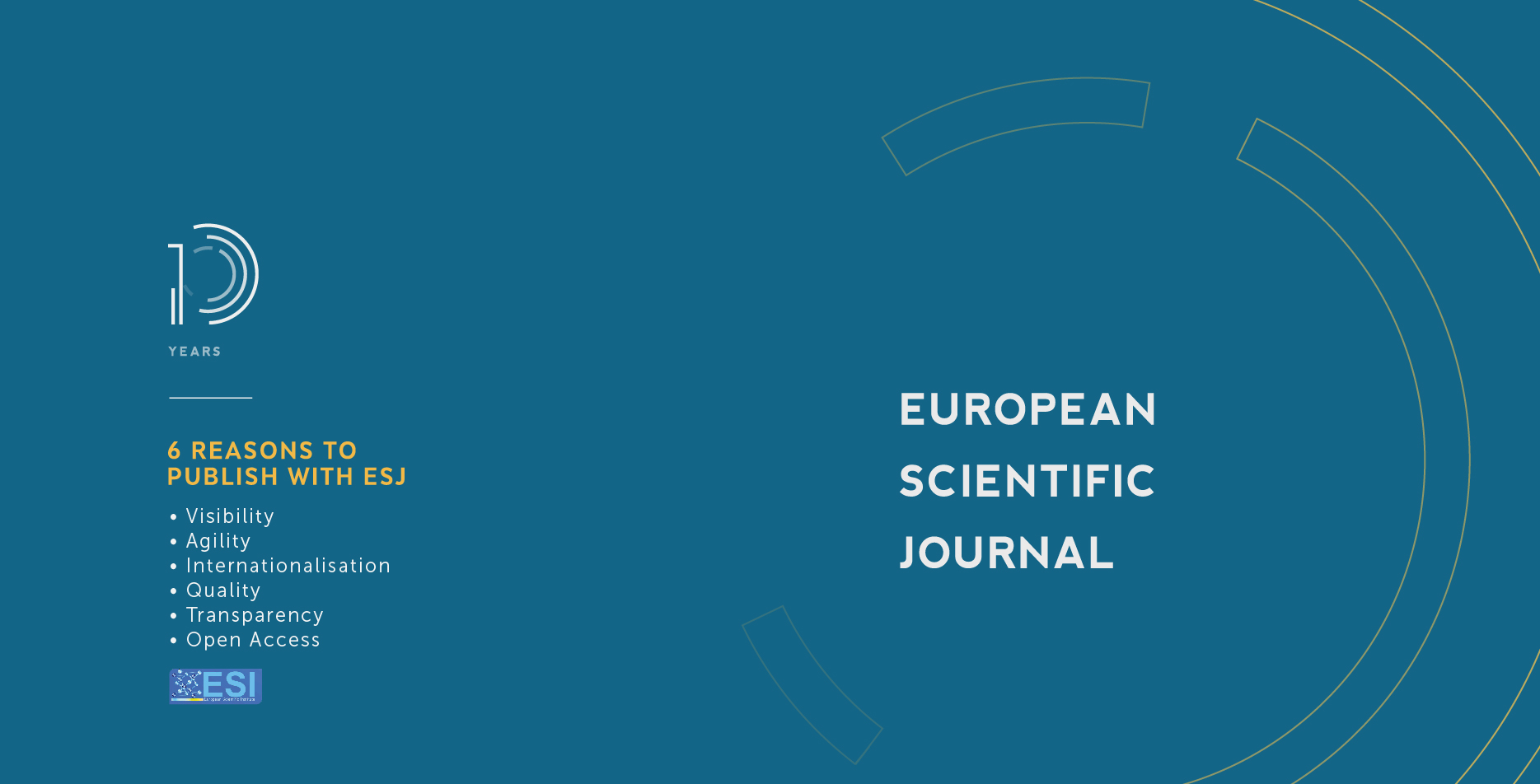 How to Cite
Alexis, D. S. Z., Ulrich, V. B., Ablawa, A. V. M. B., Wassi, A., & Bernadette, Y.-V. (2020). Aspects Clinique Et Paraclinique Des Paralysies Bilatérales Des Cordes Vocales. European Scientific Journal, ESJ, 16(15), 212. https://doi.org/10.19044/esj.2020.v16n15p212
Section
ESJ Natural/Life/Medical Sciences
Copyright (c) 2020 Do Santos Zounon Alexis, Vodouhe Bidossessi Ulrich, Aïssi Vanessa Monelle Benett Ablawa, Adjibabi Wassi, Yehouessi-Vignikin Bernadette
This work is licensed under a Creative Commons Attribution-NonCommercial-NoDerivatives 4.0 International License.