Incidence De L'herbicidage Dans Le Désherbage En Culture De Manioc Dans La Région De La Mé, SudEst De La Côte d'Ivoire
Yapi A. F.

Assistant, Ufr Sciences Biologiques Université Péléforo Gon Coulibaly, Korhogo, Côte d'Ivoire

Gue A.

Assistant, Ufr Agroforesterie, Université Jean Lorougnon Guédé, Daloa, Côte d'Ivoire

Kouakou J. N.

Phd, Laboratoire De Botanique, Université Félix Houphouët-Boigny, Abidjan, Côte d'Ivoire

Kouame F. K.

Chargé De Recherche, Centre National De Floristique, Université Félix Houphouët-Boigny, Abidjan, Côte d'Ivoire

Ipou Ipou J.

Professeur Titulaire, Laboratoire De Botanique, Université Félix Houphouët-Boigny, Abidjan, Côte d'Ivoire
Keywords:
Adventices, Prolifération, Désherbage, Oxyfluorfène, Efficacité
Abstract
La culture du manioc joue depuis longtemps un rôle important dans la diversification des exploitations et l'offre alimentaire en Côte d'Ivoire. Malheureusement, depuis la crise socio-politique de 2010 et l'avènement de la politique de la scolarisation des enfants de moins de 16 ans, la gestion parfaite de l'enherbement dans cette spéculation est devenue un problème majeur. Cette étude vise à évaluer l'incidence de l'utilisation des herbicides sur les caractéristiques socio-économiques du producteur de manioc en Côte d'Ivoire. La collecte des données s'est faite en deux étapes. La première a consisté à effectuer une enquête auprès des producteurs de manioc dans la région de la Mé, situé au Sud-Est du pays et la seconde, à réaliser une expérimentation avec un herbicide à base d'oxyfluorfène sur la variété « bocou 1 » de manioc. L'enquête réalisée relève que la technique de désherbage influe sur la gestion de l'enherbement et sur le profil du producteur. La technique manuelle est la plus pratiquée avec plus 85,44 p.c. L'expérimentation a montré que le désherbage chimique couplé au sarclage avec la machette est le mode de gestion de l'enherbement le plus bénéfique. Un producteur moyen met en moyenne 28 jours pour sarcler un hectare avec la daba, alors que pour le désherbage chimique, une journée et demi-journée suffise. S'agissant du coût des désherbages, le couplage de la technique chimique et la méthode manuelle est le moins coûteux.
Cassava cultivation has long time played an important role in the diversification of farms and the food supply in Côte d'Ivoire. Unfortunately, since the socio-political crisis of 2010 and the politic of schooling children under 16 years, the perfect management of weeds in this culture has become a major problem. This study aims to assess the impact of chemical weeding on the socio-economic characteristics of the cassava producer in this country. The data collection was done in two stages. The first was to conduct a survey of cassava producers and the second, to conduct an experiment with an herbicide of the active ingredient "oxyfluorfen" on a cassava variety called "Bocou 1". The survey shows that the weed control technique affects weed management and the profile of the producers. The manual technique is the most practiced with over 85.44 p.c. The experiment showed also that chemical weeding associated to weeding with the machete is the most beneficial weed management method. The analysis of duration of weeding shows that a farmer takes an average of 28 days to weed a hectare with the daba against one day and half for chemical weeding Regarding the cost of weeding, the coupling of the chemical technique and the manual method is the least expensive.
Downloads
Download data is not yet available.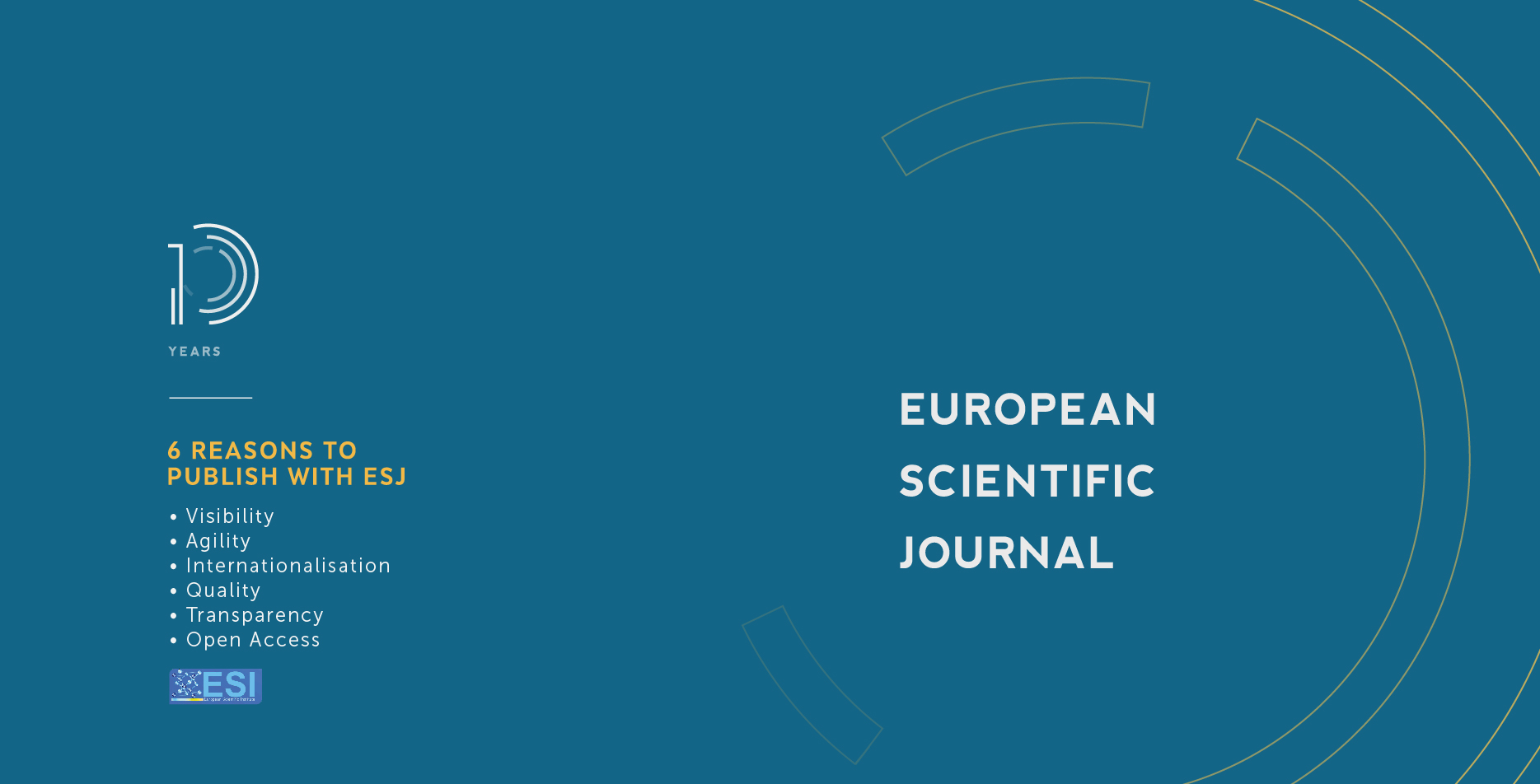 How to Cite
A. F., Y., A., G., J. N., K., F. K., K., & J., I. I. (2020). Incidence De L'herbicidage Dans Le Désherbage En Culture De Manioc Dans La Région De La Mé, SudEst De La Côte d'Ivoire. European Scientific Journal, ESJ, 16(15), 351. https://doi.org/10.19044/esj.2020.v16n15p351
Section
ESJ Natural/Life/Medical Sciences
Copyright (c) 2020 Yapi A. F., Gue A., Kouakou J. N., Kouame F. K., Ipou Ipou J.
This work is licensed under a Creative Commons Attribution-NonCommercial-NoDerivatives 4.0 International License.