Gestion Des Dmards Conventionnels Dans La Polyarthrite Rhumatoïde Au Bénin : Quid De La Biothérapie
Zomalhèto Zavier

Clinique Universitaire de Rhumatologie du Centre national Hospitalier et Universitaire Hubert Koutoukou Maga de Cotonou, Abomey Calavi (Bénin)

Assogba Calixte

Clinique Universitaire de Rhumatologie du Centre national Hospitalier et Universitaire Hubert Koutoukou Maga de Cotonou, Abomey Calavi (Bénin)

Dossou-yovo Hilaire

Clinique Universitaire de Rhumatologie du Centre national Hospitalier et Universitaire Hubert Koutoukou Maga de Cotonou, Abomey Calavi (Bénin)
Keywords:
Rheumatoid Arthritis, Dmards, Corticoïde, Bénin
Abstract
Objectif : Evaluer la gestion et l'efficacité des DMARDs conventionnels chez les patients souffrant de PR au Bénin. Patients et Méthode : Etude transversale et analytique portant sur les patients suivis pour une PR et traitée par DMARDs. Le diagnostic de PR a été retenu sur la base des critères EULAR/ACR 2010. Les données recueillies ont été analysées grâce au logiciel SPSS17.0 Résultats : 156 patients souffrant de PR ont été évalués. L'âge moyen des patients était de 44,6 ± 14,1 [15-69] ans et le sex- ratio était de 0,14. Le facteur rhumatoïde était présent chez 88%, les anticorps anti-CCP étaient présents chez 69.20%. L'âge moyen de début de la maladie était 32,7 ± 7.03 [18-50]. La durée moyenne d'évolution était de 10,3 ± 7,1 [0,5-25] ans. Le DAS28 moyen au début était 5,71± 2.04. Au plan radiologique, le score moyen de Larsen était de 38,55 ± 16,94. La dose moyenne de Prednisone était de 15 mg/jour. Les DMARDs utilisés étaient : Méthotrexate 15 à 20mg/semaine (150 cas), le léflunomide (6 cas), la salazopyrine 2g/j (27cas), hydroxychloroquine 400 mg / jour (24 cas). A 24 mois, le DAS28 moyen était de 3, 91±2,01 et 23,7% des patients avaient une PR active. Conclusion : La disponibilité des DMARDs pose un problème dans notre pays. Leur utilisation rationnelle associée à une faible dose de prednisone permet d'épargner aux patients une biothérapie dont le coût reste hors de la portée des patients de notre pays à faible revenu.
Aim: To evaluate the management and efficacy of conventional DMARDs in RA patients in Benin. Patients and Method: Transversal and analytical study of patients followed for RA and treated with DMARDs. The diagnosis of RA was selected on the basis of EULAR/ACR 2010 criteria. The data collected were analysed using SPSS17.0 software. Results: 156 RA patients were evaluated. The mean age of the patients was 44.6 ± 14.1 [15-69] years and the sex ratio was 0.14. The mean age of the patients was 44.6 ± 14.1 [15-69] and the sex ratio was 0.14. Rheumatoid factor was present in 88%, anti-CCP antibodies were present in 69.20%. The mean age of disease onset was 10.3 ± 7.1 [0.5-25] years. The mean time to progression was 8.9 ± 7.7 [1-30]. The mean DAS28 at onset was 5.71± 2.04 [1-30]. Radiologically, the mean feedback score was 38.55 ± 16.94 [1-30]. The mean dose of Prednisone was 15 mg/day. The DMARDs used were: methotrexate 15-20 mg/week (150 cases), leflunomide (6 cases), salazopyrin 2g/day (27 cases), hydroxychloroquine 400 mg/day (24 cases). At 24 months, mean DAS28 was 3.91±2.01 and 23.7% of patients had active RA. Conclusion: Availability of DMARDs is a problem in our country. Their rational use associated with a low dose of prednisone saves patients from biotherapy, the cost of which remains out of reach for low-income patients in our country.
Downloads
Download data is not yet available.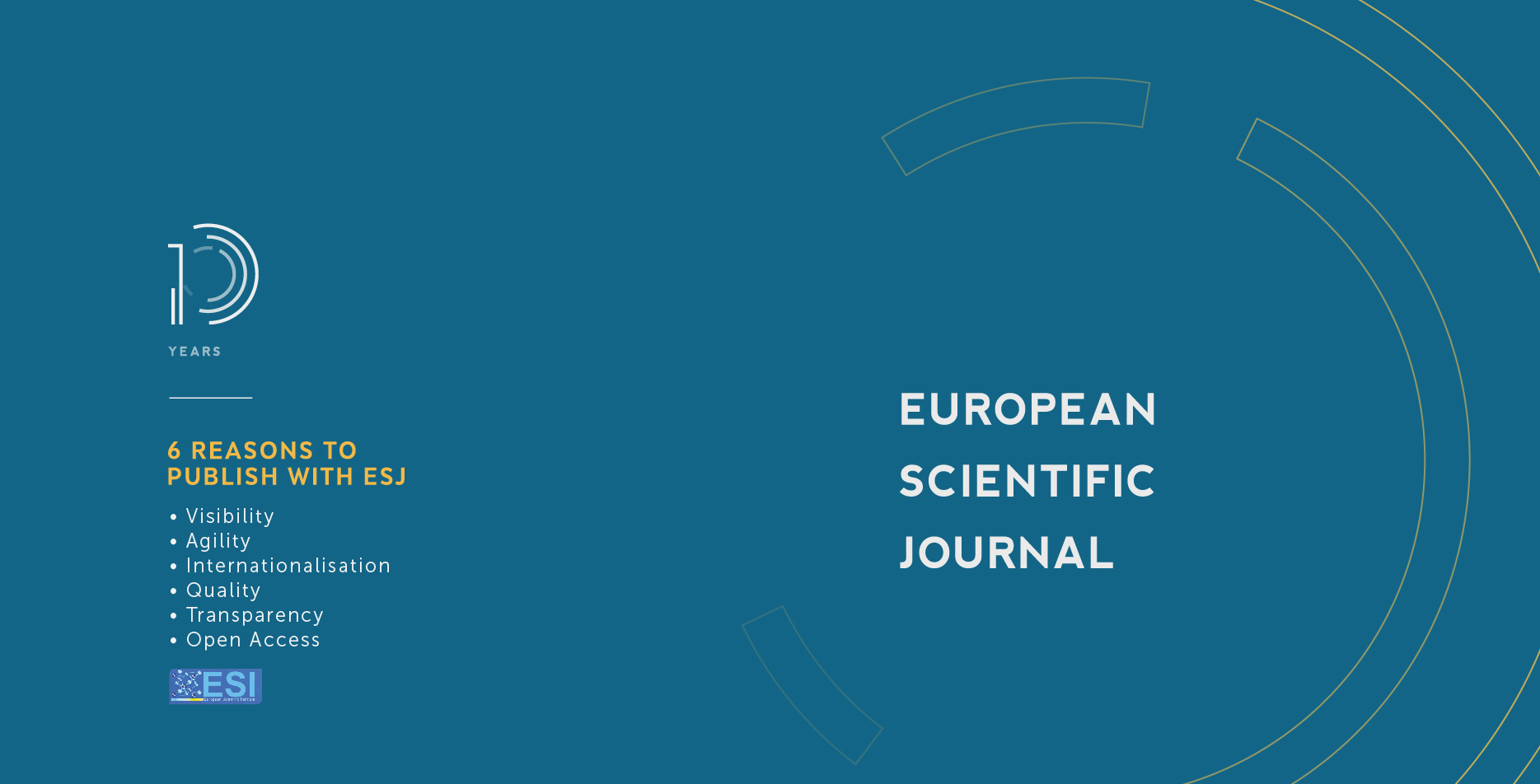 How to Cite
Zavier, Z., Calixte, A., & Hilaire, D.- yovo. (2020). Gestion Des Dmards Conventionnels Dans La Polyarthrite Rhumatoïde Au Bénin : Quid De La Biothérapie . European Scientific Journal, ESJ, 16(24), 60. https://doi.org/10.19044/esj.2020.v16n24p60
Section
ESJ Natural/Life/Medical Sciences
Copyright (c) 2020 Zomalhèto Zavier, Assogba Calixte, Dossou-yovo Hilaire
This work is licensed under a Creative Commons Attribution-NonCommercial-NoDerivatives 4.0 International License.