Analyse Des Connaissances Sur Pterocarpus Erinaceus Poir. En Afrique Occidentale Et Centrale
Pyoabalo Alaba

Laboratoire de Recherche Forestière, Université de Lomé, Togo

Komla Elikplim Abotsi

Laboratoire de Recherche Forestière, Université de Lomé, Togo

Kossi Adjonou

Laboratoire de Recherche Forestière, Université de Lomé, Togo

Kossi Novinyo Segla

Laboratoire de Recherche Forestière, Université de Lomé, Togo

Adzo Dzifa Kokutse

Laboratoire de Recherche Forestière, Université de Lomé, Togo

Kouami Kokou
Keywords:
Pterocarpus erinaceus, Sylviculture, Gestion durable, Valorisation, Besoins de connaissances
Abstract
Pterocarpus erinaceus (Fabaceae) est une arbre multiusage des zones sahéliennes et soudaniennes d'Afrique. L'espèce a fait l'objet de nombreuses études scientifiques très peu coordonnées, conduisant à des biais sur les besoins réels de connaissances devant permettre une bonne gestion et valorisation. Pour pallier cette insuffisance, les publications sur cette espèce ont été recherchées à partir de Google scholar, Bielefeld Academic Search Engine et Science direct. Après un filtre des publications trop généralistes, 127 publications réalisées entre 1974 et 2019 ont été retenues et classées suivant neuf thématiques préalablement identifiées. Les résultats, issus de 49 institutions de recherche provenant de 19 pays, montrent que les propriétés pharmacologiques, la caractérisation des peuplements de P. erinaceus et le rôle socio-économique sont les thématiques les plus abordées avec respectivement 41,7 %, 29,1 % et 16,5 % des publications alors que celles relatives aux techniques de multiplication, à la régénération et au rôle alimentaire sont peu abordées avec des fréquences respectives de 6,3 %, 4,7 % et 3,9 %. Les résultats indiquent également que 9 pays de l'Afrique de l'ouest totalisent plus de 84,2 % des publications contre de 3,2 % des publications effectuées par 2 pays de l'Afrique centrale et 12,6 % pour 8 pays européens. L'analyse a montré aussi que des études complémentaires sont nécessaires pour améliorer les connaissances sur les techniques de multiplication de l'espèce pour sa sylviculture et les facteurs qui influencent sa régénération en milieu naturel.
Pterocarpus erinaceus (Fabaceae) is a multipurpose tree species of Sahelian and Sudanian zones in Africa. Tough the species has been actively studied, the lack of coordination and orientation in these studies lead to some biases in the knowledge needed for the better management and valorization of this species. To overcome this insufficiency, scientific publications available on the species were collected from Google scholar, Bielefeld Academic Search Engine (BASE) and Science direct portals. After filtering the generalist publications identified, 127 publications produced between 1974 and 2019 were classified according to nine previously identified themes. The results from 49 research institutions from 19 countries show that the pharmacological properties, the characteristics of the stands of P. erinaceus and the socioeconomic role are the most discussed themes with respectively 41.7 %, 29.1 % and 16.5 % of publications, while those relating to the propagation of the species, natural dissemination and the role of food are rarely addressed with respective frequencies of 6.3 %, 4.7 % and 3.9 %. These results also indicate that 9 West Africa countries published more than 84.2 % of the publications when 3.2 % were published by 2 countries from Central Africa and 12.6 % for 8 European countries. The analysis shows that more studies are needed to improve knowledge about techniques of the propagation of the species for silviculture and factors that influence the natural dissemination of the species in its natural habitat.
Downloads
Download data is not yet available.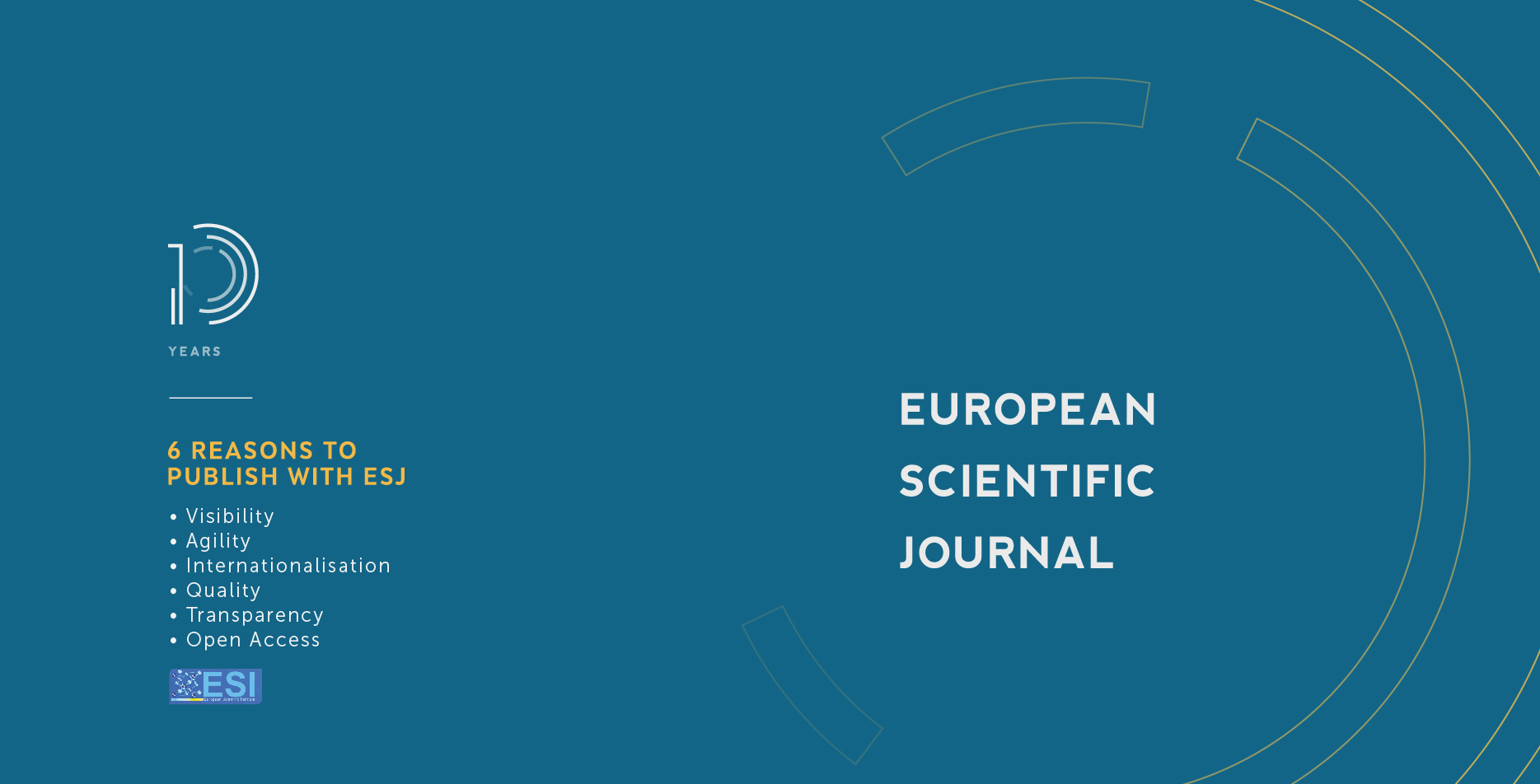 How to Cite
Alaba, P., Elikplim Abotsi, K., Adjonou, K., Novinyo Segla, K., Dzifa Kokutse, A., & Kokou, K. (2020). Analyse Des Connaissances Sur Pterocarpus Erinaceus Poir. En Afrique Occidentale Et Centrale . European Scientific Journal, ESJ, 16(24), 157. https://doi.org/10.19044/esj.2020.v16n24p157
Section
ESJ Natural/Life/Medical Sciences
Copyright (c) 2020 Pyoabalo Alaba, Komla Elikplim Abotsi, Kossi Adjonou, Kossi Novinyo Segla, Adzo Dzifa Kokutse, Kouami Kokou
This work is licensed under a Creative Commons Attribution-NonCommercial-NoDerivatives 4.0 International License.