Performances Des « Fermes Modèles » Du Corridor De Monkoto Dans La Province De La Tshuapa, République Démocratique Du Congo
Papy Bonkena Bokombola

Département d'économie agricole Faculté des Sciences Agronomiques, Université de Kinshasa

Alain Roddy Miteu Kalambayi Roddy Miteu Kalam

Assistant, Département d'économie agricole Faculté des Sciences Agronomiques, Université Pédagogique Nationale République Démocratique du Congo
Keywords:
Fermes Modèles,, Rentabilité, Protection De La Biodiversité,, Corridor De Monkoto, République Démocratique Du Congo
Abstract
L'analyse des performances des « fermes modèles » constitue un enjeu majeur au regard de la lutte contre la pauvreté dans le contexte de la protection de la biodiversité dans le corridor de Monkoto. De façon générale, l'étude vise à analyser l'efficacité technique et la rentabilité économique des exploitations agricoles mixtes et intégrées développées dans le corridor de Monkoto, zone située entre les Blocs Nord et Sud du Parc National de Salonga. L'étude a employé l'approche centrée sur les entretiens individuels approfondis et les observations. Ces approches ont permis de collecter les données par la théorie de confrontation directe d'informations en vue de choisir les plus pertinentes pour cette étude. L'enquête a été conduite à l'aide du questionnaire individuel auprès de 10 fermiers modèles sur les 20 établis dans la zone. Les résultats montrent que le RNE (Revenu Net de l'Exploitant) moyen de 233.965,55 CDF et le score d'efficacité moyen de 0,1266 sont encore très faibles au regard du potentiel agro écologique que recèle la zone. Seulement 4 fermes modèles sur 10 sont rentables alors que la quasi-totalité des fermes sont inefficientes et n'opèrent de ce fait à leur niveau optimal. Toutefois, étant donné qu'elles sont dans un contexte des rendements d'échelle croissante, elles ont toutes une marge d'amélioration du volume de leur production avec le même volume de facteurs de production et par voie de conséquence, une marge de progression de la rentabilité. Ce qui peut favoriser la réplication et améliorer les conditions de vie des agriculteurs dans la zone et ainsi, baisser sensiblement la pression sur la biodiversité.
Analyzing the performance of "model farms" is a major issue in the fight against poverty in the context of protecting biodiversity in the Monkoto corridor. Specifically, the study aims to analyze the technical efficiency and economic profitability of mixed and integrated farms developed in the Monkoto corridor, an area located between the North and South Blocks of Salonga National Park. The study used the focus approach on in-depth individual interviews and observations. This approach made it possible to collect data by the theory of direct confrontation of information in order to choose the most relevant for this study. The survey was conducted using the individual questionnaire among 10 model of the 20 farmers established in the area. The results show that the average NER (Net Income of the Operator) of CDF 233,965.55 and the average efficiency score of 0.1266 are still very low compared to the agro-ecological potential that the area contains. Only 4 out of 10 model farms are profitable while almost all of the farms are inefficient and therefore do not operate at their optimal level. However, given that they are in a context of increasing returns to scale, they all have room for improvement in the volume of their production with the same volume of production factors and consequently, room for improvement the profitability. This can encourage replication and improve the living conditions of farmers in the area and thus significantly reduce the pressure on biodiversity. 
Downloads
Download data is not yet available.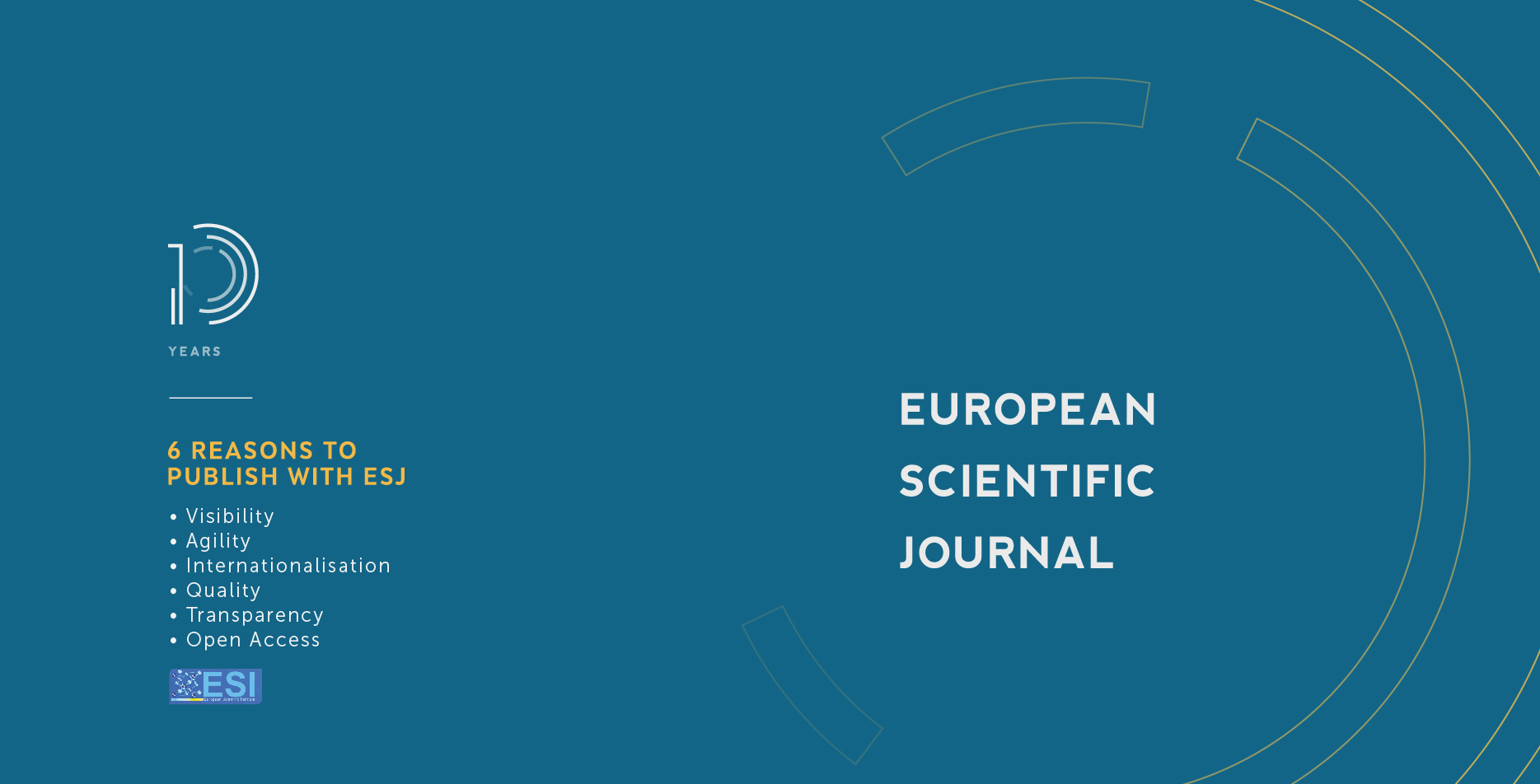 How to Cite
Bonkena Bokombola, P., & Roddy Miteu Kalam, A. R. M. K. (2020). Performances Des « Fermes Modèles » Du Corridor De Monkoto Dans La Province De La Tshuapa, République Démocratique Du Congo . European Scientific Journal, ESJ, 16(24), 206. https://doi.org/10.19044/esj.2020.v16n24p206
Section
ESJ Natural/Life/Medical Sciences
Copyright (c) 2020 Papy Bonkena Bokombola, Alain Roddy Miteu Kalambayi Roddy Miteu Kalam
This work is licensed under a Creative Commons Attribution-NonCommercial-NoDerivatives 4.0 International License.