Caractéristiques socio-économiques du commerce des bourgeons de rotin (Laccosperma secundiflorum et Eremospatha macrocarpa) à Brazzaville, République du Congo
Mialoundama Bakouétila Gilles Freddy

Laboratoire d'Économie et Sociologie Rurales, École Nationale Supérieure d'Agronomie et de Foresterie (ENSAF), Université Marien Ngouabi, Brazzaville, Congo
Keywords:
Bourgeon de rotin, socio-économique, caractéristiques, commerce, Congo
Abstract
La présente étude vise à identifier le profil des vendeurs des bourgeons de rotins, puis décrire les principales caractéristiques de ce commerce. L'étude a été réalisée dans 12 marchés municipaux de la ville de Brazzaville. Elle a concerné 100 vendeurs de bourgeons de rotins choisis de façon raisonnée. Les techniques de collecte des données ont privilégié l'approche quantitative. Les résultats obtenus montrent que le commerce de détail est l'apanage des femmes dont la majorité possède une expérience de plus de 5 ans, alors que la vente en gros est dominée par les hommes. La majorité des vendeurs vit dans les arrondissements nord de Brazzaville et appartiennent à des groupes ethniques qui consomment souvent les bourgeons de rotins. La quantité des bourgeons achetée par commerçant lors de l'approvisionnement en marchandise est fonction des capitaux propres, le genre et le type de vendeurs. La quantité de bourgeons de rotin achetée dépend fortement du capital propre investi, ce qui pose la problématique du financement des activités génératrices de revenus, gage de l'amélioration des revenus des vendeurs.
The objective of this study is to identify the profil of the sprout rattan sellers and to describe the principal characteritics of this trade. The study was carried out in 12 municipal markets in Brazzaville city. It involved 100 sellers of rattan buds chosen in a reasonable manner. Data collection techniques favored the quantitative approach. The results obtained show that the retail trade is the prerogative of women, the majority of whom have experience of more than 5 years, while wholesale is dominated by men. The majority of sellers live in the northern areas of Brazzaville and belong to ethnic groups which often consume rattan buds. The quantity of sprouts bought by a trader when supplying merchandise depends on equity, the kind and type of sellers. The quantity of sprouts rattan purchased is highly dependent on the own invested capital, which poses the problem of financing income-generating activities, a pledge of sellers improved income.
Downloads
Download data is not yet available.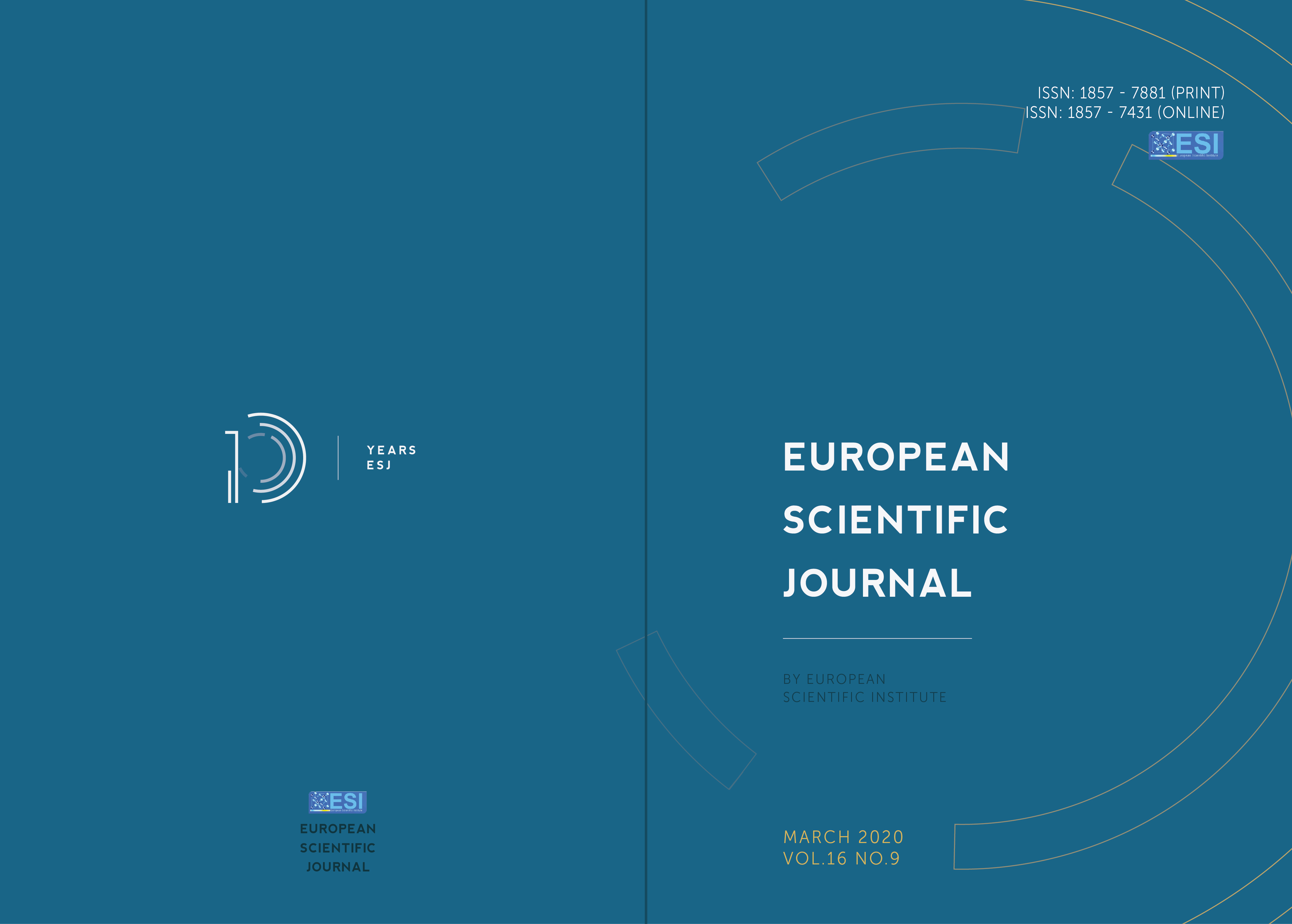 How to Cite
Freddy, M. B. G. (2020). Caractéristiques socio-économiques du commerce des bourgeons de rotin (Laccosperma secundiflorum et Eremospatha macrocarpa) à Brazzaville, République du Congo. European Scientific Journal, ESJ, 16(7), 102. https://doi.org/10.19044/esj.2020.v16n7p102
Copyright (c) 2020 Mialoundama Bakouétila Gilles Freddy
This work is licensed under a Creative Commons Attribution-NonCommercial-NoDerivatives 4.0 International License.