Impact De La Combinaison Regeneration Naturelle Assistee (Rna) Et Engrais En Microdose Sur La Productivite Du Mil (Pennisetum Glaucum (L.) R. Br.) Au Niger
Abdou Maman Manssour

Département Production Durable des Cultures, Faculté des Sciences Agronomiques, Université Boubacar Bâ de Tillaberi, Tillaberi, Niger

Laouali Abdoulkadri

Département d'Agro-socio-économie, Faculté des Sciences Agronomiques, Université Boubacar Bâ de Tillaberi, Niger

Malam Bachir Abass Haboubacar

Département Production Durable des Cultures, Faculté des Sciences Agronomiques, Université Boubacar Bâ de Tillaberi, Niger

Elhadji Seybou Djibo

Département Programmation, Etudes et Prospective, Haut-Commissariat à l'Initiative 3N

Abdoulkadri Ali

Département Production Végétale, Faculté d'Agronomie, Université Abdou Moumouni, Niamey, Niger

Alzouma Mayaki Zoubeirou

Département de Biologie, Faculté des Sciences et Techniques, Université Abdou Moumouni, Niamey, Niger
Keywords:
RNA, Engrais, Microdose, Mil, Productivité, Niger
Abstract
Cette étude a été conduite dans les sites de Dineye et Kassamma dans la région de Zinder au Niger. Elle a pour objectif de déterminer l'effet de la combinaison RNA et engrais en microdose sur la productivité du mil. Le dispositif expérimental utilisé est en bloc de Fisher avec dix (10) répétitions. Le facteur étudié est la fertilisation du sol avec quatre (4) traitements (T): T1 constitué uniquement de RNA servant de témoin ; T2 qui est la combinaison RNA et fumier en microdose; T3 qui est la combinaison RNA, fumier et engrais chimique (Azote Phosphore Potassium-NPK) en microdose et T4 qui est la combinaison RNA et NPK en microdose. Les paramètres de croissance à savoir la hauteur de plant, le nombre de feuilles ont été suivis par décade jusqu'à maturité. A la récolte, les composantes du rendement à savoir : la biomasse sèche, le poids des épis et des grains ont été évalués. Les résultats de cette étude ont montré que la hauteur des plants, le nombre de feuilles ont été plus élevés avec T3. Quant aux rendements en tiges, épis et grains, ils ont été significativement plus élevés dans T3, suivi respectivement de T4, T2 et T1. Ces résultats montrent que la combinaison RNA, fumure organique et fumure minérale en microdose a permis d'augmenter le rendement du mil. Cette combinaison pourrait donc être vulgarisée au niveau des producteurs agricoles des zones pratiquant la RNA afin d'améliorer la productivité de leurs cultures.
This study was conducted at the Dineye and Kassamma sites in the Zinder (Niger). Its objective is to determine the effect of the combination of FMNR and microdose fertilizers on millet productivity. The experimental device used is a Fisher block with ten (10) repetitions. The factor studied is soil fertilization with four (4) treatments (T): T1 consisting only of FMNR serving as a control; T2 which is a combination of FMNR and manure in microdose; T3 which is a combination of FMNR, manure and NPK in microdose and T4 which is a combination of FMNR and NPK in microdose. The growth parameters like height of the plant and the number of leaves were monitored per decade until maturity. At harvest, the yield components, namely: dry biomass, the weight of the ears and grains were evaluated. The results showed that height of the plants and the number of leaves were higher with T3. As for yields of stems, ears and grains, they were significantly higher in T3, followed by T4, T2 and T1 respectively. These results show that the combination of FMNR, organic manure and mineral manure in microdose made it possible to increase the yield of millet. This combination could therefore be popularized among agricultural producers in areas practicing FMNR to improve the productivity of their crops.
Downloads
Download data is not yet available.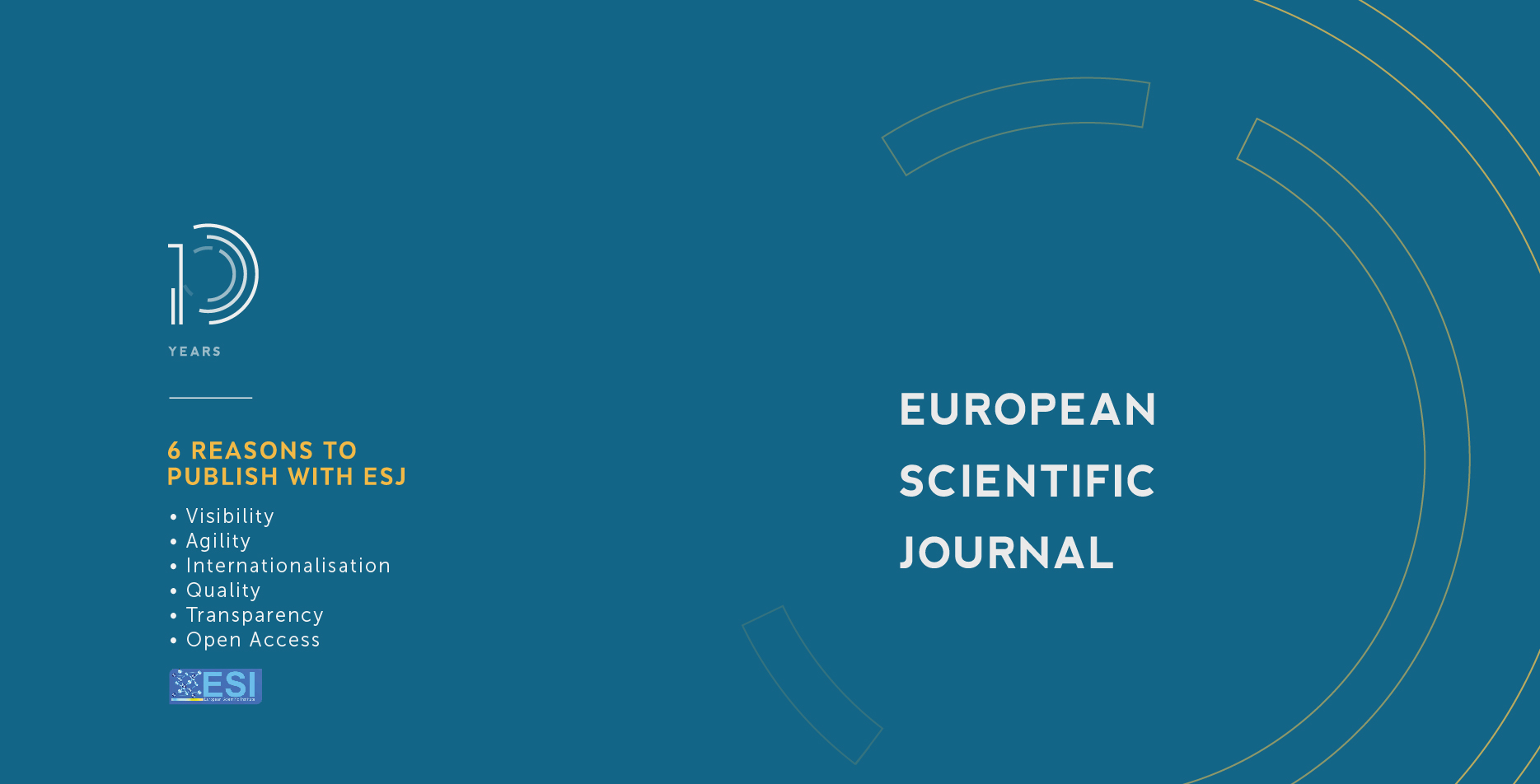 How to Cite
Manssour, A. M., Abdoulkadri, L., Haboubacar, M. B. A., Djibo, E. S., Ali, A., & Zoubeirou, A. M. (2020). Impact De La Combinaison Regeneration Naturelle Assistee (Rna) Et Engrais En Microdose Sur La Productivite Du Mil (Pennisetum Glaucum (L.) R. Br.) Au Niger. European Scientific Journal, ESJ, 16(9), 82. https://doi.org/10.19044/esj.2020.v16n9p82
Copyright (c) 2020 Abdou Maman Manssour, Laouali Abdoulkadri, Malam Bachir Abass Haboubacar, Elhadji Seybou Djibo, Abdoulkadri Ali, Alzouma Mayaki Zoubeirou
This work is licensed under a Creative Commons Attribution-NonCommercial-NoDerivatives 4.0 International License.