Diversite Phlebotomienne Dans Trois Villages De La Commune De Bouake (Côte D'ivoire) Durant La Periode De Mars A Juin 2019
Assovié Koco Rita Nadège

Centre d'Entomologie Médicale et Vétérinaire Université Alassane Ouattara, Bouaké, Côte d'Ivoire

Djohan Vincent

Unité de Formation et de Recherche Sciences pharmaceutiques et biologiques, Université Felix Houphouët- Boigny, Abidjan, Côte d'Ivoire

Atta Angui Amoikon Frédéric

Unité de Formation et de Recherche Sciences pharmaceutiques et biologiques, Université Felix Houphouët- Boigny, Abidjan, Côte d'Ivoire

Aké Donald Hermann Arnaud

Unité de Formation et de Recherche Sciences pharmaceutiques et biologiques, Université Felix Houphouët- Boigny, Abidjan, Côte d'Ivoire

Aka Tigori Armel

Unité de Formation et de Recherche Sciences pharmaceutiques et biologiques, Université Felix Houphouët- Boigny, Abidjan, Côte d'Ivoire

Akoliba Koliba Patrice

Institut Pierre Richet, Bouaké, Institut National de Santé Publique, Abidjan Côte d'Ivoire

Djakaridja Berté

Laboratoire de Zoologie et Biologie Animale, UFR Biosciences, Université Félix Houphouët-Boigny, Abidjan, Côte d'Ivoire

Ta Bi Tra Dieudonné

Laboratoire de Zoologie et Biologie Animale, UFR Biosciences, Université Félix Houphouët-Boigny, Abidjan, Côte d'Ivoire

Kaba Dramane

Institut Pierre Richet, Bouaké, Institut National de Santé Publique, Abidjan, Côte d'Ivoire

Yapi Yapi Grégoire

Université Alassane Ouattara, Bouaké, Côte d'Ivoire
Keywords:
Leishmaniose cutanée, Phlebotomus, Sergentomyia, Bouaké, Côte d'Ivoire
Abstract
La leishmaniose cutanée est une parasitose due à des protozoaires du genre Leishmania et répandue dans le monde. Une enquête médicale réalisée dans trois villages de la ville de Bouaké, autour de cas suspects de leishmaniose cutanée, a permis de confirmer la présence de cette pathologie dans ces villages. Dans le cadre de l'identification des acteurs du cycle épidémiologique de la leishmaniose cutanée, une étude entomologique a été conduite dans ces villages afin d'identifier les phlébotomes potentiels vecteurs de leishmanies. Les pièges huileux et les pièges lumineux CDC, ont été posés entre mars et juin 2019, suivant une méthode de rotation entre les sites de piégeage. Ils ont été posés entre 17h et 18h et relevés le lendemain matin entre 7h et 8h. La diversité spécifique des espèces identifiées a été déterminée à partir des indices écologiques d'équitabilité et de Hill. Ces pièges ont permis la capture de 135 phlébotomes, dont 78 ont été morphologiquement identifiés. Le genre Sergentomyia constituait 91% de nos récoltes contre 9% pour le genre Phlebotomus. Ph. bergeroti, Ph. rodhaini et Ph. sergenti étaient les espèces du genre Phlebotomus, capturées dans ces sites. Des travaux approfondis portant sur l'identification du parasite à la fois chez les phlébotomes et chez l'homme doivent être effectués, afin d'identifier les phlébotomes incriminés dans la transmission des leishmanies à Bouaké.
Cutaneous leishmaniasis is a parasitosis caused by protozoa of the genus Leishmania and is widespread worldwide. A medical survey carried out in three villages of the city of Bouaké, around suspected cases of cutaneous leishmaniasis, confirmed the presence of this pathology in these villages. As part of the identification of the actors of the epidemiological cycle of cutaneous leishmaniasis, an entomological study was conducted in these villages in order to identify potential phlebotomus vectors of leishmaniasis. Oil traps and CDC light traps were set between March and June 2019, following a rotation method between trapping sites. They were set between 5:00 pm and 6:00 pm and were collected the next morning between 7:00 am and 8:00 am. The specific diversity of the identified species was determined from the ecological indices of equitability and Hill's ecological indices. These traps allowed the capture of 135 sandfish, 78 of which were morphologically identified. The genus Sergentomyia constituted 91% of our harvests against 9% for the genus Phlebotomus. Ph. bergeroti, Ph. rodhaini and Ph. sergenti were the species of the genus Phlebotomus caught at these sites. Further work on the identification of the parasite in both sandflies and humans should be carried out in order to identify the sandflies incriminated in the transmission of leishmania in Bouaké.
Downloads
Download data is not yet available.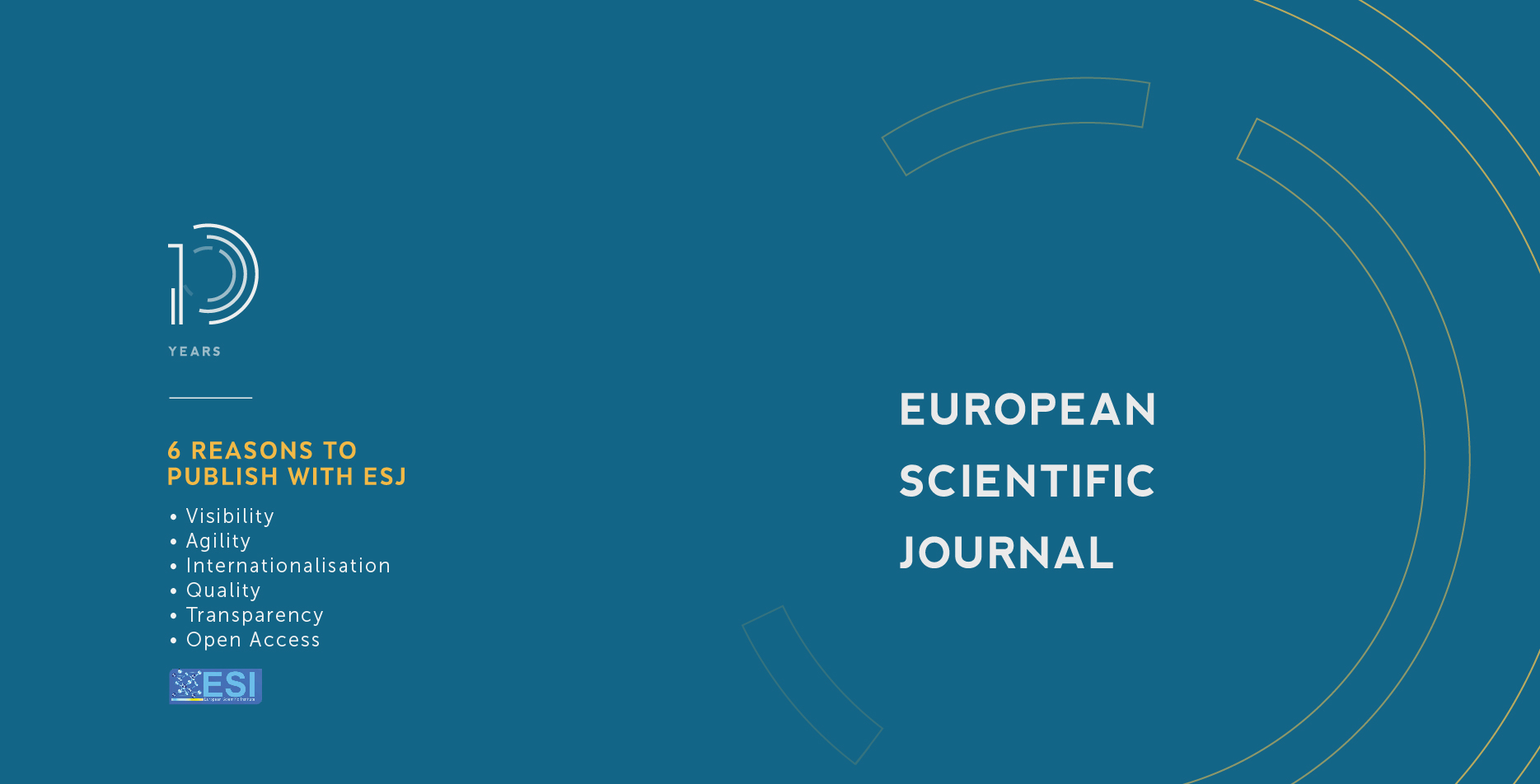 How to Cite
Nadège, A. K. R., Vincent, D., Frédéric, A. A. A., Arnaud, A. D. H., Armel, A. T., Patrice, A. K., Berté, D., Dieudonné, T. B. T., Dramane, K., & Grégoire, Y. Y. (2020). Diversite Phlebotomienne Dans Trois Villages De La Commune De Bouake (Côte D'ivoire) Durant La Periode De Mars A Juin 2019. European Scientific Journal, ESJ, 16(12), 224. https://doi.org/10.19044/esj.2020.v16n12p224
Copyright (c) 2020 Assovié Koco Rita Nadège, Djohan Vincent, Atta Angui Amoikon Frédéric, Aké Donald Hermann Arnaud, Aka Tigori Armel, Akoliba Koliba Patrice, Djakaridja Berté, Ta Bi Tra Dieudonné, Kaba Dramane, Yapi Yapi Grégoire
This work is licensed under a Creative Commons Attribution-NonCommercial-NoDerivatives 4.0 International License.