Insalubrité Lagunaire Et Représentations Sociales Des Productrices De « L'attiéké » Du District D'abidjan (Côte d'Ivoire)
Eba Bokobla Marie-Louise

Université Félix Houphouët-Boigny, Côte d'Ivoire
Keywords:
Conscience environnementale, Éducation environnementale, Insalubrité lagunaire, Productrices d'attiéké, Représentations sociales
Abstract
Les questions liées à l'insalubrité lagunaire sont de plus en plus présentes dans les problématiques environnementales actuelles. Le présent article porte sur les représentations sociales que les productrices de l'attiéké 48 se font de l'insalubrité qui prévaut sur les sites lagunaires où elles exercent dans le District d'Abidjan. À travers une approche qualitative, les outils de collecte de données tels que la revue documentaire, l'observation et les entretiens semi-directifs ont été sollicités. Pour analyser les données, la théorie des représentations sociales est utilisée. L'étude révèle que le déversement des déchets dans la lagune n'est pas une source de pollution pour les productrices de l'attiéké mais plutôt un acte qui favorise la croissance des espèces halieutiques. Aussi, ces femmes considèrent-elles les berges lagunaires comme des espaces publics dont l'entretien relèverait exclusivement des autorités municipales. Par ailleurs, pour elles, se débarrasser de leurs déchets dans la lagune est autant un geste de propreté que balayer sous leurs hangars de production de l'attiéké. Une éducation environnementale par les autorités compétentes sur les conséquences de l'insalubrité sur les berges lagunaires, permettrait un éveil de conscience environnementale au niveau de ces femmes.
Questions related to lagoon unhealthiness are increasingly present in current environmental issues. This article focuses on the social representations that the attiéké producers make of the unhealthy conditions that prevail on the lagoon sites where they operate in the Abidjan District. Through a qualitative approach, data collection tools such as document reviews, observation and semi-structured interviews were used. To analyze the data, social representation theory is used. The study reveals that the dumping of waste in the lagoon is not a source of pollution for the producers of the attiéké but rather an act which promotes the growth of fish species. Also, these women consider the lagoon banks as public spaces whose maintenance would be the exclusive responsibility of municipal authorities. Furthermore, for them to get rid of their waste in the lagoon is as much a gesture of cleanliness as sweeping under their attiéké production sheds. Environmental education by the competent authorities on the consequences of unhealthy conditions on the lagoon banks, would awaken environmental awareness among these women.
Downloads
Download data is not yet available.
PlumX Statistics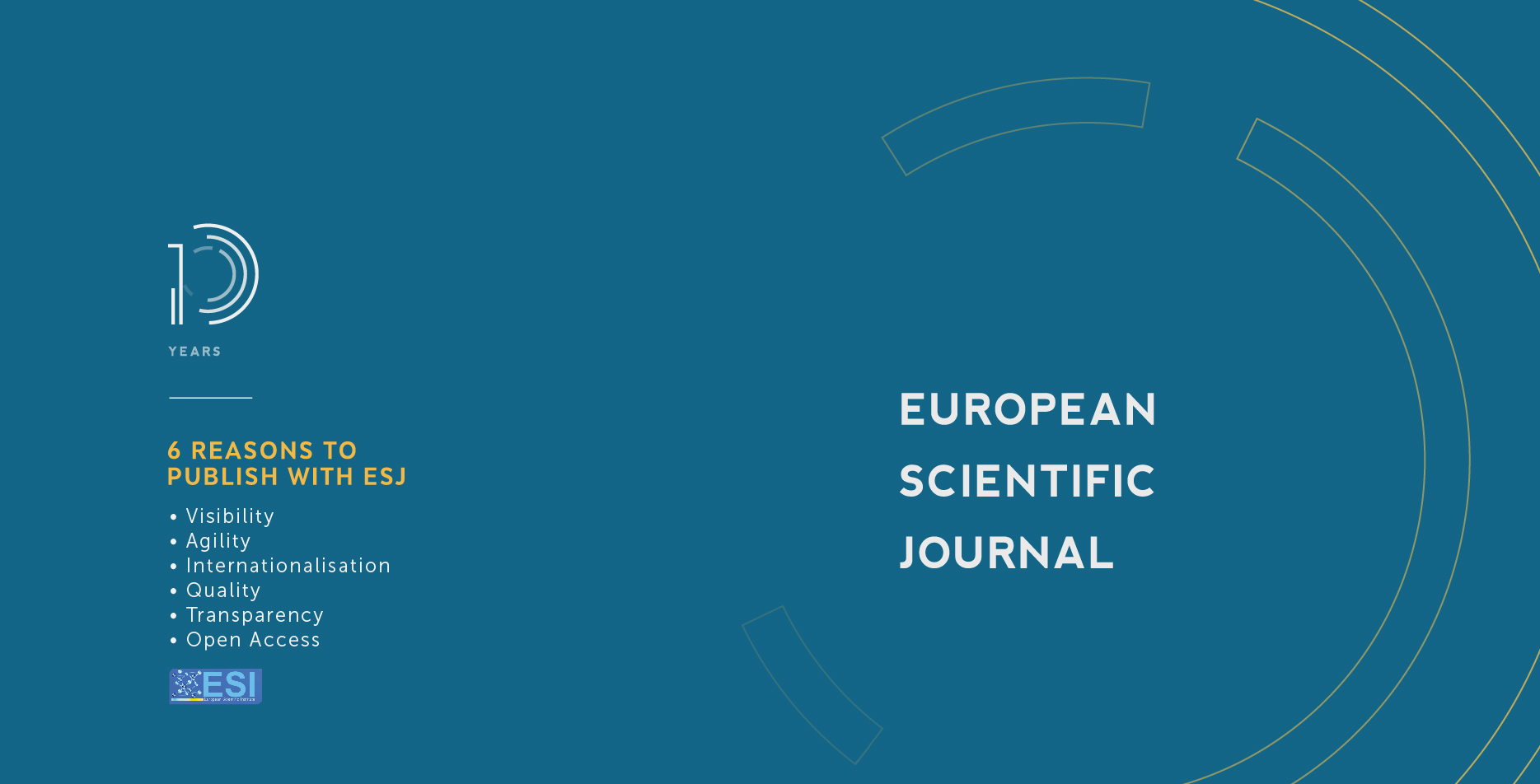 How to Cite
Marie-Louise, E. B. (2020). Insalubrité Lagunaire Et Représentations Sociales Des Productrices De « L'attiéké » Du District D'abidjan (Côte d'Ivoire). European Scientific Journal, ESJ, 16(11), 223. https://doi.org/10.19044/esj.2020.v16n11p223
Copyright (c) 2020 Eba Bokobla Marie-Louise
This work is licensed under a Creative Commons Attribution-NonCommercial-NoDerivatives 4.0 International License.