Enseignement supérieur, capital humain et croissance économique: Une approche par l'analyse causale
Drissa Touré

Unisersité Felix Houphouet-Boigny, Abidjan-Cocody, UFR Sciences de l'Homme et de la Société (SHS), Institut des Sciences Anthropologiques de Développement, Côte d'Ivoire
Keywords:
Enseignement supérieur, croissance économique, causalité, modèle ARDL
Abstract
La contribution de l'enseignement supérieur à la croissance économique dans les pays en voie de développement est très discutée. Le présent travail s'est intéressé au débat en analysant l'impact de cet ordre d'enseignement sur la croissance économique de la Côte d'Ivoire entre 1970 et 2016. Le stock de capital humain de niveau supérieur y est approché par la proportion des travailleurs ayant atteint au moins l'enseignement supérieur et la variable économique est représentée par le produit par travailleur. En utilisant la méthode d'estimation des variables autorégressives à retards échelonnés (ARDL), il résulte que l'enseignement supérieur ivoirien affecte négativement et significativement la croissance économique aussi bien à court terme qu'à long terme. La relation de long terme, confirmée par le test de cointégration aux bornes de Pesaran et al. (2001), montre une certaine sensibilité aux crises socio-politiques, les coefficients étant affectés durant la période de crise puis la constante pendant la période de sortie de crise. Certes, le test de Toda et Yamamoto (1995) révèle une causalité réciproque entre le stock de capital humain de niveau supérieur et le niveau de produit par travailleur. Mais, le signe négatif de leur coefficient et l'intensité causale en faveur de l'enseignement supérieur indiquent que celui-ci a un effet prohibitif sur l'accroissement de la richesse du pays. Il apparait nécessaire, pour inverser cet effet négatif, d'améliorer la qualité de la formation des étudiants, de lutter contre le chômage des diplômés et promouvoir la bonne gouvernance.
The contribution of higher education to economic growth in developing countries is highly debated. The present work is concerned with the debate by analyzing the impact of this level of education on the economic growth of Côte d'Ivoire between 1970 and 2016. The stock of higher-level human capital is approached by the proportion of workers who have attained at least higher education and the economic variable is represented by the product per worker. By using the method of estimating autoregressive distributed lag (ARDL), it follows that Ivorian higher education negatively and significantly affects economic growth in both the short and long terms. The long-term relationship, confirmed by the cointegration test at Pesaran et al. (2001), shows a certain sensitivity to socio-political crises, the coefficients being affected during the crisis period and then the constant during the exit period of crisis. Indeed, the test of Toda and Yamamoto (1995) reveals a reciprocal causality between the stock of higher-level human capital and the level of product per worker. However, the negative sign of their coefficient and the causal intensity in favor of higher education indicate that it has a prohibitive effect on the growth of the country's wealth. To reverse this negative effect, it seems necessary to improve the quality of student training, to combat unemployment among graduates and to promote good governance.
Downloads
Download data is not yet available.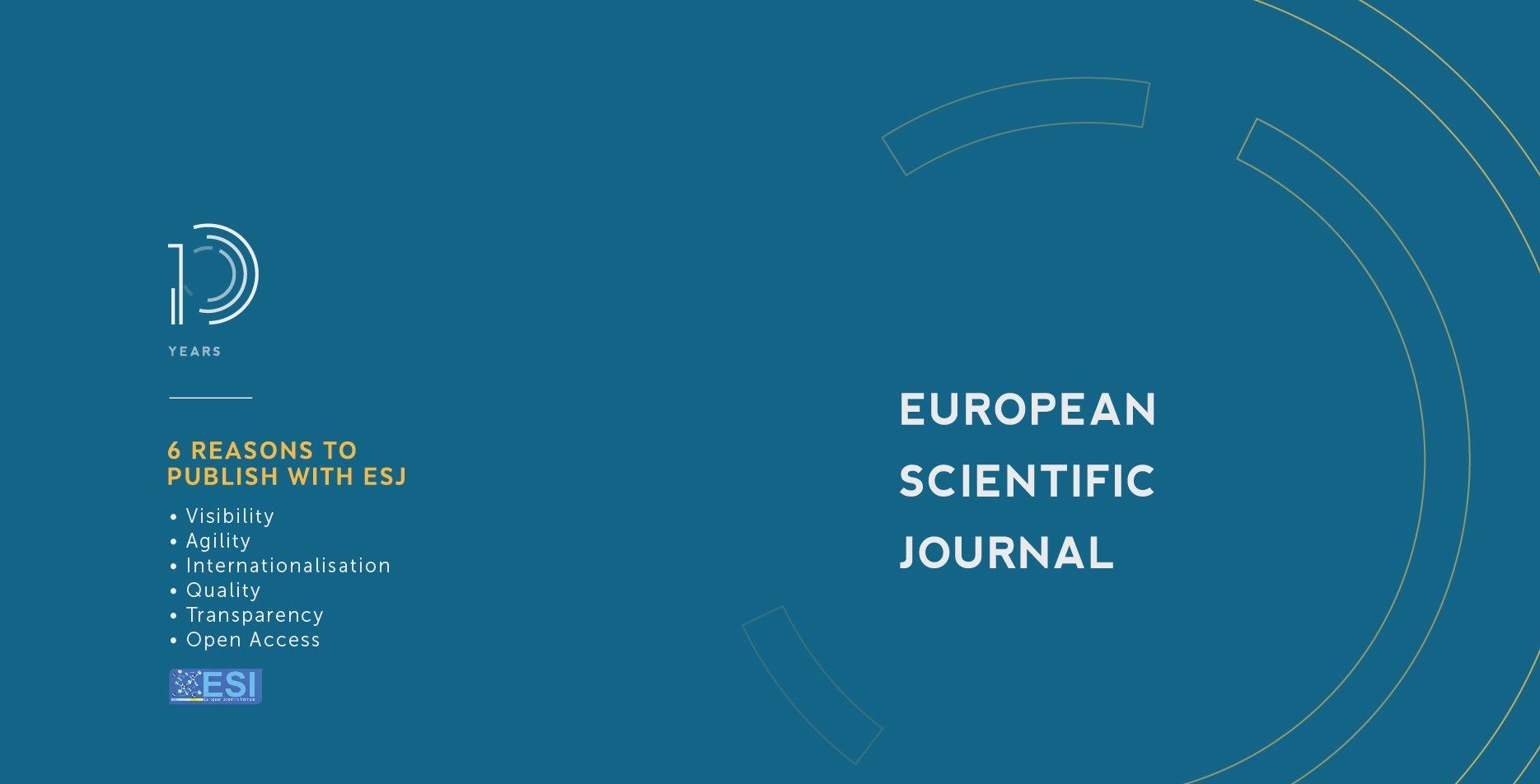 How to Cite
Touré, D. (2020). Enseignement supérieur, capital humain et croissance économique: Une approche par l'analyse causale. European Scientific Journal, ESJ, 16(16), 255. https://doi.org/10.19044/esj.2020.v16n16p255
Section
ESJ Social Sciences
Copyright (c) 2020 Drissa Touré
This work is licensed under a Creative Commons Attribution-NonCommercial-NoDerivatives 4.0 International License.