Elevage Urbain : Pratiques Quotidiennes dans les Villes Moyennes de L'ouest-Cameroun
Djeugap Guedia Amélie Mermoze

Université de Dschang, Département de géographie, Centre d'Etudes et de Recherche en Espaces, Arts, et Humanités (CEREAH), Cameroun

Yemmafouo Aristide

Université de Dschang, Département de géographie, Centre d'Etudes et de Recherche en Espaces, Arts, et Humanités (CEREAH), Cameroun
Keywords:
Elevage urbain, pratiques quotidiennes, villes moyennes, OuestCameroun
Abstract
L'élevage urbain est un phénomène croissant dans les villes du sud, pourtant il n'est souvent abordé que dans le cadre d'un complément à l'agriculture urbaine et non comme un objet de recherche ayant sa propre dynamique. L'étude entend mettre en relief une activité régulière constamment renouvelée dans les villes moyennes de l'Ouest-Cameroun. La croissance urbaine et les crises socioéconomiques qu'elle génère dans le cours de la vie des citadins, prédisposaient les villes à l'élevage. Cette étude examine les pratiques sous-tendant l'élevage urbain. Dans les villes de Dschang (avrilmai 2019), Mbouda (Juin 2019) et Foumbot (Août 2019) se sont effectuées les enquêtes par questionnaire et entretien pour obtenir respectivement les informations quantitatives et qualitatives. L'échantillonnage des villes et des quartiers a privilégié l'ampleur des activités d'élevage urbain. Après les observations, 100 questionnaires par ville et 25 entretiens basés sur les pratiques d'élevage ont été réalisés. Dans ces villes, en moyenne 60% de citadins font l'élevage pour les raisons commerciales. Les éleveurs sont encouragés principalement par leurs conditions urbaines. Le développement de l'élevage des moutons/caprins, porcs et volailles relève désormais des activités normales. Le système intensif fait appel à une main d'œuvre salariée s'occupant à temps plein des animaux tandis que les autressystèmes emploient la main d'œuvre familiale. Même si l'élevage est surtout pratiqué comme activité secondaire (87%), de gros investissements sont réalisés chez les professionnels. La disponibilité de l'espace reste le grand facteur limitant pour un marché florissant dans les villes moyennes.
Urban livestock farming is a growing phenomenon in southern cities; however, it is often approached only as a complement to urban agriculture and not as a research topic with its own dynamics. The study intends to highlight a regular activity that is constantly renewed in the medium-sized cities of West Cameroon. Urban growth and the socio-economic crises that it generates in the life course of city dwellers predisposed the cities to livestock production. This study examines the practices underlying urban livestock production. In the cities of Dschang (April-May 2019), Mbouda (June 2019) and Foumbot (August 2019), surveys by questionnaire and interviews were carried out to obtain quantitative and qualitative informations respectively. The sampling of cities and neighborhoods focused on the extent of urban livestock activities. After the observations, 100 questionnaires per city and 25 interviews based on farming practices were carried out. In these cities, an average of 60% of city dwellers practice livestock farming for commercial reasons. Livestock farmers are mainly encouraged by their urban conditions. The development of sheep/goat, pig and poultry farming is now part of normal activities. Intensive system use salaried labor to care for the animals on a full-time basis, while others systems use family labor. Although livestock farming is mainly practiced as a secondary activity (87%), large investments are made by professionals. The availability of space remains the major limiting factor for a flourishing market in medium-sized cities.
Downloads
Download data is not yet available.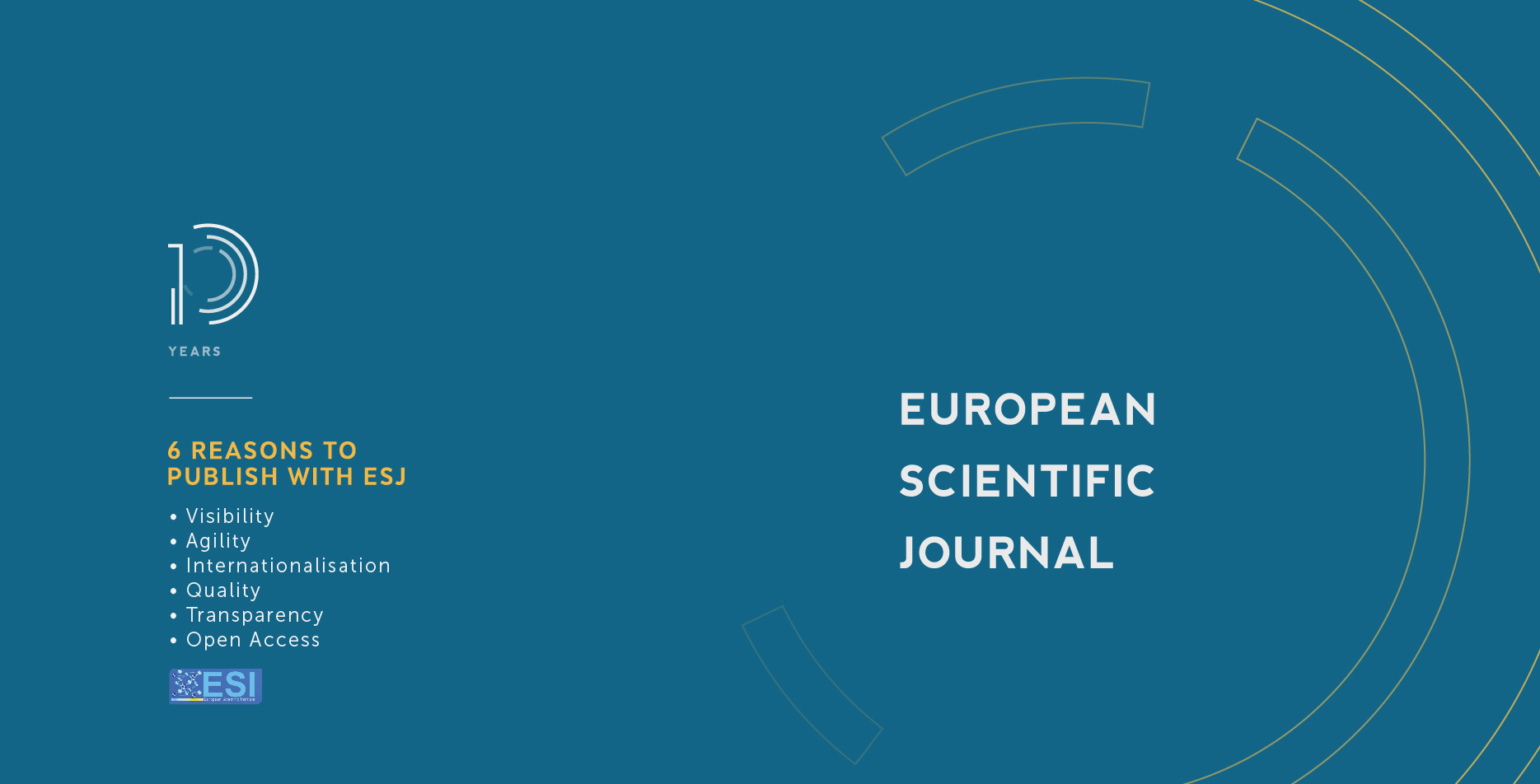 How to Cite
Mermoze, D. G. A., & Aristide, Y. (2020). Elevage Urbain : Pratiques Quotidiennes dans les Villes Moyennes de L'ouest-Cameroun. European Scientific Journal, ESJ, 16(17), 115. https://doi.org/10.19044/esj.2020.v16n17p115
Copyright (c) 2020 Djeugap Guedia Amélie Mermoze, Yemmafouo Aristide
This work is licensed under a Creative Commons Attribution-NonCommercial-NoDerivatives 4.0 International License.