Captación De Potenciales Eléctricos Oculares Para Su Uso Viable En Interfaz Hombre-Máquina
Milky Rodriguez

Departmento de Biociencias y Salud Pública, Corregimiento de Ancón, Albrook, Paseo Diógenes de la Rosa, Panamá, Universidad Especializada de las Américas A quien la correspondencia debe ser dirigida

Suhey García

Departmento de Biociencias y Salud Pública, Corregimiento de Ancón, Albrook, Paseo Diógenes de la Rosa, Panamá, Universidad Especializada de las Américas A quien la correspondencia debe ser dirigida

Jay Molino

Departmento de Biociencias y Salud Pública, Corregimiento de Ancón, Albrook, Paseo Diógenes de la Rosa, Panamá, Universidad Especializada de las Américas A quien la correspondencia debe ser dirigida
Keywords:
Electrooculografía, Discapacidad, Interfaz HombreMáquina, Movimiento De Ojos, Interfaz Gráfica
Abstract
La captación de señales oculares es útil para el control en interfaz hombre-máquina (IHM) en pacientes que sufren de enfermedades motoras incapacitantes (e.g. Esclerosis lateral amiotrófica, o infortunados eventos que dejan al paciente con una severa discapacidad como un derrame cerebral o accidentes vehiculares) de manera tal que puedan usar el movimiento ocular como sistema de control en interfaz hombre-máquina para el mejoramiento de la calidad de vida de estos pacientes. Para ello, esta investigación tiene por objetivo desarrollar un dispositivo de bajo costo para la captación de señales oculares que permita ser empleado en IHMs. Materiales y métodos: Se diseñó un dispositivo que fue validado en una población de diez estudiantes adultos de la Facultad de Ingeniería Biomédica de la Universidad Especializada de las Américas (Panamá) y se registraron los potenciales del movimiento ocular vertical y horizontal. Resultados: Se confirma que la magnitud de la señal es directamente proporcional al desplazamiento ocular y que no hay correlación estadística significativa entre los potenciales para una distancia de desplazamiento ocular específica, es decir, tanto el ojo izquierdo como el derecho registraron el mismo potencial para las mismas distancias. El potencial mínimo registrado fue de 88,0±16,8 mV y el máximo de 382,0 ± 72,08mV. El dispositivo se vinculó a una bombilla de intensidad lumínica variable de manera tal que, dependiendo del potencial registrado, la intensidad de la bombilla varía. Esto demuestra que el dispositivo puede ser usado como interfaz en una IHM. Conclusión: El análisis estadístico de la investigación brinda confiabilidad a los resultados captados por el dispositivo diseñado (captador de señales mioeléctricas). Al encender el led se muestra la posibilidad de que el dispositivo sea empleado para interfaz hombre-máquina.
The capture of ocular signals is useful for controlling human-machine interfaces in patients suffering from disabling motor diseases (e.g., amyotrophic lateral sclerosis, or unfortunate events, such as accidents, that leave the patient with a severe disability). Such interfaces aim to improve their quality of life. Thus, this research aims to develop a low-cost device for capturing eye signals that allow it to be used in HMIs. Materials and methods: A device was designed and validated in a population of 10 adult students from the Faculty of Biomedical Engineering of the Specialized University of the Americas (Panama), and the potential of vertical and horizontal eye movement were recorded. Results: The magnitude of the signal is directly proportional to the ocular displacement. Furthermore, there is no significant statistical difference among the recorded potential for a specific ocular displacement; that is, both the left and the right eye marked the same potential for same displaced distances. The minimum potential recorded was 88.0 ± 16.8 mV, and the maximum was 382.0 ± 72.08mV. The device was connected to a variable intensity light bulb, and depending on the registered potential, the intensity of the light changed. Thus, the device could be used as an interface in an HMI. Conclusion: The statistical analysis showed the reliability of the designed device (myoelectric signal collector). When the LED is switched on, the possibility of the equipment being used for humanmachine interfaces is shown.
Downloads
Download data is not yet available.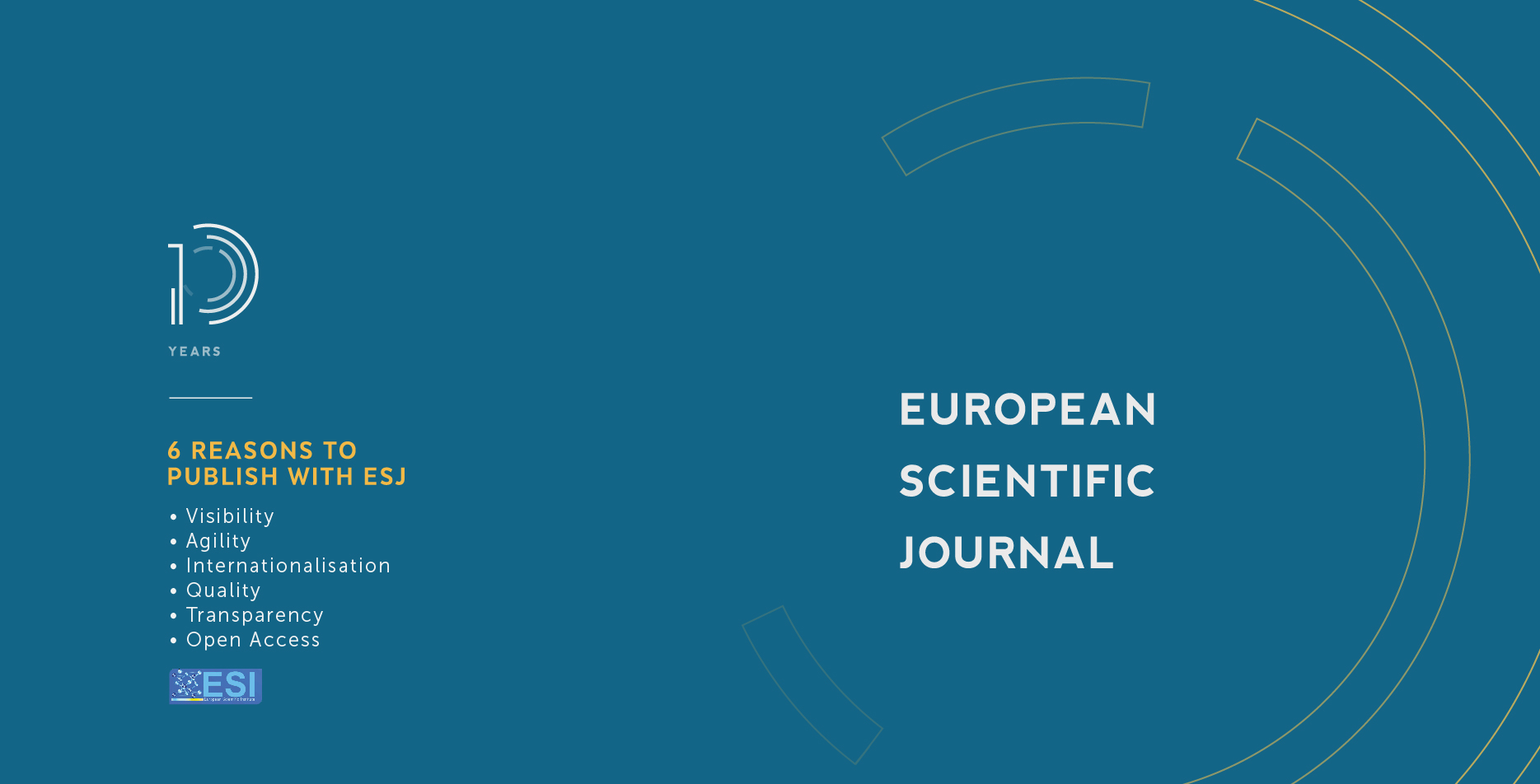 How to Cite
Rodriguez, M., García, S., & Molino, J. (2020). Captación De Potenciales Eléctricos Oculares Para Su Uso Viable En Interfaz Hombre-Máquina. European Scientific Journal, ESJ, 16(18), 102. https://doi.org/10.19044/esj.2020.v16n18p102
Section
ESJ Natural/Life/Medical Sciences
Copyright (c) 2020 Milky Rodriguez, Suhey García, Jay Molino
This work is licensed under a Creative Commons Attribution-NonCommercial-NoDerivatives 4.0 International License.