Perte Post-Récolte Dans La Perspective De Stockage Des Bulbes D'oignons (Allium Cepa L.) En Milieu Paysan Dans Le Département De La Bénoué Nord-Cameroun
Housseini Djida Jacques

Institut de Recherche Agricole pour le Développement (IRAD), Station Polyvalente de Recherche Agricole de Garoua SPRA-Garoua Université de Ngaoundéré, Faculté des Sciences, Département de Sciences Biologiques

Alioum Paul Sounou

Institut de Recherche Agricole pour le Développement (IRAD), Station Polyvalente de Recherche Agricole de Garoua SPRA-Garoua Université de Ngaoundéré, Faculté des Sciences, Département de Sciences Biologiques

Saifoullah Dairou

Institut de Recherche Agricole pour le Développement (IRAD), Station Polyvalente de Recherche Agricole de Garoua SPRA-Garoua Université de Ngaoundéré, Faculté des Sciences, Département de Sciences Biologiques
Keywords:
Perte post-récolte, stockage, Violet de Galmi, Nord-Cameroun
Abstract
Le caractère saisonnier de la production de l'oignon de variété Violet de Galmi en irrigation dans le département de la Bénoué limite essentiellement sa disponibilité sur les marchés durant toute l'année. L'objectif de cette étude est d'évaluer les pertes post-récoltes dans une perspective de stockage des bulbes d'oignons de variété Violet de Galmi en milieu paysan dans la localité de Garoua, Nord-Cameroun. Sur un échantillon de 55 bulbes d'oignons choisi au hasard dans le magasin d'un paysan, les paramètres suivants ont été enregistrés toutes les deux semaines et pendant quatre mois de conservation : le poids des bulbes et le dénombrement de bulbes pourris et germés. Pendant toute la période de conservation le poids de bulbes décroit graduellement. Les bulbes pourris représentaient la perte la plus importante 9,1 pourcents, suivi de perte de masse soit 6,9 pourcents et les bulbes germés 5,5 pourcents. Le taux de perte globale pendant toute la période de stockage est de 21,5 pourcents.
The seasonal nature of the production of the Violet Galmi onion in irrigation in the Bénoué department essentially limits its availability on the markets throughout the year. The objective of this study is to assess postharvest losses with a view to storing bulbs of the Violet de Galmi variety onions in a farming environment in the locality of Garoua, North-Cameroon. On a sample of 55 onion bulbs chosen at random from a farmer's store, the following parameters were recorded every two weeks and for four months of storage: the weight of the bulbs and the count of rotten and sprouted bulbs. During the entire storage period, the weight of the bulbs gradually decreases. Rotten bulbs represented the largest loss of 9.1 percent, followed by mass loss of 6.9 percent and sprouted bulbs 5.5 percent. The overall loss rate during the entire storage period is 21.5 percent.
Downloads
Download data is not yet available.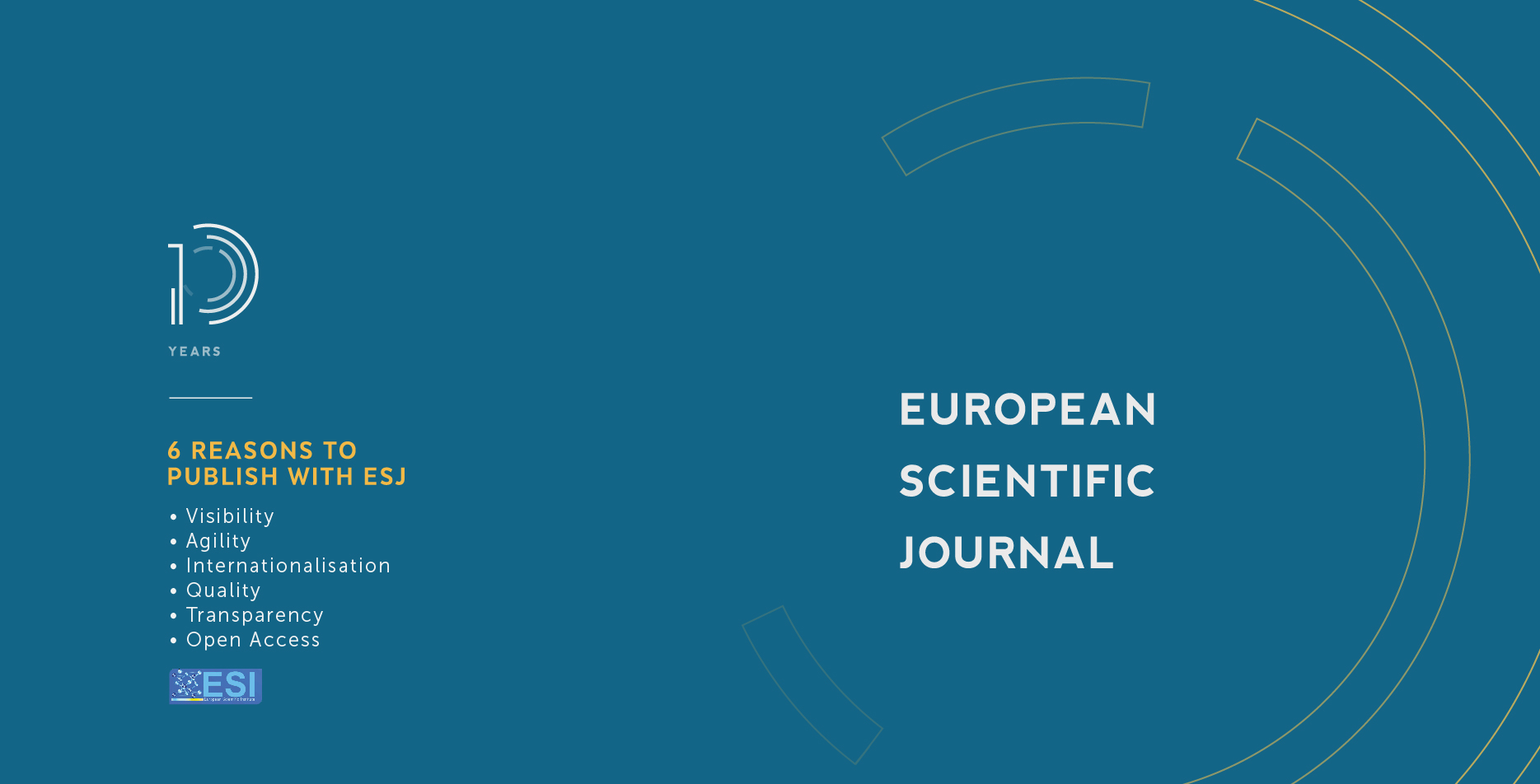 How to Cite
Jacques, H. D., Sounou, A. P., & Dairou, S. (2020). Perte Post-Récolte Dans La Perspective De Stockage Des Bulbes D'oignons (Allium Cepa L.) En Milieu Paysan Dans Le Département De La Bénoué Nord-Cameroun. European Scientific Journal, ESJ, 16(18), 124. https://doi.org/10.19044/esj.2020.v16n18p124
Section
ESJ Natural/Life/Medical Sciences
Copyright (c) 2020 Housseini Djida Jacques, Alioum Paul Sounou, Saifoullah Dairou
This work is licensed under a Creative Commons Attribution-NonCommercial-NoDerivatives 4.0 International License.