Urgences Chirurgicales Abdominales Pédiatriques Au Nord-Bénin : Aspects Epidémiologiques Et Diagnostiques
Tamou Sambo B.

Service de Chirurgie Générale, CHU de Parakou, Parakou, Bénin

Yassegoungbe MG

Clinique Universitaire de Chirurgie Pédiatrique, CNHU-HKM, Cotonou, Bénin

Hodonou MA

Service de Chirurgie Générale, CHU de Parakou, Parakou, Bénin

Seto DM

Clinique Universitaire de Chirurgie Viscérale, CNHU-HKM, Cotonou, Bénin

Allode SA

Service de Chirurgie Générale, CHU de Parakou, Parakou, Bénin
Keywords:
Urgence Abdominale, Enfant, Péritonite, Malformation AnoRectale, Plaie Abdominale
Abstract
Les urgences chirurgicales abdominales pédiatriques sont relativement fréquentes surtout en Afrique. Elles posent un problème de retard de consultation dans notre contexte de travail. Objectif : L'objectif de notre travail était d'étudier les aspects épidémiologiques et diagnostiques des urgences chirurgicales abdominales pédiatriques au Nord-Bénin. Patients et méthodes : Il s'agissait d'une étude prospective descriptive et analytique réalisée au CHU de Parakou et à l'Hôpital de Zone de Tanguiéta. Elle s'est déroulée du 1er Janvier au 31 Juillet 2016. Etaient inclus tous les enfants de 0 à 15 ans admis pour une urgence chirurgicale abdominale avec une Classification Clinique des Malades aux Urgences cotée à 3 ; 4 ou 5. Résultats : Les urgences chirurgicales abdominales pédiatriques représentaient 42,8% des urgences chirurgicales pédiatriques. La moyenne d'âge était de 9,3 ± 3,5 ans. La sex-ratio était de 1,7. Les étiologies les plus fréquentes étaient les péritonites (36,8%), les traumatismes abdominaux (16,2%) et les malformations anorectales (14,7%). Le délai moyen de consultation était de 5 ± 1 jours et était lié au bas niveau d'instruction des parents (p= 0,00). Le délai moyen de diagnostic était de 3,1 heures. Au plan paraclinique, l'hémogramme et la radiographie de l'abdomen sans préparation étaient les examens les plus réalisés. Conclusion : Les enfants de sexe masculin étaient les plus touchés. Les principales urgences chirurgicales abdominales étaient les péritonites, les traumatismes abdominaux et les malformations ano-rectales. La sensibilisation des parents pour une consultation précoce est nécessaire.
Pediatric abdominal surgical emergencies are relatively common especially in Africa. They pose a problem of delay in consultation in our work context. Objective: The objective of our work was to study epidemiological and diagnostic aspects of pediatric abdominal surgical emergencies in North Benin. Patients and methods: This is a prospective descriptive and analytical study conducted at Parakou teaching hospital and Tanguieta district hospital. It has been achieved from January 1st to July 31st 2016. Were included all children aged 0 to 15 years admitted for an abdominalsurgical emergency with a Clinical Classification of Emergency Patients listed from 3 to 5. Results: Pediatric abdominal surgical emergencies accounted for 42.8% of pediatric surgical emergencies. The average age was 9.3 ± 3.5 years old. The sex ratio was 1.7. The most common etiologies were peritonitis (36.76%), abdominal trauma (16.2%) and anorectal malformations (14.71%). The mean time of admission was 5 ± 1 days and was related to low parental education (p = 0.00). The mean time to diagnosis was 3.1 hours. Hemogram and abdominal X-rays were the most performed examinations. Conclusion: The boys were the most affected. The main abdominal surgical emergencies were peritonitis, abdominal trauma and anorectal malformations. Parental awareness for early consultation is necessary.
Downloads
Download data is not yet available.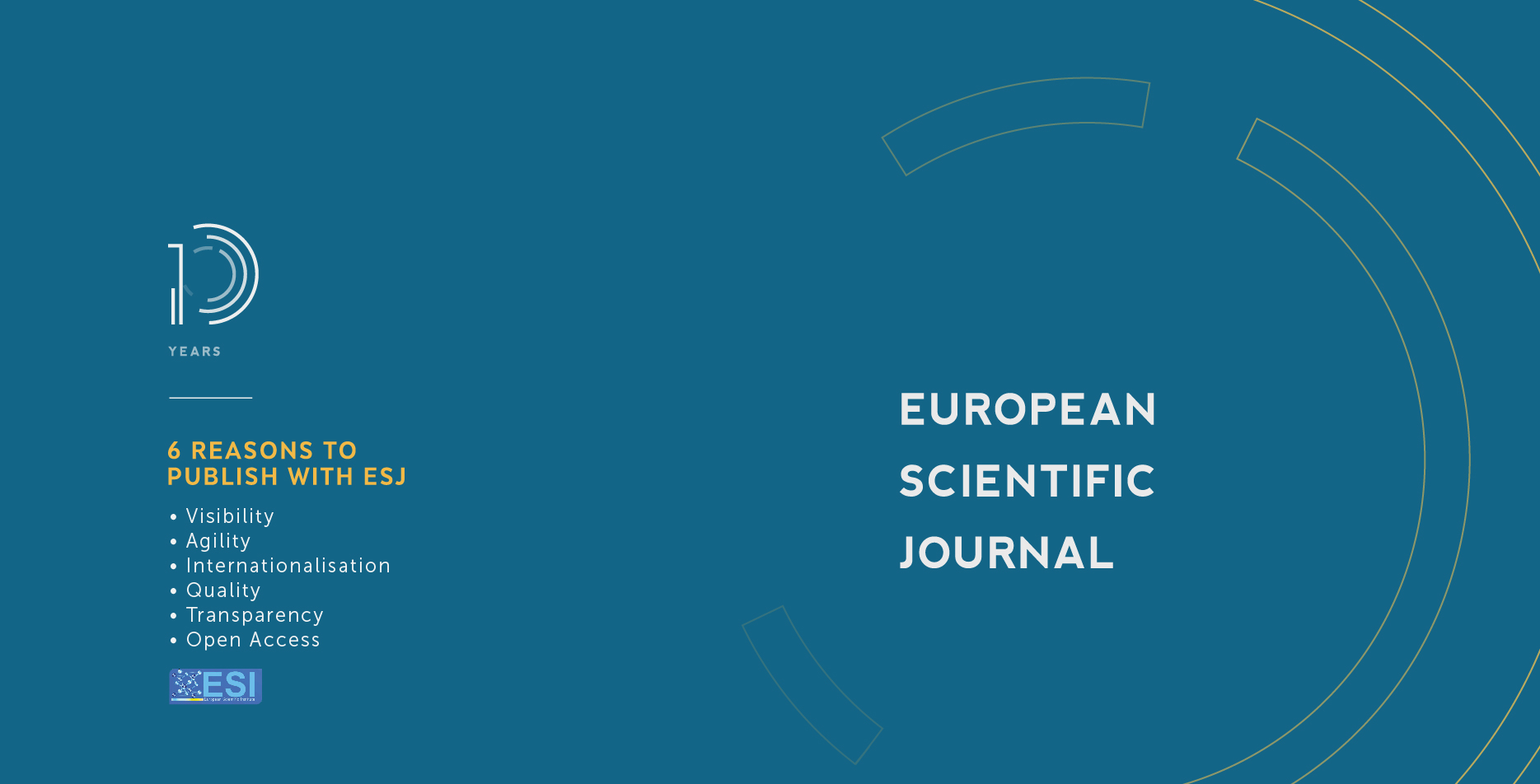 How to Cite
B., T. S., MG, Y., MA, H., DM, S., & SA, A. (2020). Urgences Chirurgicales Abdominales Pédiatriques Au Nord-Bénin : Aspects Epidémiologiques Et Diagnostiques. European Scientific Journal, ESJ, 16(18), 132. https://doi.org/10.19044/esj.2020.v16n18p132
Section
ESJ Natural/Life/Medical Sciences
Copyright (c) 2020 Tamou Sambo B., Yassegoungbe MG, Hodonou MA, Seto DM, Allode SA
This work is licensed under a Creative Commons Attribution-NonCommercial-NoDerivatives 4.0 International License.