Sciage De Rebuts De Tectona Grandis L. F. (Teck)
Ahoba Assandé

Centre National de Recherche Agronomique (CNRA) Station de Recherche Technologique (SRT), Côte d'Ivoire

N'Guessan Kangah Anatole

Centre National de Recherche Agronomique (CNRA) Station de Recherche Technologique (SRT), Côte d'Ivoire

Gueulou Nina

Université Nangui Abrogoua, UFR des Sciences de la Nature (SN), Côte d'Ivoire. Centre National de Recherche Agronomique (CNRA) Station de Recherche Technologique (SRT), Côte d'Ivoire

Issali Auguste Emmanuel

Ministère de la Recherche Scientifique et de l'Innovation Technologique, Congo, Brazzaville

Coulibaly Brahima

Centre National de Recherche Agronomique (CNRA) Station de Recherche Technologique (SRT), Côte d'Ivoire
Keywords:
Teck, Rebuts, Diamètre, Sciage, Rendement Sciage, Aubier
Abstract
Les rebuts de billons de teck abandonnés dans les parcelles après exploitation, sont taxés de faibles diamètres et de faible rendement au sciage. Le travail réalisé vise à montrer la similitude de ces valeurs entre les rebuts et les billons de premier choix. Sept cent (700) rebuts de billons de teck de 24 ans, sélectionnés en zone de forêt dense semi-décidue, ont été cubés et sciés en usine avec un plateau technique adapté aux bois de petits diamètres. Les résultats obtenus montrent que les diamètres moyens des rebuts de billons étudiés sont faibles et gravitent autour de la classe 15/19 cm à 37%, autour de la classe 20/24 cm à 44% (majoritaire), autour de la classe 25/29 cm à 15% et autour de la classe 30/34 cm à seulement 3%. Ces valeurs, bien que faibles, sont du même ordre de grandeur que celles des billons de premier choix de même âge ou d'âge proche. Le rendement brut sciage obtenu est de 38,12% qui est faible mais également similaire à celui des billons de teck de premier choix. Ce rendement chute de 4 à 7% en éliminant l'aubier pour améliorer la qualité des débités. Les rebuts de billons de teck présentent des diamètres et des rendements sciages faibles mais similaires à ceux des billons de premier choix. Les quantités abandonnées dans les parcelles prenant de plus en plus de l'ampleur, les rebuts offrent ainsi une bonne opportunité de valorisation de matière première à l'échelle industrielle par un plateau technique fixe ou mobile.
Discarded teak logs in post-harvest plots are taxed with small diameters and low sawing yield. The work carried out aims to show the similarity of these values between the rejects and the logs of first choice. Seven hundred rejects of 24-year-old teak logs, selected in semi-deciduous dense forest zone, were cubed and sawed at the factory with a technical platform adapted to small diameter woods.The results obtained show that the average diameters of the discarded teak logs studied are low and revolve around the 15/19 cm class at 37%, around the 20/24 cm class at 44% (majority), around the 25/29 cm class at 15% and around the class 30/34 cm at only 3%. These values, although low, are of the same order of magnitude as those of firstgrade logs of the same age or near age.The gross sawing yield obtained is 38.12% which is low but also similar to that of the first choice teak logs. This yield drops by 4 to 7% by eliminating the sapwood to improve the quality of the sawn timber. Discarded teak logs have low lumber diameters and yields, but are similar to those of high grade logs. The quantities left in the plotstaking more and more scale, the rejects thus offer a good opportunity for raw material valorization on an industrial scale by a fixed or mobile technical platform.
Downloads
Download data is not yet available.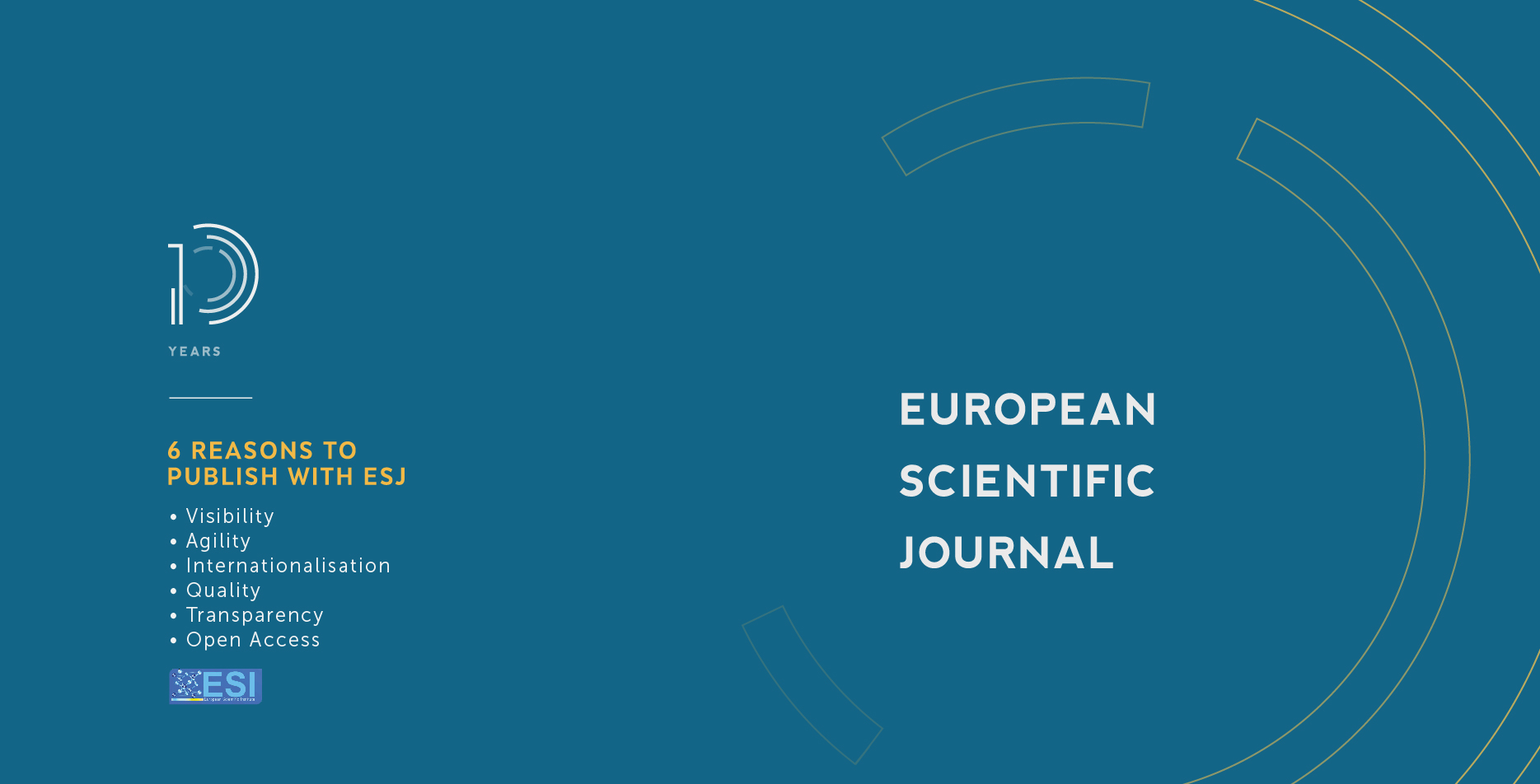 How to Cite
Assandé, A., Anatole, N. K., Nina, G., Emmanuel, I. A., & Brahima, C. (2020). Sciage De Rebuts De Tectona Grandis L. F. (Teck). European Scientific Journal, ESJ, 16(18), 140. https://doi.org/10.19044/esj.2020.v16n18p140
Section
ESJ Natural/Life/Medical Sciences
Copyright (c) 2020 Ahoba Assandé, N'Guessan Kangah Anatole, Gueulou Nina, Issali Auguste Emmanuel, Coulibaly Brahima
This work is licensed under a Creative Commons Attribution-NonCommercial-NoDerivatives 4.0 International License.