Hernie De Amyand Compliquee De Gangrene De Fournier : A Propos D'un Cas Et Revue De La Litterature
Raouf Fayisall Geraldo

Service de Chirurgie Viscérale et digestive, Centre Hospitalier Moulins-Yzeure, France Faculté des Sciences de la Santé, Université de Lomé, Togo

Hugues Ndasu Matendo

Service de Chirurgie Viscérale et digestive, Centre Hospitalier Moulins-Yzeure, France

Liviu Musteata

Service de Chirurgie Viscérale et digestive, Centre Hospitalier Moulins-Yzeure, France

Valériu Krasovski

Service de Chirurgie Viscérale et digestive, Centre Hospitalier Moulins-Yzeure, France

Valentin Nitu

Service de Chirurgie Viscérale et digestive, Centre Hospitalier Moulins-Yzeure, France

Thierry Gastaud

Service de Chirurgie Viscérale et digestive, Centre Hospitalier Moulins-Yzeure, France

Fabrice Cattan

Service de Chirurgie Viscérale et digestive, Centre Hospitalier Moulins-Yzeure, France
Keywords:
Hernie Amyand, Gangrène De Fournier, Thrombus Ventriculaire, Dénutrition, Traitement
Abstract
La hernie de Amyand se définit par l'incarcération de l'appendice vermiculaire dans le sac herniaire. Elle constitue une entité rare. Nous rapportons le cas d'un patient de 75ans, éthylique, dénutri et porteur d'une cardiopathie ischémique stenté et sous traitement anticoagulant, admis pour une tuméfaction douloureuse et chaude localisée en région inguinale droite évoluant depuis cinq jours. Le bilan biologique révélait un syndrome infectieux et des troubles sévères de l'hémostase. Le scanner a objectivé un appendice perforé au sein du sac herniaire droit et un thrombus intraventriculaire gauche. L'évolution s'est faite vers une gangrène de Fournier. Après correction des troubles hémostatiques, la prise en charge chirurgicale a consisté en l'appendicectomie, drainage par laparotomie médiane associée à une orchidectomie droite sur un testicule nécrosé avec exérèse jusqu'en zone saine de la peau scrotale. Malgré des constantes stables en per-opératoire, le patient a présenté un arrêt cardiaque en post-opératoire immédiat, réanimé sans succès.
Amyand hernia is defined by the presence of appendix herniating into the deep inguinal ring. It's a rare condition. We report the case of a 75-yearold male patient, presenting alcoholism, undernutrition and ischemic cardiopathy which required angioplasty and anticoagulation, admitted for a painful and hot swelling in right inguinal region evolving for five days. Blood analysis revealed infectious syndrome and important hemostasis disorders. Computed Tomography scan showed perforated appendix herniating through inguinal ring associated to a thrombus in the left ventricle. The evolution was marked by a Fournier's gangrene. After getting the normalization of the hemostasis values, a laparotomy was performed for appendicectomy, drainage. The right testicle, necrotized, was removed, with a wide debridement of the fasciitis. Although the parameters were stable during the surgery, the patient presented
Downloads
Download data is not yet available.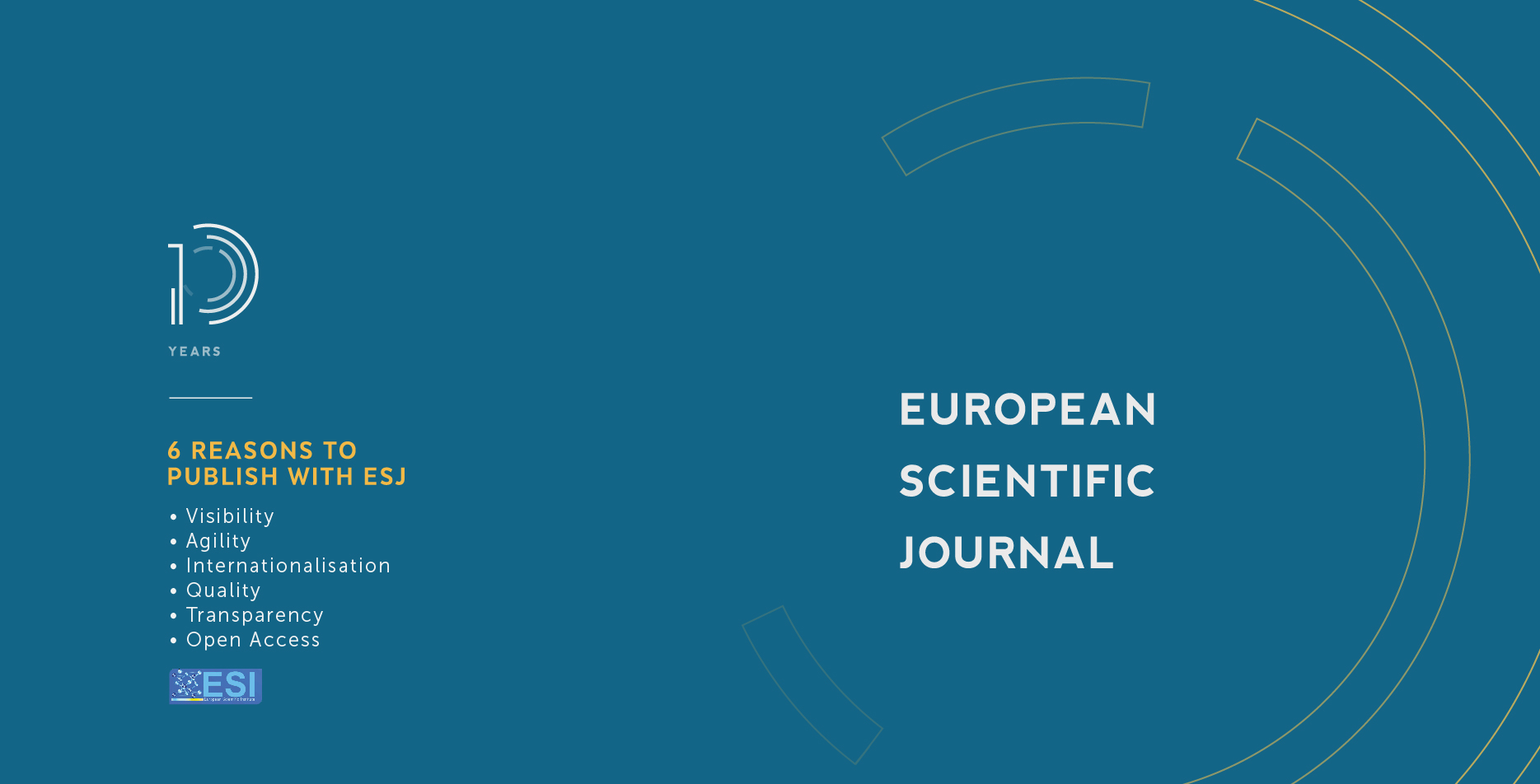 How to Cite
Geraldo, R. F., Matendo, H. N., Musteata, L., Krasovski, V., Nitu, V., Gastaud, T., & Cattan, F. (2020). Hernie De Amyand Compliquee De Gangrene De Fournier : A Propos D'un Cas Et Revue De La Litterature. European Scientific Journal, ESJ, 16(18), 209. https://doi.org/10.19044/esj.2020.v16n18p209
Section
ESJ Natural/Life/Medical Sciences
Copyright (c) 2020 Raouf Fayisall Geraldo, Hugues Ndasu Matendo, Liviu Musteata, Valériu Krasovski, Valentin Nitu, Thierry Gastaud, Fabrice Cattan
This work is licensed under a Creative Commons Attribution-NonCommercial-NoDerivatives 4.0 International License.