Impacts Socio-Économiques Du Diabète Chez Les Diabétiques Suivis À Porto-Novo En 2016
Alassani Adébayo

Département de Médecine et Spécialités Médicales, Faculté de Médecine, Université de Parakou, Bénin

Mama Cisse Ibrahim

Département de Médecine et Spécialités Médicales, Faculté de Médecine, Université de Parakou, Bénin

Gninkoun Jules

Département de Médecine et Spécialités Médicales, Faculté des Sciences de la Santé, Université d'Abomey Calavi

Gounongbe Fabien

Département de Médecine et Spécialités Médicales, Faculté de Médecine, Université de Parakou, Bénin

Codjo Léopold

Département de Médecine et Spécialités Médicales, Faculté de Médecine, Université de Parakou, Bénin

Gandaho Prosper

Département de Médecine et Spécialités Médicales, Faculté de Médecine, Université de Parakou, Bénin
Keywords:
Impact Socio-Économique, Diabète, Porto-Novo, Bénin
Abstract
Le diabète est une affection qui pose un problème de santé publique avec des complications sur divers organes. Son impact socio-économique est peu étudié au Bénin. L'objectif de la présente étude était de décrire l'impact socio-économique du diabète chez les diabétiques suivis à l'hôpital universitaire de Porto-Novo en 2016. Il s'est agi d'une étude transversale et descriptive allant du 7 Novembre au 23 Décembre 2016. La population d'étude était constituée des diabétiques des deux sexes, âgés d'au moins 18 ans et ayant donné leur consentement. L'échantillonnage a été exhaustif. L'impact social et économique du diabète a été apprécié grâce à un questionnaire pré-établi. La saisie et l'analyse des données ont été faites par les logiciels EPI DATA 3.1, EPI INFO 7 et STATA 11. Au total, 133 diabétiques ont été recrutés pour l'étude. L'âge moyen est de 54±8 ans. Il y avait une prédominance féminine avec un sexe ratio de 0,6. Sur le plan social, 26,3 % avaient une atténuation des relations avec le conjoint, 83,5 % n'arrivaient pas à remplir les besoins de la famille et 69,9 % avaient une altération de la qualité de vie. Sur le plan économique, 94 % avaient des absences répétées au travail, 68,4 % avaient diminué les heures de travail, 54,3 % ont signalé une diminution de leur revenu mensuel et tous avaient signalé l'augmentation de leurs dépenses mensuelles. Le diabète a un impact socio-économique négatif important sur les diabétiques à Porto-Novo. La prise en charge des diabétiques devrait aborder ce volet.
Diabetes is a disease that poses a public health problem with complications on various organs. Its socio-economic impact is little studied in Benin. The objective of this study was to describe the socio-economic impact of diabetes in diabetics followed in teaching hospital of Porto-Novo in 2016. This was a cross-sectional and descriptive study from November 7 to December 23, 2016. The study population consisted of diabetics of both sexes who have age at least 18 years old and have given their consent. The sampling was exhaustive. The social and economic impact of diabetes was assessed using a pre-established questionnaire. Data entry and analysis was done by software EPI DATA 3.1, EPI INFO 7 and STATA 11. A total of 133 diabetics were recruited for the study. The average age is 54 ± 8 years. The sex ratio men/women is 0.6. On a social level, 26.3% had a weakening of relationships with the spouse, 83.5% could not meet the needs of the family and 69.9% had an impairment in the quality of life. Economically, 94% had repeated absences fromwork, 68.4% had reduced work hours, 54.3% reported a decrease in their monthly income and all had reported an increase in their monthly expenses. Diabetes has a significant negative socio-economic impact on diabetics in Porto-Novo. The management of diabetics should address this aspect.
Downloads
Download data is not yet available.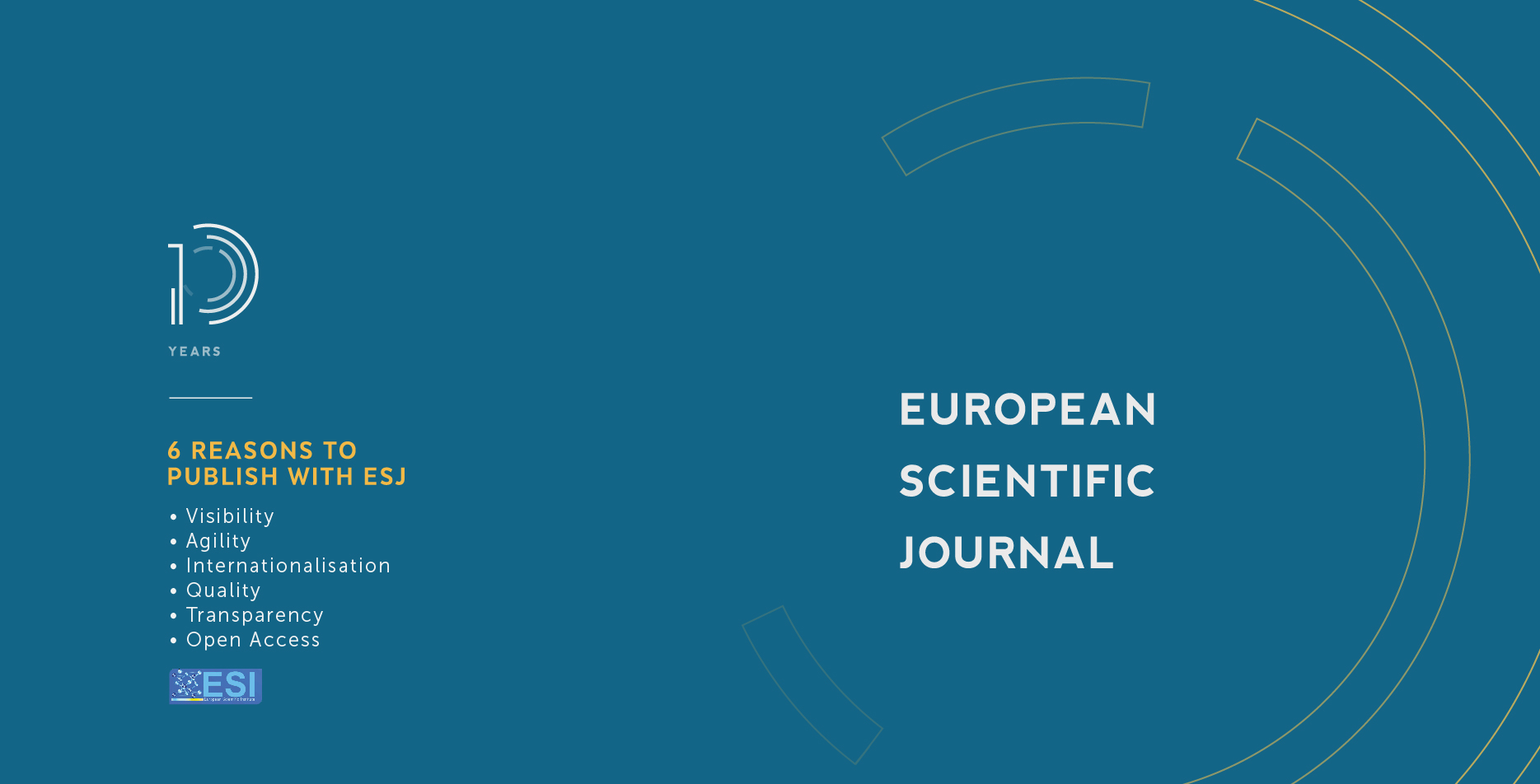 How to Cite
Adébayo, A., Ibrahim, M. C., Jules, G., Fabien, G., Léopold, C., & Prosper, G. (2020). Impacts Socio-Économiques Du Diabète Chez Les Diabétiques Suivis À Porto-Novo En 2016. European Scientific Journal, ESJ, 16(18), 290. https://doi.org/10.19044/esj.2020.v16n18p290
Section
ESJ Natural/Life/Medical Sciences
Copyright (c) 2020 Alassani Adébayo, Mama Cisse Ibrahim, Gninkoun Jules, Gounongbe Fabien, Codjo Léopold, Gandaho Prosper
This work is licensed under a Creative Commons Attribution-NonCommercial-NoDerivatives 4.0 International License.