Sélection Variétale Participative De Riz (Oryza Sativa L.) De Bas-Fonds Au Sud Du Sénégal
Bassene Jean

Département d'Agroforesterie, UFR Sciences et Technologies, Université Assane Seck Ziguinchor, Sénégal

Diop Bathé

Institut Sénégalais de Recherches Agricoles (ISRA), Centre de Recherches Agricoles (CRA) de Djibélor, Sénégal

Coly Ismaïla

Département d'Agroforesterie, UFR Sciences et Technologies, Université Assane Seck Ziguinchor, Sénégal

Bamba Boubacar

Institut Sénégalais de Recherches Agricoles (ISRA), Centre de Recherches Agricoles (CRA) de Djibélor, Sénégal

Bassene Siméon

Institut Sénégalais de Recherches Agricoles (ISRA), Centre de Recherches Agricoles (CRA) de Djibélor, Sénégal
Keywords:
Riziculture Pluviale, Approche Participative, Basse Casamance, Sénégal
Abstract
La production du riz dans les agro écosystèmes pluviaux du Sud duSénégal pourrait être améliorée par la mise à disposition des producteurs d'unegamme variétale plus large et plus adaptée. Dans cette étude, 11 variétésaméliorées de riz en provenance d'AfricaRice ont été introduites et conduitesen évaluation participative dans la commune d'Enampor en Basse Casamancepour leur adaptabilité. Quinze producteurs des villages de Brin, Badiate etEssyl ont été invités pour évaluer la performance des différentes variétéspendant la phase de maturité. Ces variétés ont été semées suivant un dispositifen blocs complets randomisés dispersés dans les trois villages (Brin, Badiateet Essyl) où chaque site représente un bloc ou répétition. Sur le planagronomique, les résultats ont montré que les variétés WAC13-WAT21-2-1,(3,2 t/ha) FKR19 (2,9 t/ha) et IR75884-12-12-14-WAB1 (2,7 t/ha) ontprésenté des rendements similaires au témoin BG 90-2 (2,6 t/ha), largementcultivé dans la zone. La durée moyenne de 50% épiaison des variétés testéesest de 91 jours, relativement hâtives comparées à celles généralement cultivéesdans les écologies de bas-fond de la zone. Les variétés WAC13-WAT21-2-1et WAC18-WAT15-3-1 ont été les plus appréciées par les producteurs selonles critères de rendement en grain et hauteur des plantes. Les variétéssélectionnées par les producteurs ont présenté également une bonne performance agronomique et ont été parmi les plus productives. Ces variétéssélectionnées pourraient être de bonnes candidates pour une large diffusionpermettant ainsi d'augmenter le choix des variétés cultivées dans la zone.L'implication des producteurs dans les programmes de sélection variétalepourrait faciliter l'adoption de nouvelles variétés qu'ils ont sélectionnéessuivant leurs préférences.
Rice production in the rainfed agro-ecosystems of Southern Senegalcould be improved by providing farmers with more diverse and adaptedvarieties. In this study, 11 improved rice varieties from AfricaRice wereintroduced and assessed for adaptability through participatory evaluation trialin the village of Enampor (Lower Casamance zone). Fifteen farmers from thevillages of Brin, Badiate and Essyl were invited to assess the performance ofthe different varieties at maturity stage. The varieties were sown following arandomized complete block design with three replications where each of thethree villages (Brin, Badiate and Essyl) represented a block/repetition. Results of the agronomical performance showed that the varieties WAC13-WAT21-2-1, (3.2 t / ha) FKR19 (2.9 t / ha) and IR75884-12-12-14-WAB1 (2, 7 t / ha)presented similar grain yields as for the check variety BG 90-2 (2.6 t / ha),widely cultivated in the targeted areas. Days to 50% heading for the differentvarieties was 91 days in average, relatively early compared to those generallycultivated in the same lowland ecologies. WAC13-WAT21-2-1 and WAC18-WAT15-3-1 were the most preferred varieties by farmers according to theirown criteria mainly related to grain yield and plant height. These selectedvarieties by farmers were also among the most performing as shown in thestatistical analysis of agro-morphological data. These varieties could be goodcandidates for wide diffusion in order to increase the list of high performingcultivated varieties in the targeted areas. Involving farmers in selection andbreeding programs could facilitate the adoption of new varieties which theyselected based on their preferences.
Downloads
Download data is not yet available.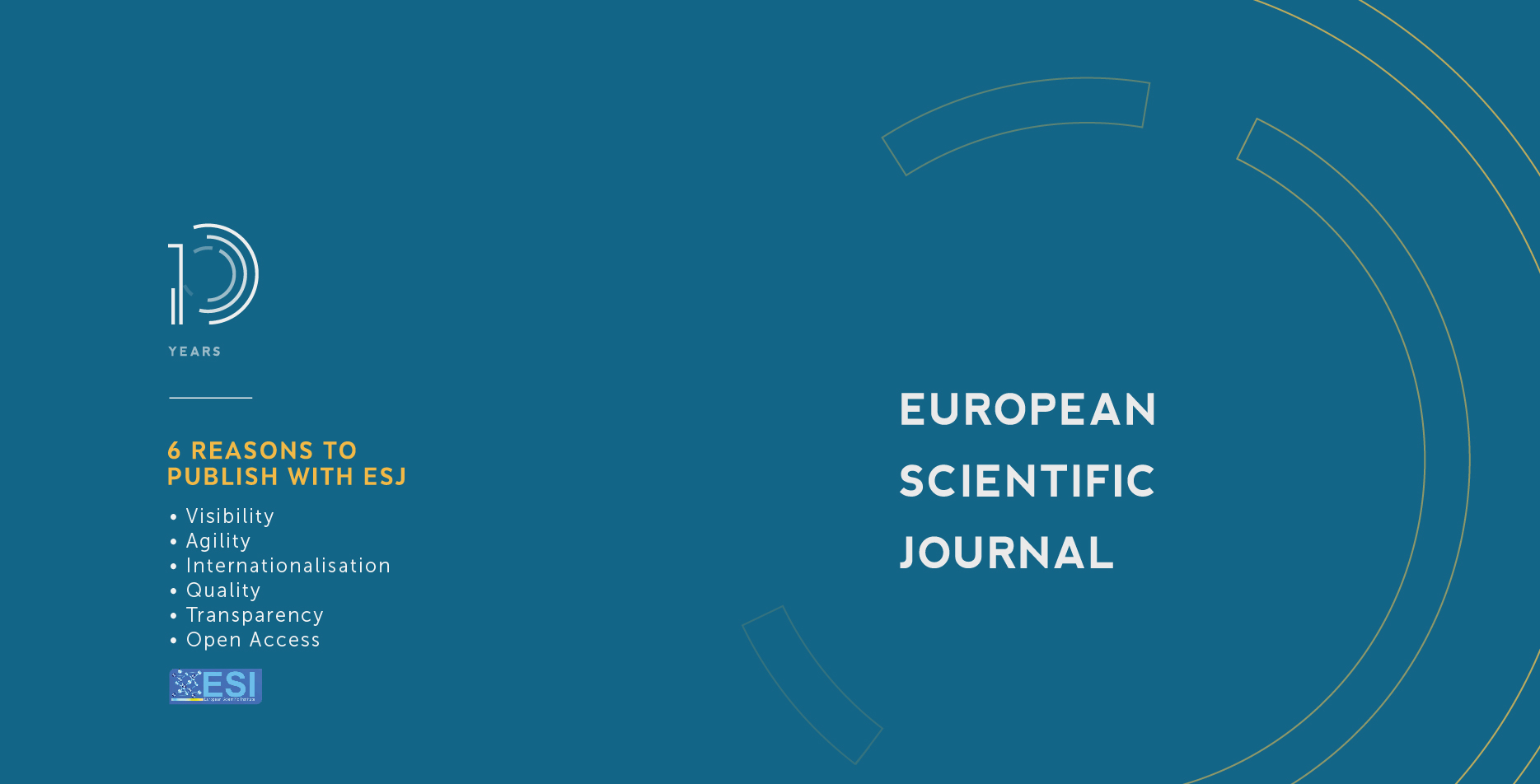 How to Cite
Jean, B., Bathé, D., Ismaïla, C., Boubacar, B., & Siméon, B. (2020). Sélection Variétale Participative De Riz (Oryza Sativa L.) De Bas-Fonds Au Sud Du Sénégal. European Scientific Journal, ESJ, 16(21), 31. https://doi.org/10.19044/esj.2020.v16n21p31
Section
ESJ Natural/Life/Medical Sciences
Copyright (c) 2020 Bassene Jean, Diop Bathé, Coly Ismaïla, Bamba Boubacar, Bassene Siméon
This work is licensed under a Creative Commons Attribution-NonCommercial-NoDerivatives 4.0 International License.