Un Demi Siècle D'évaluation De L'activité De L'upwelling De La Côte Atlantique Marocaine
Karim Hilmi

Institut National de Recherche Halieutique, Casablanca, Maroc

Ismail Bessa

Institut National de Recherche Halieutique, Casablanca, Maroc

Anass El Aouni,

Institut National de Recherche en Informatique et en Automatique Grenoble, France

Ahmed Makaoui

Institut National de Recherche Halieutique, Casablanca, Maroc

Omar Ettahiri

Institut National de Recherche Halieutique, Casablanca, Maroc
Keywords:
Ecosystème Du Large Du Courant Des Canaries,, Maroc, Remontée D'eau Profonde, Indice D'upwelling De Bakun, Variabilités Saisonnière Et Décennale
Abstract
Les écosystèmes d'upwelling situés en bordures Est (EBUEs) sontparmi les écosystèmes les plus productifs au monde et leur réponse auchangement climatique d'une importance cruciale. La variabilité saisonnièreet décennale à long terme de l'activité d'upwelling de la partie nord du grandécosystème marin du Courant des Canaries (CCLME) a été étudiée dans cetravail sur une période de 53 ans (1967-2019) à deux stations situéesrespectivement au nord (31°N-10,5°O) et au sud (24,5°N-15,5°O) de la côteatlantique marocaine, en élaborant l'Indice d'Upwelling de Bakun (UI)mensuel. Les résultats obtenus montrent que l'upwelling présente unevariabilité saisonnière entre Cap Juby - Larache et une activité quasipermanente toute l'année entre Cap Juby - Cap Blanc. En relation avec lavariabilité décennale et dans la zone nord atlantique marocaine, les plus fortesactivités de l'upwelling ont été observées en saisons d'été, en particulier surla période 1998-2003 et son activité a légèrement dépassé la moyenne sur lespériodes 1972-1977, 1980-1984, 2004-2008. Les plus faibles activités del'upwelling dans cette zone ont été observés en saisons d'automne/hiver,notamment sur les périodes 1967-1970, 1995-1998 et 2000-2005. S'agissantde la zone sud atlantique marocaine, l'activité de l'upwelling a présenté uneforte activité de l'upwelling en été sur les périodes 1967-1980 et 2009-2019,avec des fluctuations annuelles à interannuelles variables entre ces deuxpériodes. Cette activité a été légèrement supérieure à la moyenne en été sur lapériode 1981-2007, sauf pour les années 1982-1983, 1988-1989, 1995-1997et 2004-2007 où il a été observé une relative tendance vers la baisse. De plus faibles activités de l'upwelling ont été observées dans cette zone sur la période2003-2010 en saisons d'automne/hiver.
Eastern Boundary Upwelling Ecosystems (EBUEs) are among themost productive ecosystems in the world, meaning that their response toclimate change is of critical importance. In this work, we investigate the longterm seasonal and decadal variability of the upwelling activity along thenorthern part of the Canary Current Large Marine Ecosystem (CCLME) overa period of 53 years (1967-2019). Two stations were selected in this studyrepresentative of the upwelling activity in the moroccan atlantic coast, one inthe north (31° N-10.5°W) and the other in the south (24.5° N-15.5°W) usingthe monthly Bakun Upwelling Index (UI). The results shows a seasonalvariability in the northern region of morocco between Cap Juby - Larache andalmost permanent activity all year round in the southern region of moroccobetween Cap Juby - Cap Blanc. These results are consistent with previousstudies based on the seasonality of the upwelling regime in thisregion. Relatedto the decadal variability, the strongest activities of upwelling were observedduring summer seasons in the northern region, in particular over the periodv 1998-2003 and its activity slightly exceeded the average over the periods1972-1977, 1980-1984, 2004-2008. The weakest upwelling activities in thisregion were observed in the fall-winter seasons, particularly during the periods1967-1970, 1995-1998 and 2000-2005. In the southern region, the upwellingactivity showed strong upwelling activity in summer over the periods 1967-1980 and 2009-2019, with annual and interannual between these two periods.This activity was slightly above average in summer over the 1981-2007period, except for the years 1982-1983, 1988-1989, 1995-1997 and 2004-2007where a relative downward trend was observed. Lower upwelling activitieswere observed in this area over the 2003-2010 period in fall / winter seasons.
Downloads
Download data is not yet available.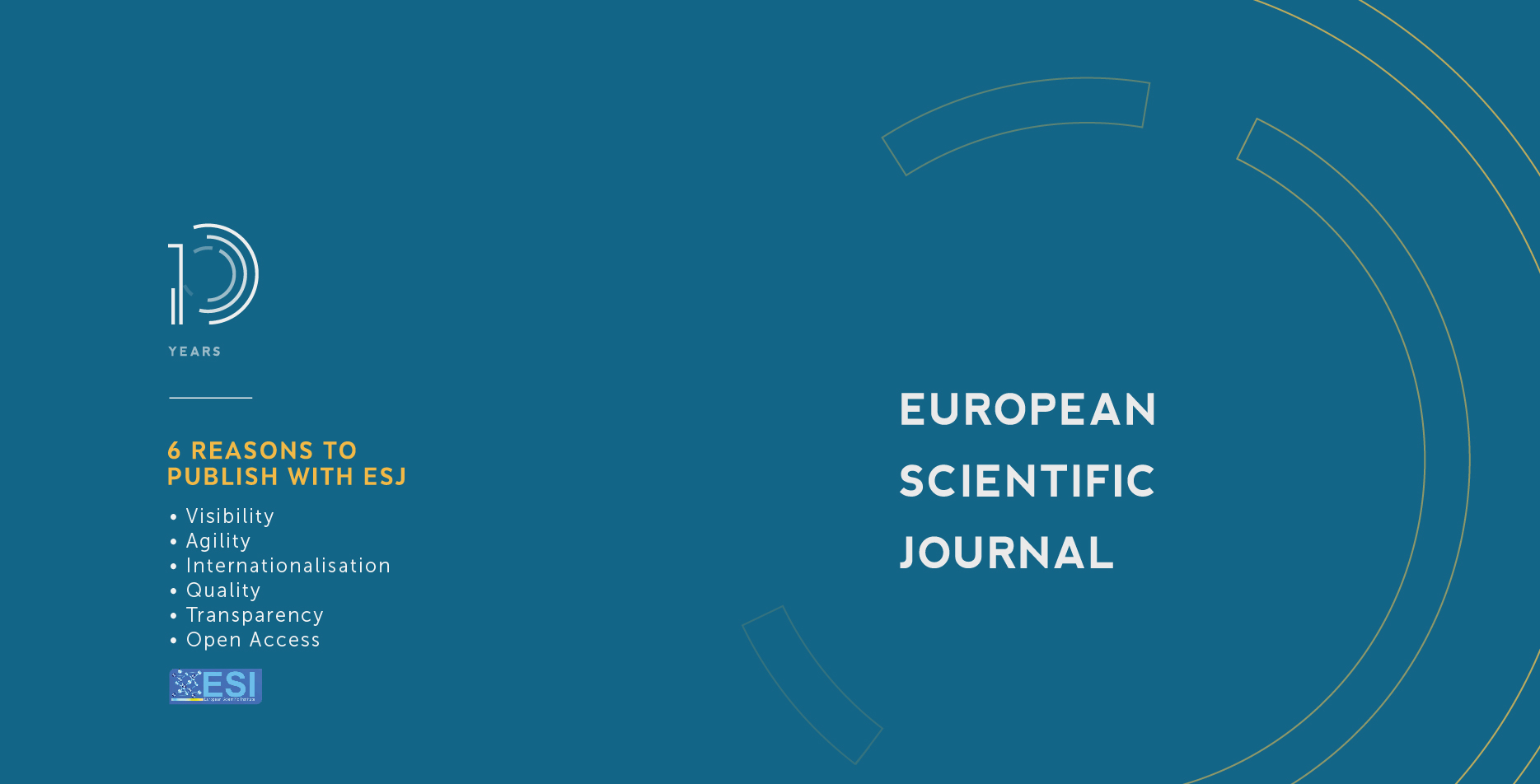 How to Cite
Hilmi, K., Bessa, I., Aouni, A. E., Makaoui, A., & Ettahiri, O. (2020). Un Demi Siècle D'évaluation De L'activité De L'upwelling De La Côte Atlantique Marocaine. European Scientific Journal, ESJ, 16(21), 89. https://doi.org/10.19044/esj.2020.v16n21p89
Section
ESJ Natural/Life/Medical Sciences
Copyright (c) 2020 Karim Hilmi, Ismail Bessa, Anass El Aouni,, Ahmed Makaoui, Omar Ettahiri
This work is licensed under a Creative Commons Attribution-NonCommercial-NoDerivatives 4.0 International License.