Etude Phytochimique de Senna occidentalis (L.) Link et Cissus quadrangularis (Linn) deux Plantes Médicinales Gabonaises Utilisées Contre la Filaire Loa Loa
Leaticia Nzé Kamsi

Laboratoire d'Immunologie et de Microbiologie Appliquée Ecole Normale Supérieure (ENS), Libreville, Gabon

Line Edwige Mengome

Institut de Pharmacopée et Médecine Traditionnelle (IPHAMETRA), Centre National de la Recherche Scientifique et Technique (CENAREST), Département de Phytochimie, Libreville, Gabon

Sophie Aboughe-Angone

Institut de Pharmacopée et Médecine Traditionnelle (IPHAMETRA), Centre National de la Recherche Scientifique et Technique (CENAREST), Département de Phytochimie, Libreville, Gabon

Prospert Edou Engonga

Laboratoire de Chimie Organique et Analytique, Ecole Normale Supérieure (ENS), Libreville, Gabon
Keywords:
Criblage Phytochimique, Plantes Médicinales, Filaire Loa Loa, Gabon
Abstract
Objectif : Cette étude avait pour objectif de valoriser deux plantesmédicinales utilisées au Gabon pour traiter la filaire Loa loa. Matériels etMéthodes : Les poudres des feuilles de Senna occidentalis et des tiges etfeuilles de Cissus quadrangularis ont été soumis à une successiond'extractions par des solvants de polarités croissantes (cyclohexane,dichlorométhane, méthanol et l'eau déminéralisée). Un criblagephytochimique qualitatif a été effectué en utilisant la méthode standard baséesur desréactions de colorations et/ou de précipitations. Résultats: lesrésultatsrévèlent la prédominance des sucres totaux, des alcaloïdes, et des phénols danstous les extraits. Les des tanins cathéchiques, les sucres réducteurs, et lesflavonoïdes sur de nombreux extraits testés. Les tanins galliques et les coumarines sont retrouvés dans quelques extraits. Très peu de quinones, detriterpènes ou stérols dans les deux plantes. Conclusions : Certainsmétabolites secondaires ont déjà prouvé leurs activités filaricides. La richesseen composés chimiques présents dans ces plantes médicinales étudiées,justifierait leur utilisation. Cependant, l'évaluation des activités biologiquessur la filariose à Loa loa ainsi que leur toxicité reste à explorer.
Objective: This study aimed to valorize two medicinal plants usedagainst Loa loa filarial in Gabon. Material and Methods: Powders of leavesof Senna occidentalis and stems and leaves of Cissus quadrangularis wereproposal to successive extractions by solvents with increasing polarities (cyclohexan, dichloromethan, methanol and demineralized water). QualitativePhytochemistry screening was established using the standard color and/orprecipitation reactions. Results: The results reveal the predominance of totalsugar, alkaloids, and phenols in all extracts. Cathechic tannins, reducing sugar,and flavonoids on many extracts were tested. Gallic tannins and coumarins arefound in some extracts. They are very few quinones, triterpenes or sterols inthe two species. Conclusion: Some secondary metabolites have provedfilaricide activities already. The abundance of chemical compounds present inthese medicinal plants would justify their usage. However, the evaluation ofbiological activities on the Loa loa filarial along with toxicity remainsunexplored.
Downloads
Download data is not yet available.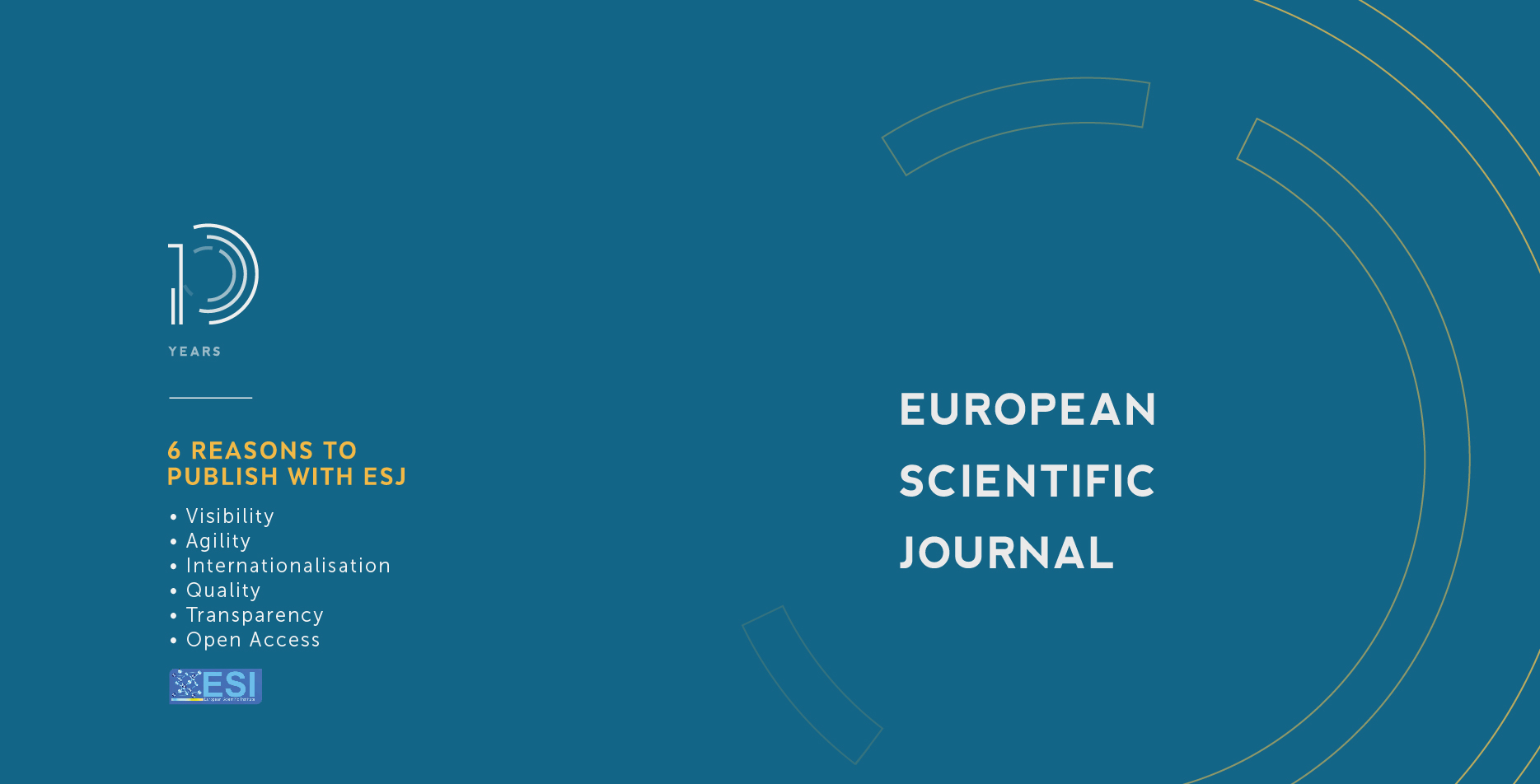 How to Cite
Kamsi, L. N., Mengome, L. E., Aboughe-Angone, S., & Engonga, P. E. (2020). Etude Phytochimique de Senna occidentalis (L.) Link et Cissus quadrangularis (Linn) deux Plantes Médicinales Gabonaises Utilisées Contre la Filaire Loa Loa. European Scientific Journal, ESJ, 16(21), 101. https://doi.org/10.19044/esj.2020.v16n21p101
Section
ESJ Natural/Life/Medical Sciences
Copyright (c) 2020 Leaticia Nzé Kamsi, Line Edwige Mengome, Sophie Aboughe-Angone, Prospert Edou Engonga
This work is licensed under a Creative Commons Attribution-NonCommercial-NoDerivatives 4.0 International License.