L'inclusion Financiere dans la CEMAC : Une Explication par la Bancarisation
Madjou Tatsing Priscille Diane

Université de Dschang, FSEG, Dschang, Cameroun

Nembot Ndeffo Luc

Université de Dschang, FSEG, Dschang, Cameroun

Tangakou Soh Robert

Université de Dschang, FSEG, Dschang, Cameroun
Keywords:
Bancarisation, Croissance économique, Effets, PMG
Abstract
L'objectif de ce travail est d'apprécier les effets de la bancarisation sur la croissance économique en zone CEMAC au cours de la période 2007-2018. La population d'étude est constituée des personnes détenant un ou plusieurs comptes dans une banque et/ou un EMF. Les résultats de la régression par la méthode des Pooled Mean Group (PMG) montrent que l'effet de la bancarisation sur la croissance économique est positif au sein de la CEMAC. Ces différents résultats suscitent des recommandations dont les plus urgentes sont les suivantes. L'obligation faite aux salariés du public et du privé de disposer d'un compte (domiciliation des salaires) ; Chaque Etat devrait mettre en place un dispositif (émissions radio-télé, séminaires…) de promotion de l'éducation et du développement de la culture financière des femmes et des jeunes.
This paper focuses on assessing the effects of banking on economic growth in the CEMAC zone during the period 2007-2018. The study population focuses on people with one or more accounts in a bank and/or an EMF. The results of the regression by the Pooled Mean Group show that the effect of banking is positive within CEMAC. The various results gave rise to recommendations and the most urgent are as follows: the obligation imposed on public and private sector employees to have an account (domiciliation of wages); and each state should set up a system (radio and television broadcasts, seminars, etc.) to promote education and the development of financial literacy for women and young people.
Downloads
Download data is not yet available.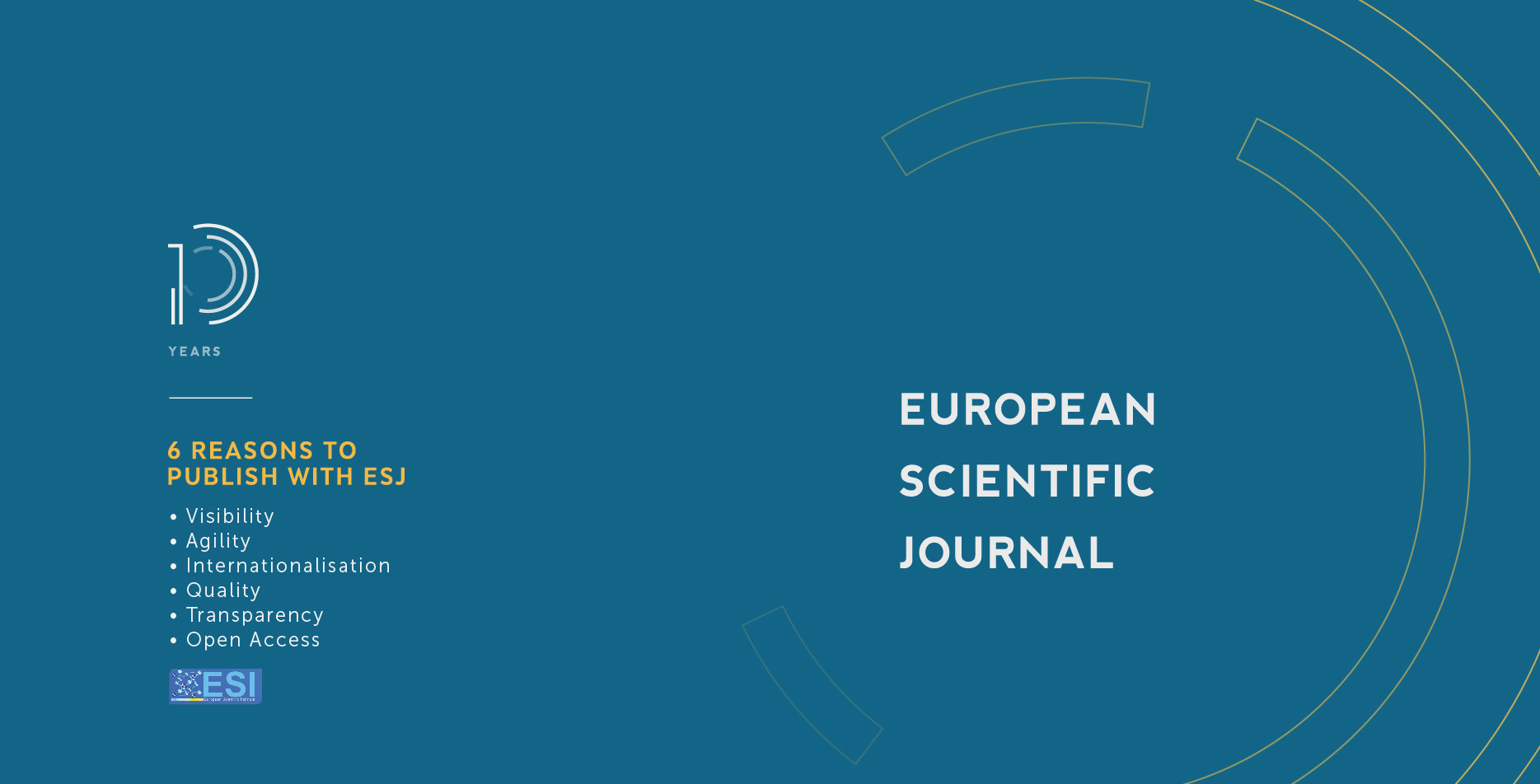 How to Cite
Diane, M. T. P., Luc, N. N., & Robert, T. S. (2020). L'inclusion Financiere dans la CEMAC : Une Explication par la Bancarisation. European Scientific Journal, ESJ, 16(19), 56. https://doi.org/10.19044/esj.2020.v16n19p56
Section
ESJ Social Sciences
Copyright (c) 2020 Madjou Tatsing Priscille Diane, Nembot Ndeffo Luc, Tangakou Soh Robert
This work is licensed under a Creative Commons Attribution-NonCommercial-NoDerivatives 4.0 International License.