La Goutte : Aspects Cliniques Et Paracliniques
Djaha Kouassi Jean-Mermoze

Service de rhumatologie CHU de Cocody, Abidjan, Côte d'Ivoire

Gbané Mariam

Service de rhumatologie CHU de Cocody, Abidjan, Côte d'Ivoire

Diomandé Mohamed

Service de rhumatologie CHU de Cocody, Abidjan, Côte d'Ivoire

Ogoumon Marina

Service de rhumatologie CHU de Cocody, Abidjan, Côte d'Ivoire

Coulibaly Abidou Kawélé

Service de rhumatologie CHU de Cocody, Abidjan, Côte d'Ivoire

Bamba Aboubakar

Service de rhumatologie CHU de Cocody, Abidjan, Côte d'Ivoire

Ouattara Baly

Service de rhumatologie CHU de Cocody, Abidjan, Côte d'Ivoire

Eti Edmond

Service de rhumatologie CHU de Cocody, Abidjan, Côte d'Ivoire
Keywords:
Goutte, Clinique, Hyperuricémie, Cristaux d'urate de sodium
Abstract
Objectif : Décrire les caractéristiques épidémiologiques, cliniques et paracliniques de la goutte. Patients et méthode : Il s'est agi d'une étude rétrospective à visée descriptive menée sur une période de 7 ans allant de Janvier 2010 à Décembre 2016 portant sur les dossiers de patients hospitalisés pour la goutte dans le service de rhumatologie du CHU de Cocody à Abidjan en Côte d'Ivoire. Les patients ayant la goutte répondant aux critères de l'ACR ont été inclus dans l'étude. Résultats : Sur 2520 hospitalisations, 42 cas de goutte ont été recensés soit une fréquence hospitalière de 1,6%. Les hommes (85,7%) prédominaient avec un sex-ratio de 6. L'âge moyen était de 57 ans [29-84 ans]. L'HTA (57,1%), l'obésité (21,4%) et le diabète (11,9%) étaient les principaux facteurs de risque. Les patients consommaient de l'alcool dans 42,8 % des cas et le gibier dans 7,1% des cas. Les formes chroniques prédominaient dans 61,9% des cas, tandis que les formes aigues étaient à 38,1%. Les atteintes polyarticulaires représentaient 47,6%, les atteintes oligoarticulaires 35,7% et les formes monoarticulaire 16,7 % des cas. Ces atteintes touchaient préférentiellement les genoux 92%, les chevilles 52% et les orteils 40,5% (Gros orteils). Les formes chroniques étaient dominées par les tophi. Les géodes et les érosions étaient les principales images radiologiques. L'hyperuricémie était présente chez 71,4% des patients. Les cristaux d'urate de sodium ont été mis en évidence chez seulement 2 patients (4,7%). Conclusion: La goutte est rare en hospitalisation de rhumatologie au CHU de Cocody. Elle prédomine chez le sujet masculin. Les formes chroniques étaient dominées par les tophi. Les cristaux d'urate de sodium étaient rarement mis en évidence.
Objective: To describe the epidemiological, clinical and paraclinical characteristics of gout. Patients and method: This was a retrospective study for descriptive purposes conducted over a period of 7 years from January 2010 to December 2016 on the files of patients hospitalized for gout in the rheumatology department of the CHU de Cocody in Abidjan in Ivory Cost. Patients with gout meeting the ACR criteria were included in the study. Results: Out of 2,520 hospitalizations, 42 cases of gout were identified, representing a hospital frequency of 1.6%. Males (85.7%) predominated with a sex ratio of 6. The average age was 57 years [29-84 years]. Hight blood tension (57.1%), obesity (21.4%) and diabetes (11.9%) were the main risk factors. Patients consumed alcohol in 42.8% of the cases and game in 7.1% of the cases. Chronic forms predominated in 61.9% of cases, while acute forms were 38.1%. Polyarticular damage represents 47.6%, oligoarticular damage 35.7% and monoarticular forms 16.7% of cases. These disorders preferentially affected the knees 92%, the ankles 52% and the toes 40.5% (Big toes). Chronic forms were dominated by tophi. Geodes and erosion were the main radiological images. Hyperuricemia was present in 71.4% of the patients. Sodium urate crystals were detected in only 2 patients (4.7%). Conclusion: Gout is rare in rheumatology hospitalization at the Cocody University Hospital. It predominates in the male subject. Chronic forms were dominated by tophi. Sodium urate crystals were rarely identified.
Downloads
Download data is not yet available.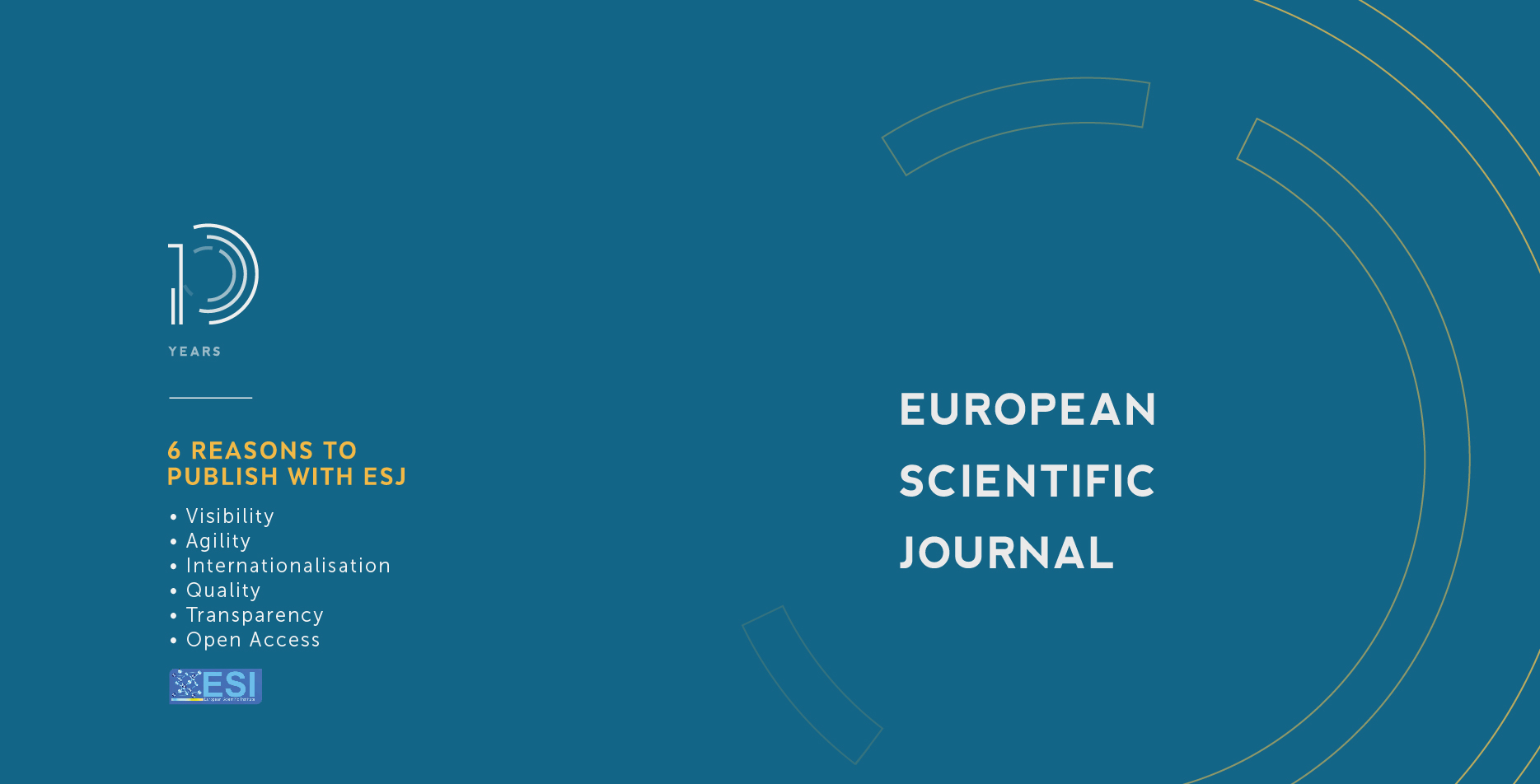 How to Cite
Jean-Mermoze, D. K., Mariam, G., Mohamed, D., Marina, O., Kawélé, C. A., Aboubakar, B., Baly, O., & Edmond, E. (2020). La Goutte : Aspects Cliniques Et Paracliniques. European Scientific Journal, ESJ, 16(21), 142. https://doi.org/10.19044/esj.2020.v16n21p142
Section
ESJ Natural/Life/Medical Sciences
Copyright (c) 2020 Djaha Kouassi Jean-Mermoze, Gbané Mariam, Diomandé Mohamed, Ogoumon Marina, Coulibaly Abidou Kawélé, Bamba Aboubakar, Ouattara Baly, Eti Edmond
This work is licensed under a Creative Commons Attribution-NonCommercial-NoDerivatives 4.0 International License.