Determinants Socio-Economiques de l'adoption des Modes de Vente de la Noix d'anacarde dans les Communes de Djougou, Tchaourou et Glazoue au Benin
Olouhitin Mouléro Franck Ronald Adjobo

Université de Parakou, Laboratoire d'Analyses et de Recherches sur les Dynamiques Economiques et Sociales (LARDES), Faculté d'Agronomie (FA), Bénin

Jacob Afouda Yabi

Université de Parakou, Laboratoire d'Analyses et de Recherches sur les Dynamiques Economiques et Sociales (LARDES), Faculté d'Agronomie (FA), Bénin
Keywords:
Anacarde, Adoption, modes de vente, Centre et Nord-Bénin, régression logistique
Abstract
Le souci de la sécurisation du revenu amène les exploitants producteurs d'anacarde du Bénin à multiplier les modes de commercialisation (vente individuelle, vente groupée et vente mixte). L'objectif de cet article est de ressortir les indicateurs socio-économiques qui orientent le choix du mode de vente de la noix d'anacarde par les producteurs des Communes de Djougou, Tchaourou et Glazoué. L'Approche méthodologique est basée sur un questionnaire semi-structuré adressé à 383 exploitants producteurs d'anacarde, sélectionnés de manière aléatoire simple dans les Communes de Tchaourou, Djougou et Glazoué. Cet échantillon est réparti en trois (03) sousunités d'observation : 222 exploitants adoptant la vente individuelle, 100 exploitants adoptant la vente groupée et 61 exploitants adoptant la combinaison des deux modes précédents selon la formule d'échantillonnage de Dagnelie. L'analyse a été réalisé au moyen d'une régression logistique ayant permis de ressortir les facteurs discriminant le choix des modes de vente. Les résultats issus des analyses ont montré que l'échantillon considéré est dominé par les hommes (84,6%) n'ayant aucun niveau d'instruction (62,4%), pratiquant l'agriculture comme étant la principale activité (82,2%). La vente individuelle est pratiquée par 58% des exploitants de l'échantillon. Ce mode rémunère à un prix variant de 350 à 900 F CFA/Kg, sachant que 1 Euro équivaut à 655,957 F CFA. Elle est plus adoptée par des petits exploitants, les femmes exploitantes et les hommes exploitants plus âgés (>50 ans) par son caractère de paiement au comptant et rapide. La vente groupée (26,1%) se pratique par des grands exploitants qui sont membres des groupements coopératifs, bénéficiant des formations et négociant un prix de vente relativement plus intéressant (entre 450 et 1000 F CFA/Kg). Ce mode est plus observé dans la Commune de Tchaourou, berceau des premières expériences de la vente groupée au Bénin. Par contre, la vente mixte est moins adoptée (15,9%) par les exploitants. Elle est plus adoptée par des ménages de taille relativement élevée (>9 individus) et permet à ses adoptants de répondre aux besoins urgents qui leurs sont présentés. La vente groupée constitue parmi les trois modes celui qui rémunère plus les exploitants du fait de son prix élevé au kilogramme. Elle permet aux exploitants d'avoir accès à des formations de renforcement de capacité et des subventions matérielles et financières.
Concern for income security is leading cashew nut farmers in Benin to multiply their marketing methods (individual sales, group sales and mixed sales). The objective of this article is to highlight the socio-economic indicators that guide the choice of cashew nut sales by producers in the municipalities of Djougou, Tchaourou and Glazoue. The Methodological Approach is based on a semi-structured questionnaire addressed to 383 cashew nut producers, selected in a simple random manner in the municipalities of Tchaourou, Djougou and Glazoue. This sample is divided into three (03) observation sub-units: 222 farmers adopting individual sale, 100 farmers adopting group sale and 61 farmers adopting the combination of the two previous modes according to the Dagnelie sampling formula. The analysis was carried out by means of a logistic regression that revealed the factors that discriminate the choice of sales methods. The results of the analyses showed that the sample considered is dominated by men (84,6%) with no education (62,4%), practising agriculture as the main activity (82,2%). Individual selling is practiced by 58% of the sampled farmers. This mode remunerates at a price ranging from 350 to 900 F CFA/Kg, knowing that 1 Euro is equivalent to 655,957 F CFA. It is more adopted by smallholders, women farmers and older male farmers (>50 years old) due to its cash and rapid payment nature. Grouped sales (26,1%) are practiced by large farmers who are members of cooperative groups, benefiting from training and negotiating a relatively more attractive selling price (between 450 and 1000 F CFA/Kg). This mode is more observed in the municipality of Tchaourou, the cradle of the first experiences of group sales in Benin. On the other hand, mixed selling is less adopted (15,9%) by farmers. It is more adopted by relatively large households (>9 individuals) and allows its adopters to meet the urgent needs presented to them. Among the three methods, grouped sales are the one that pays farmers the most because of its high price per kilogram. It allows farmers to have access to capacity building training and material and financial subsidies.
Downloads
Download data is not yet available.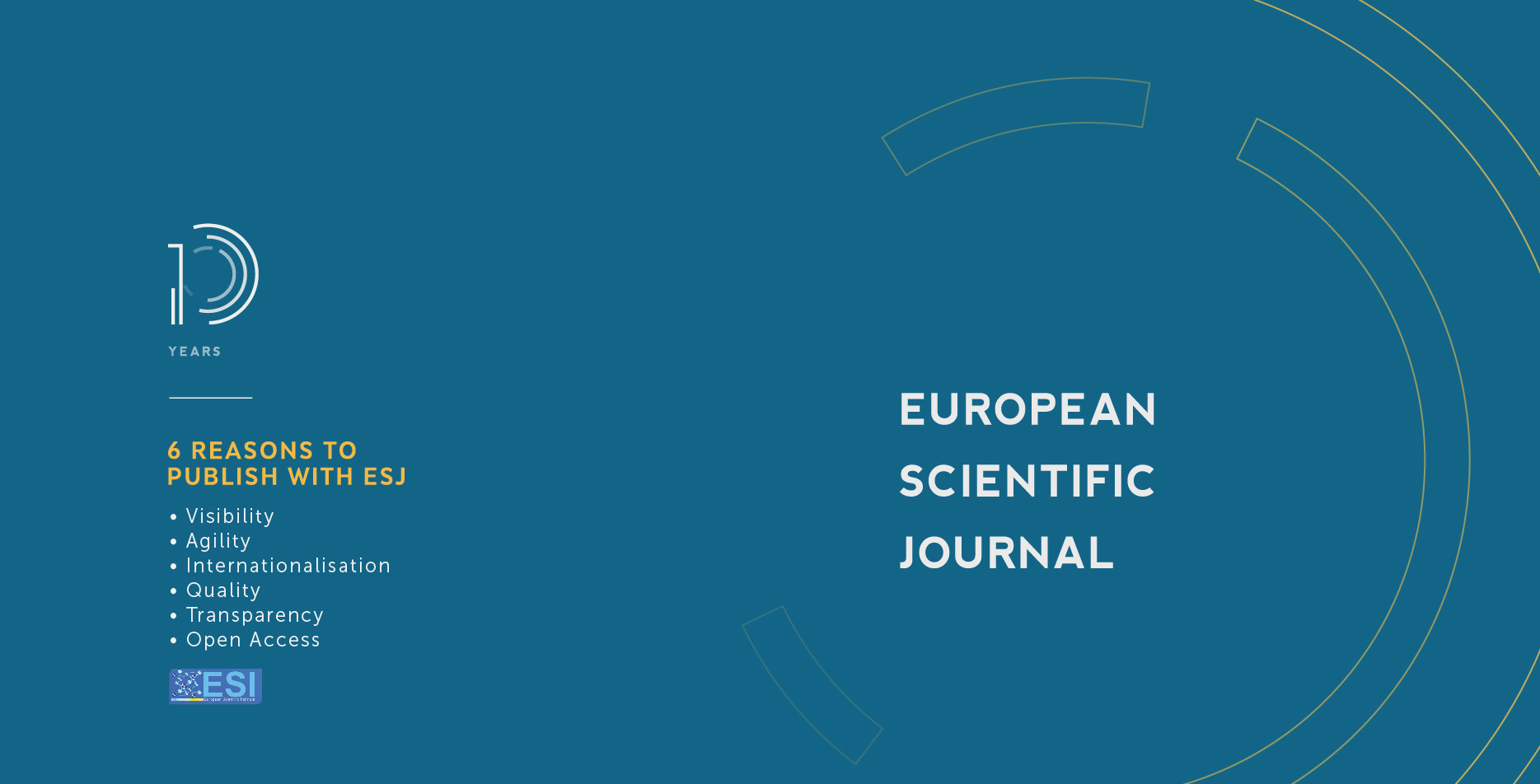 How to Cite
Adjobo, O. M. F. R., & Yabi, J. A. (2020). Determinants Socio-Economiques de l'adoption des Modes de Vente de la Noix d'anacarde dans les Communes de Djougou, Tchaourou et Glazoue au Benin. European Scientific Journal, ESJ, 16(19), 313. https://doi.org/10.19044/esj.2020.v16n19p313
Section
ESJ Social Sciences
Copyright (c) 2020 Olouhitin Mouléro Franck Ronald Adjobo, Jacob Afouda Yabi
This work is licensed under a Creative Commons Attribution-NonCommercial-NoDerivatives 4.0 International License.