Menaces D'origine Anthropique Et Habitat De Pan Paniscus Dans La Reserve Naturelle De Sankuru, En Republique Democratique Du Congo
Nyembo Faustin

Doctorant en Changement Climatique Biodiversité et Agriculture Durable CCBAD à l'Université Félix Houphouët-Boigny, Abidjan, Côte d'Ivoire. Chercheur au Département de Zootechnie, Université Officielle de Mbujimayi, République Démocratique du Congo

Mertens Benoit

UMR Espace Dev, Institut de Recherche pour le Développement IRD, Maison de la télédétection, Montpellier Cedex France

Cherif Mamadou

UFR Biosciences, Université Félix Houphouët-Boigny, Abidjan, Côte d'Ivoire

Inza Koné

UFR Biosciences, Université Félix Houphouët-Boigny, Abidjan, Côte d'Ivoire
Keywords:
Biodiversité, aire protégée, menace, Bonobo
Abstract
Le bonobo (Pan paniscus), est une espèce endémique à la République Démocratique du Congo (RDC). La présente étude identifie les menaces qui pèsent sur ce primate au niveau de la Réserve Naturelle de Sankuru (RNSA), les priorise à partir des analyses spatiales en évaluant, de manière comparative, l'évolution de l'occupation du sol à l'intérieur et extérieur de la zone protégée. Par rapport au reste de l'aire de répartition historique du bonobo en RDC où la chasse est une préoccupation majeure, les enquêtes dans la zone d'étude révèlent que l'agriculture sur brûlis est la première menace d'origine anthropique qui influe plus sur la survie de ce primate. L'étude révèle des signes d'existence d'une ignorance persistante aux lois du pays en matière de gestion et de conservation de la nature de la part de la population locale. La croissance démographique, le manque d'alternatives de subsistance ainsi que l'expansion de l'occupation du sol à l'intérieur et aux alentours de la RNSA présentent des grandes envergures spatiales et un impact très remarquable sur le couvert végétal. La vitesse de l'expansion du complexe rural est de 1,5% dans la RNSA soit 3600 ha/an. Cette extension se fait de façons identiques à l'intérieur et à l'extérieur de la limite de la RNSA.
The bonobo (Pan paniscus), is an endemic species to the Democratic Republic of Congo (DRC). This study identifies the threats to this primate in the Sankuru Natural Reserve (RNSA), prioritizes them based on spatial analyzes by evaluating, in a comparative manner, the land use evolution inside and outside the protected area. Compared to the rest of the bonobo distribution area where hunting is a major concern, surveys reveal that slash-and-burn agriculture is the first anthropogenic threat that has the greatest impact on bonobo's survival in the RNSA. The reveals signs of persistent ignorance to the country's laws on the management and conservation of nature by the local population. Population growth, the lack of subsistence alternatives as well as the expansion of the rural complex within and around the RNSA present large spatial dimensions and a very remarkable impact on the vegetation cover. The rate of expansion of the rural complex is 1.5% in the RNSA or 3600 ha / year. This extension of the rural complex is done in identical ways inside and outside the RNSA boundary.
Downloads
Download data is not yet available.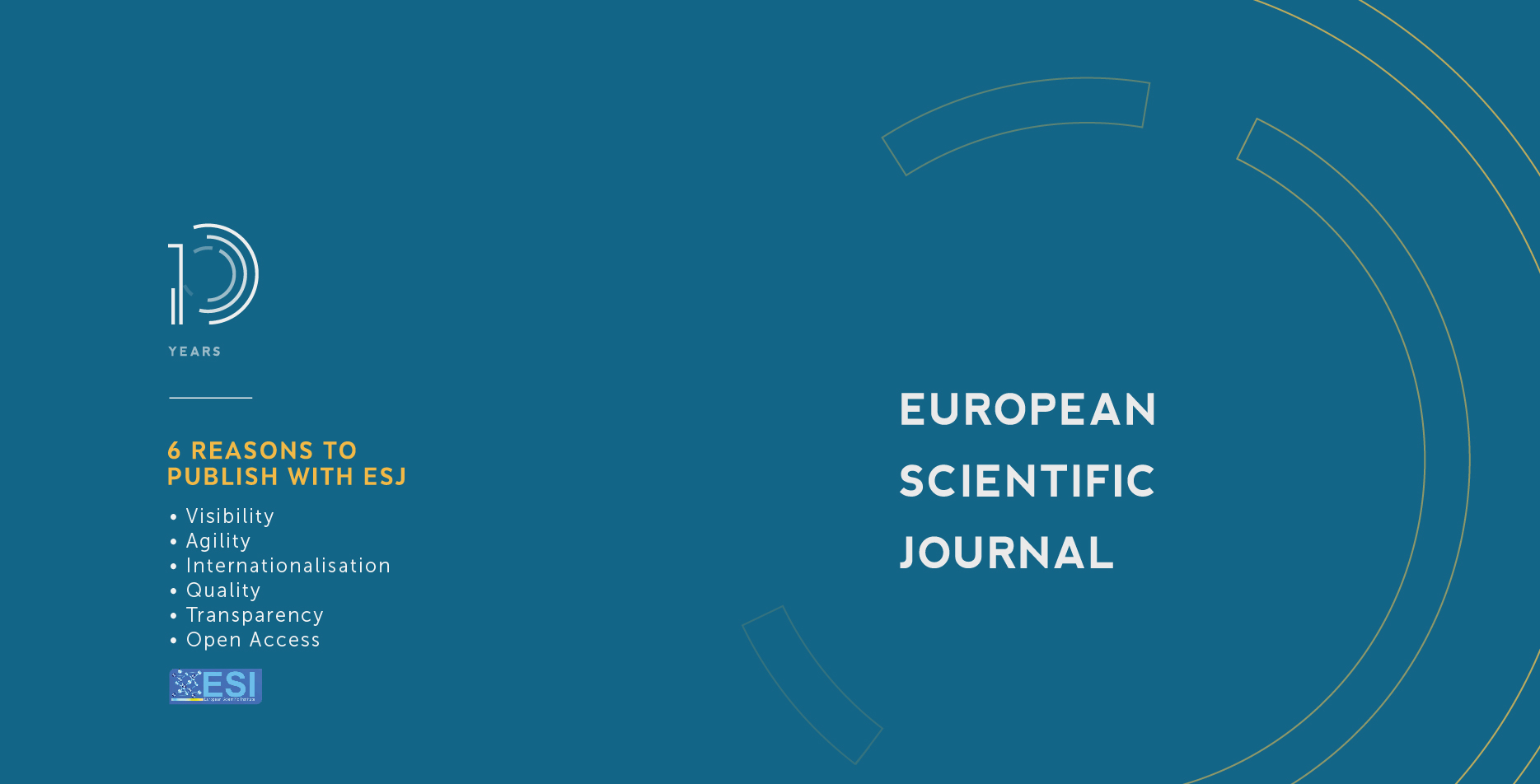 How to Cite
Faustin, N., Benoit, M., Mamadou, C., & Koné, I. (2020). Menaces D'origine Anthropique Et Habitat De Pan Paniscus Dans La Reserve Naturelle De Sankuru, En Republique Democratique Du Congo. European Scientific Journal, ESJ, 16(21), 290. https://doi.org/10.19044/esj.2020.v16n21p290
Section
ESJ Natural/Life/Medical Sciences
Copyright (c) 2020 Nyembo Faustin, Mertens Benoit, Cherif Mamadou, Inza Koné
This work is licensed under a Creative Commons Attribution-NonCommercial-NoDerivatives 4.0 International License.