Mondo de J.M.G. Le Clézio : Épreuves du monde orphelin
Majida Sayegh

Université Libanaise, Facultés des Lettres et des Sciences Humaines (Section 5), Département de Langue et Littérature Françaises, Lebanon
Keywords:
Enfance, identité, adoption, nature, apprentissage, liberté
Abstract
Selon une méthode exploratoire et analytique guidée par les données thématiques du récit, cet article étudie le cheminement de Mondo, fils de la nature, un enfant vagabond pas comme les autres. Tout en cherchant une famille adoptive, il apprend des leçons précieuses en compagnie des personnes possédant des caractères spécifiques qui enrichissent sa vision du monde. Parmi ces personnes, il y a des marginaux, et des autres qui sont déçues de ne pas pouvoir réaliser leurs rêves. L'alphabétisation se réalise dans une école en plein air qui s'accorde parfaitement avec les désirs profonds de Mondo de lire et d'écrire. Le pentagone qui illustre son nom, symbolise l'harmonie et l'équilibre naturels en suivant un temps circulaire dans le sens de l'aiguille d'une montre. La réussite finale de l'adoption non conventionnelle, qui se passe en pleine nature, auprès de Thi Chen, prouve la prédominance des accords d'âmes avant toute réglementation. Attrapé par les autorités, Mondo qui garde dans son cœur et pour toujours la valeur de cette adoption libre et sincère, préfère s'enfuir de cette civilisation prisonnière de ses propres principes.
Using an exploratory and analytical methodology and following the themes of the story, this paper studies the journey of Mondo, nature's unique and vagabond son. While looking for an adoptive family, and accompanied by different characters, he learns valuable lessons and enriches his vision of the world. Some of such characters are marginalized by society, while others are disappointed from not having realized their dreams. Mondo's deep desires to learn to read and to write are perfectly fulfilled in an outdoor school. Illustrating his name with a pentagon creates a clockwise motion where time flows thus symbolizing a harmonious natural equilibrium. The final success in the non-conventional adoption, which happens in the wilderness with Thi Chen, proves the importance of the bonding of the souls before any kind of imposed laws and regulations. Caught by the authorities, and while still carrying in his heart the values of this free and sincere adoption, Mondo prefers to run away from a civilization shackled by its own principles.
Downloads
Download data is not yet available.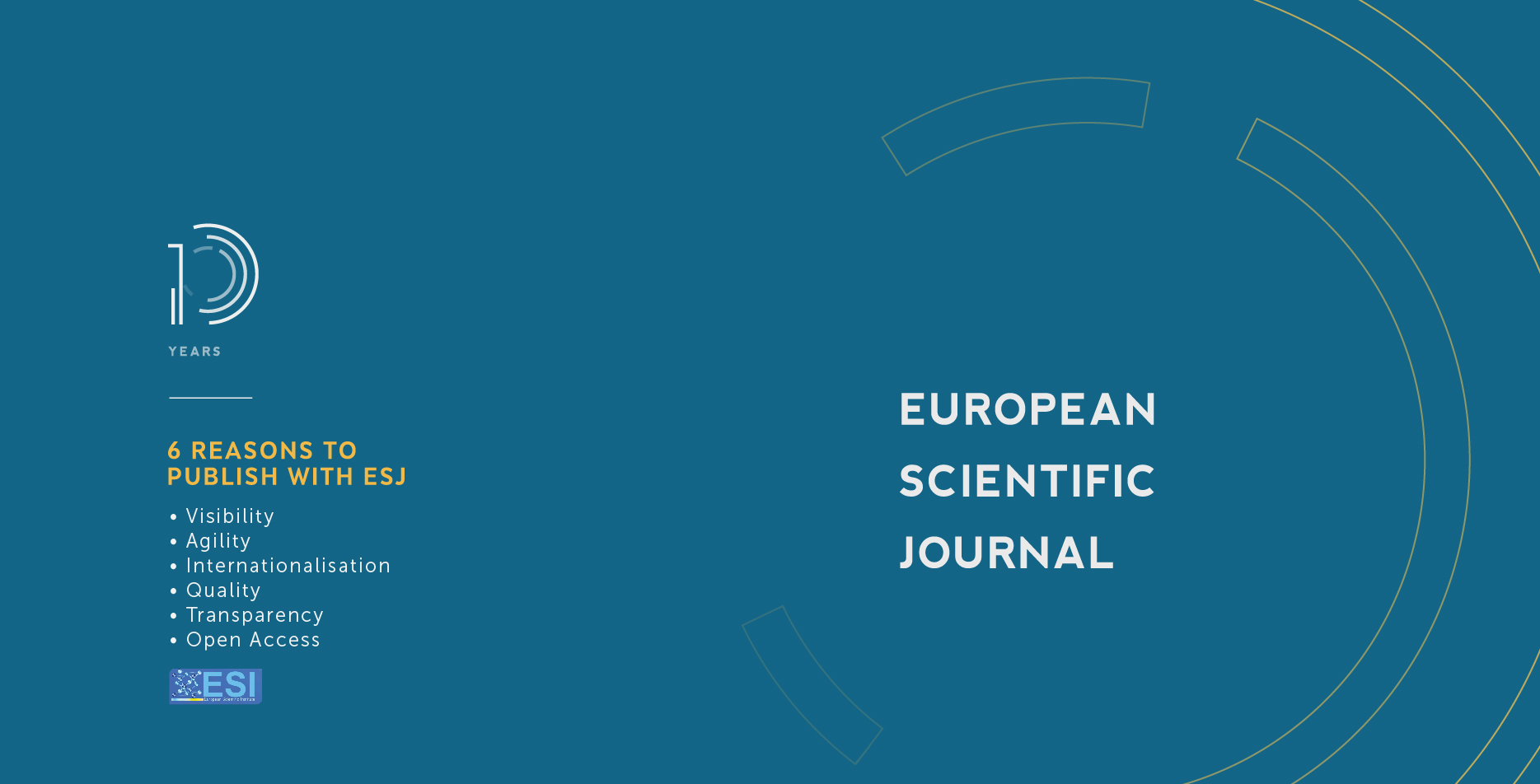 How to Cite
Sayegh, M. (2020). Mondo de J.M.G. Le Clézio : Épreuves du monde orphelin. European Scientific Journal, ESJ, 16(23), 57. https://doi.org/10.19044/esj.2020.v16n23p57
Copyright (c) 2020 Majida Sayegh
This work is licensed under a Creative Commons Attribution-NonCommercial-NoDerivatives 4.0 International License.