Utilisation Des Indices De Qualité Et De Pollution Organique Dans L'évaluation De La Qualité PhysicoChimique Des Eaux Superficielles Des Oueds Moulouya et Ansegmir (Haute Moulouya, NE Du Maroc)
My Hachem Bekri

Equipe Sciences de l'Eau et Ingénierie de l'Environnement, Faculté des Sciences, Université Moulay Ismaïl, Zitoune, Meknès, Maroc

Abdellah El Hmaidi

Equipe Sciences de l'Eau et Ingénierie de l'Environnement, Faculté des Sciences, Université Moulay Ismaïl, Zitoune, Meknès, Maroc

Hajar Jaddi Jaddi

Equipe Sciences de l'Eau et Ingénierie de l'Environnement, Faculté des Sciences, Université Moulay Ismaïl, Zitoune, Meknès, Maroc

Zahra Kasse

Lycée Anassi (Annexe), Direction Régionale, Meknès, Ministère de l'Education Nationale, Maroc

El Mati El Faleh Mati El Faleh

Equipe Géosciences, Patrimoine et Substances Utiles (GPS), Faculté des Sciences, Université Moulay Ismail, Zitoune, Meknès, Maroc

Ali Essahlaoui

Equipe Sciences de l'Eau et Ingénierie de l'Environnement, Faculté des Sciences, Université Moulay Ismaïl, Zitoune, Meknès, Maroc

Abdelhadi El Ouali

Equipe Sciences de l'Eau et Ingénierie de l'Environnement, Faculté des Sciences, Université Moulay Ismaïl, Zitoune, Meknès, Maroc
Keywords:
Haute Moulouya, Eaux superficielles, Physico-chimie, IQE, Indice de qualité d'eau IPO, Indice de pollution organique, Rejets urbains, Variation saisonnière
Abstract
Surface water is subject to strong anthropogenic pressures caused by the development and extension of agricultural activities and also by industrial and domestic activities. Pollution is a serious problem for the environment due to discharges dumped into rivers and excessive use of agricultural fertilizers and discharges from urban and industrial sources. The objective of this study is to assess the quality and state of organic pollution in surface water in Upper Moulouya based on the water quality index (WQI) and the organic pollution index (IPO) during three sampling campaigns carried out between March and August of 2014. Ten stations were studied along the Moulouya and Ansegmir wadis up to the Hassan II dam. The results are visualized through the use of GIS through the production of thematic maps. They revealed that the majority of stations indicate excellent water quality and show no organic pollution with the exception of Boumia (M5) and Zaida (M6) stations which respectively have poor quality water and low pollution. at Boumia and non-drinking water with strong organic pollution at Zaida. This anthropogenic environmental degradation recorded downstream of the two urban communes would come from the use of nitrogen and phosphate agricultural fertilizers and above all from the discharge of untreated domestic and industrial wastewater from these two communes. The seasonal variation remains discreet and reflects a slight tendency towards degradation of the waters of the Upper Moulouya during the low waters of the summer period
Les eaux superficielles sont soumises à de fortes pressions anthropiques suscitées par le développement et l'extension des activités agricoles et également par les activités industrielles et domestiques. La pollution est un grand problème pour l'environnement en raison des rejets déversés dans les rivières et de l'utilisation excessive des fertilisants agricoles et des rejets d'origine urbaine et industrielle. L'objectif de cette étude est d'évaluer la qualité et l'état de la pollution organique des eaux superficielles la Haut Moulouya en se basant sur l'indice de qualité de l'eau (IQE) et l'indice de pollution organique (IPO) durant trois campagnes de prélèvement effectuées  entre les mois de mars et août de l'année 2014. Dix stations ont été étudiées le entre les mois de mars et août de l'année 2014. Dix stations ont été étudiées le long des oueds Moulouya et Ansegmir jusqu'à l'amont du barrage Hassan II. Les résultats sont visualisés par l'utilisation des SIG via la réalisation de cartes thématiques. Ils ont révélé que la majorité des stations indiquent une excellente qualité d'eau et ne présentent aucune pollution organique à l'exception des stations de Boumia (M5) et de Zaida (M6) qui présentent respectivement des eaux de mauvaise qualité et une faible pollution au niveau de Boumia et des eaux non potables avec forte pollution organique au niveau de Zaida. Cette dégradation environnementale anthropique enregistrée en aval des deux communes urbaines proviendrait de l'utilisation d'engrais agricoles azotés et phosphatés et surtout des rejets d'eaux usées domestiques et industrielles non traitées de ces deux communes. La variation saisonnière reste discrète et traduit une légère tendance à la dégradation des eaux de la Haute Moulouya pendant les basses eaux de la période estivale.


Downloads
Download data is not yet available.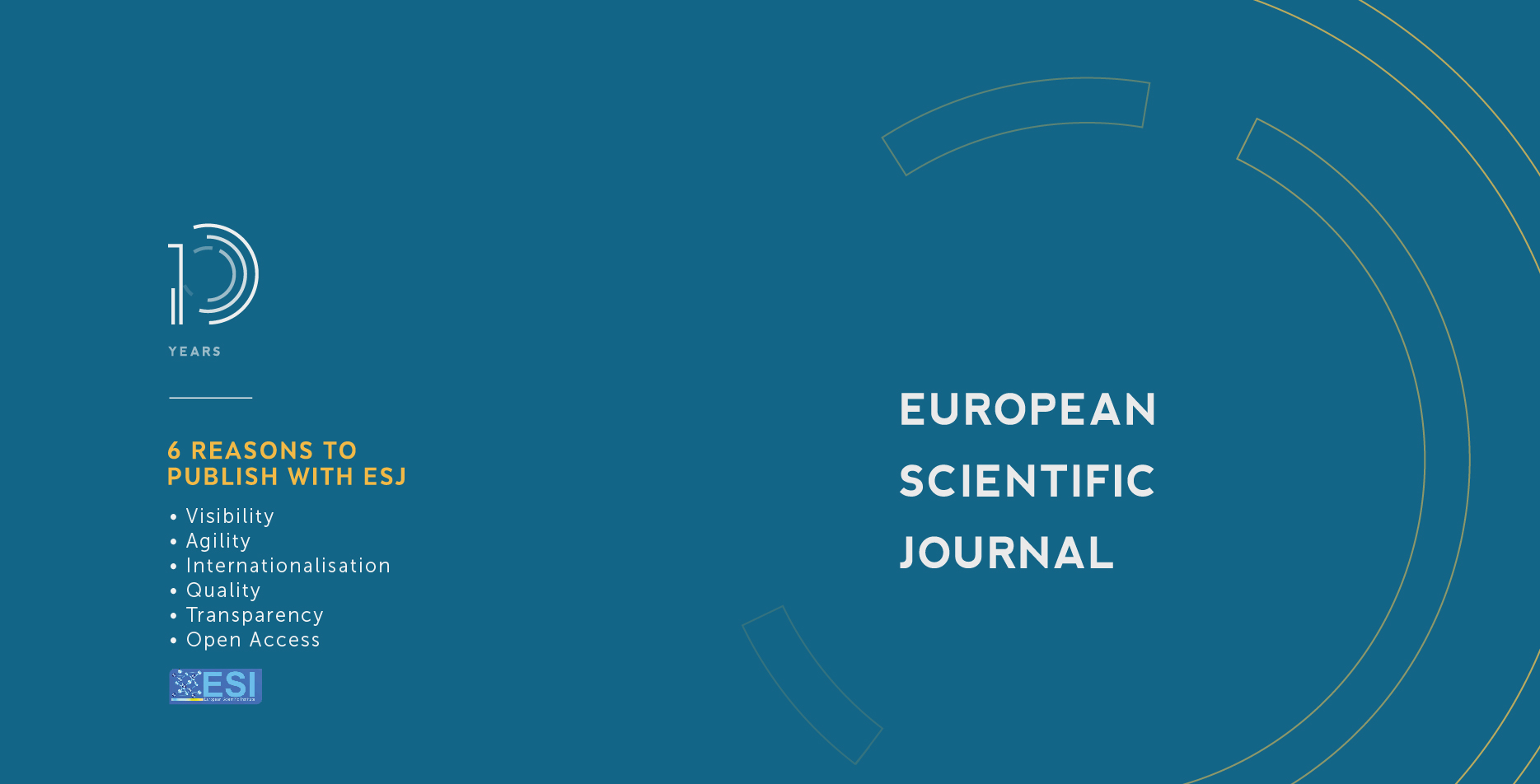 How to Cite
Hachem Bekri, M., El Hmaidi, A., Jaddi, H. J., Kasse, Z., Mati El Faleh, E. M. E. F., Essahlaoui, A., & El Ouali, A. (2020). Utilisation Des Indices De Qualité Et De Pollution Organique Dans L'évaluation De La Qualité PhysicoChimique Des Eaux Superficielles Des Oueds Moulouya et Ansegmir (Haute Moulouya, NE Du Maroc). European Scientific Journal, ESJ, 16(27), 55. https://doi.org/10.19044/esj.2020.v16n27p55
Section
ESJ Natural/Life/Medical Sciences
Copyright (c) 2020 My Hachem Bekri, Abdellah El Hmaidi, Hajar Jaddi Jaddi, Zahra Kasse, El Mati El Faleh Mati El Faleh, Ali Essahlaoui, Abdelhadi El Ouali
This work is licensed under a Creative Commons Attribution-NonCommercial-NoDerivatives 4.0 International License.