Conocimiento Y Experiencia Del Estudiante De Enfermería En El Manejo De Punzocortantes
Adriana Janeth Moreno Granados

Licenciatura en Enfermería, Universidad Autónoma de Querétaro, México

Karla Jesús Ayala Bautista

Licenciatura en Enfermería, Universidad Autónoma de Querétaro, México

Nayeli Rodríguez Dionisio

Licenciatura en Enfermería, Universidad Autónoma de Querétaro, México

Susana Angélica Dorantes Gómez

Universidad Autónoma de Querétaro, México

Ruth Magdalena Gallegos Torres

Universidad Autónoma de Querétaro, México
Keywords:
Accidentes Y Eventos Con Materiales Peligrosos, Conocimientos, Estudiantes De Enfermería, Experiencia
Abstract
Introducción. Las prácticas profesionales durante el proceso de formación de los estudiantes de enfermería denotan una gran importancia, ya que es donde ellos construyen y reconstruyen los conocimientos adquiridos en el contexto áulico al reforzar así las medidas de seguridad en cada procedimiento realizado en el ámbito hospitalario y de esta manera evitar accidentes en especial con los objetos punzocortantes. Objetivo. Determinar el conocimiento y experiencia del estudiante de Enfermería sobre el manejo de punzocortantes durante la estancia clínica. Metodología. Estudio con enfoque cuantitativo transversal, descriptivo, realizado en la Universidad Autónoma de Querétaro con 202 estudiantes de sexo indistinto, a partir del tercer al octavo semestre, el instrumento constituido por 33 ítems validado por expertos y por pilotaje, para salvaguardar la identidad de los participantes firmaran el consentimiento informado. El proyecto fue registrado y evaluado ante un Comité de Investigación y Bioética. El análisis de los datos se realizó mediante estadística descriptiva. Resultados. La población su mayoría mujeres con el 86.1% (174), en un rango de 18 a 34 años de edad. Más del 50% han recibido capacitación respecto al RPBI, y en base a la experiencia, el 35.1% (71) de los estudiantes han sufrido accidentes con objetos punzocortantes. Conclusión. La alta manipulación de punzocortantes entre los trabajadores de salud y estudiantes de enfermería trae consigo una gran cantidad de accidentes, los cuales son fuentes potenciales de enfermedades infectocontagiosas, es por ello que tanto el manejo y el deshecho de estos se debe realizar utilizando siempre las medidas de seguridad.
Introduction. The professional internships during the training process of nursing students are of great importance, since it is where they carry out the knowledge acquired at the educational institution thus reinforcing the safety measures in each procedure carried out in the hospital field and in this way avoid accidents especially with sharp objects. Objective. Determine the knowledge and experience of the Nursing student about the handling of sharps. Methodology. Transversal, descriptive study, carried out at the Autonomous University of Querétaro, in the Faculty of Nursing, located in the municipality of Querétaro. They were considered students of indistinct sex, from the third to the eighth semester, who agreed to participate in the study and signed informed consent. The project was registered and evaluated before a Research and Bioethics Committee. The analysis of the data was performed using descriptive statistics. Results. The population assessed consists of a total of 202 students, mostly women with 86.1% (174), a range of 18 to 34 years of age. Students were found to have medium knowledge and based on experience 35.1% (71) of students have suffered accidents with sharp objects. Conclusion. The high manipulation of sharps between health workers and nursing students brings with it a large number of accidents, which are potential sources of infectious diseases, is why both the management and waste of these must be carried out always using the safety measures.
Downloads
Download data is not yet available.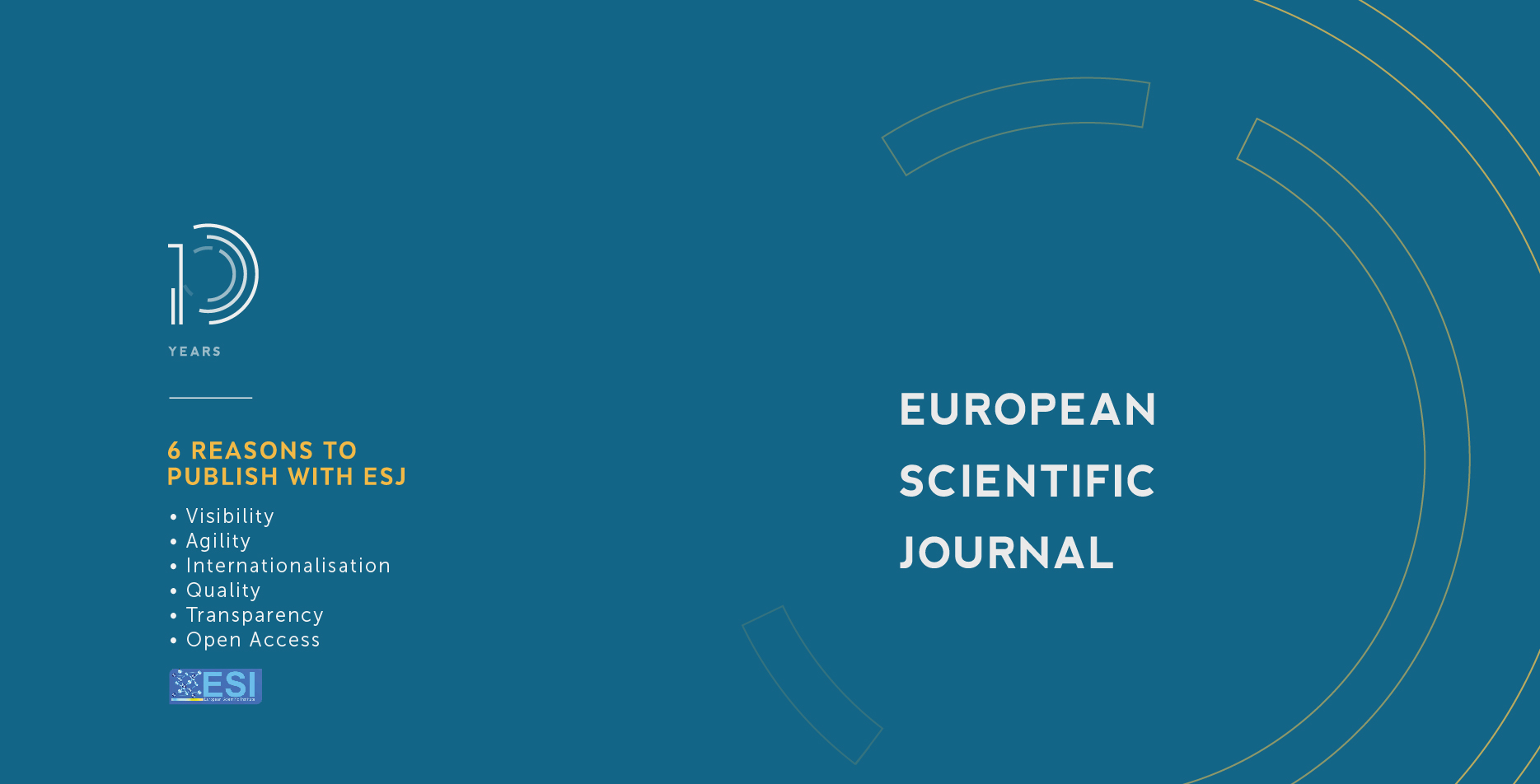 How to Cite
Moreno Granados, A. J., Jesús Ayala Bautista, K., Rodríguez Dionisio, N., Angélica Dorantes Gómez, S., & Magdalena Gallegos Torres, R. (2020). Conocimiento Y Experiencia Del Estudiante De Enfermería En El Manejo De Punzocortantes. European Scientific Journal, ESJ, 16(27), 76. https://doi.org/10.19044/esj.2020.v16n27p76
Section
ESJ Natural/Life/Medical Sciences
Copyright (c) 2020 Adriana Janeth Moreno Granados, Karla Jesús Ayala Bautista, Nayeli Rodríguez Dionisio, Susana Angélica Dorantes Gómez, Ruth Magdalena Gallegos Torres
This work is licensed under a Creative Commons Attribution-NonCommercial-NoDerivatives 4.0 International License.