Inventaire Et Diversité Des Essences Commerciales Dans Deux Forêts Périurbaines De Brazzaville : Le Site Continental De La Djoumouna Et Le Site Insulaire Loufézou (République Du Congo)
Edmond Sylvestre Miabangana Sylvestre Miabangana

Herbier National du Congo (IEC), Institut National de Recherche en Sciences Exactes et Naturelles (IRSEN), Cité Scientifique de Brazzaville, République du Congo Agence Nationale de Valorisation des Résultats de la Recherche et de l'Innovation (ANVRI), Cité Scientifique de Brazzaville, République du Congo

Eminence Dorelle Hondjuila Miokono

Ecole Nationale Supérieure Polytechnique (ENSP), Université Marien Ngouabi, Brazzaville, République du Congo

Gilbert Nsongola

Herbier National du Congo (IEC), Institut National de Recherche en Sciences Exactes et Naturelles (IRSEN), Cité Scientifique de Brazzaville, République du Congo

Odile Clarisse Saminou Nkouka

Herbier National du Congo (IEC), Institut National de Recherche en Sciences Exactes et Naturelles (IRSEN), Cité Scientifique de Brazzaville, République du Congo

Dieudonné Sita

Direction des Forêts, Direction Général de l'Economie Forestière, Brazzaville, République du Congo
Keywords:
Essences Commerciales, Diversité Floristique, Aménagement Forestier, Djoumouna, Île Loufézou
Abstract
Un inventaire des essences forestières de bois commercial a été entrepris dans deux forêts périurbaines de Brazzaville : le site continental de la Djoumouna et le site insulaire Loufézou. Ce dernier a été renforcé par le dépouillement des données phytosociologiques et structuraux de végétation. Ces deux habitats réalisent respectivement une surface basale de 35,7 et 53 m2 /ha. Le fond floristique, dominé par les Fabaceae, projette une richesse de 51 espèces émanant respectivement de 462 et 414 individus de Dbh ≥ 10 cm. Les Pentaclethra eetveldeana (De Wild. et T. Durand) et Pentaclethra macrophylla Benth., dominent l'ossature structurale dans la forêt continentale, tant en surface terrière qu'en indice de valeur d'importance. Sur le site insulaire, ce sont Antiaris toxicaria Lesch var. welwitschii (Engl.) Berg et Ceiba pentandra (L.) Gaertn., d'une part, et Pterocarpus soyauxii Taub. et Pentaclethra eetveldeana De Wild. d'autre part qui se relaient pour les deux paramètres. Le site continental est plus riche et plus diversifié par rapport à son voisin insulaire. Tout de même, ces deux habitats particuliers projettent une bonne structuration en essences commerciales, en rapport avec la maturité écologique de ces sites forestiers. Ce trait milite en faveur de l'élaboration des plans d'aménagement à titre conservatoire.
An inventory of commercial timber species was undertaken in two peri-urban forests of Brazzaville, the continental site of Djoumouna and the Loufézou island site. This inventory was strengthened by the analysis of phytosociological and structural vegetation data. These two habitats have a basal area of 35.7 and 53 m2 /ha, respectively. The floristic matrix, dominated by Fabaceae, projects a richness of 51 species emanating respectively from 462 and 414 individuals of Ddh ≥ 10 cm. Pentaclethra eetveldeana De Wild. & T. Durand and Pentaclethra macrophylla Benth., dominated the structural framework in the continental forest, both in the basal area and the significance of value index. On the island site, Antiaris toxicaria Lesch var. welwitschii (Engl.) Berg and Ceiba pentandra (L.) Gaertn., on the one hand, and Pterocarpus soyauxii Taub. and Pentaclethra eetveldeana De Wild., on the other hand, take turns for both parameters. The continental site is richer andmore diversified compared to its island neighbor. All the same, these two particular habitats project a good structure in commercial timber in relation to the ecological maturity of these forest sites. This feature militates in favour of the elaboration of management plans as a precautionary measure.
Downloads
Download data is not yet available.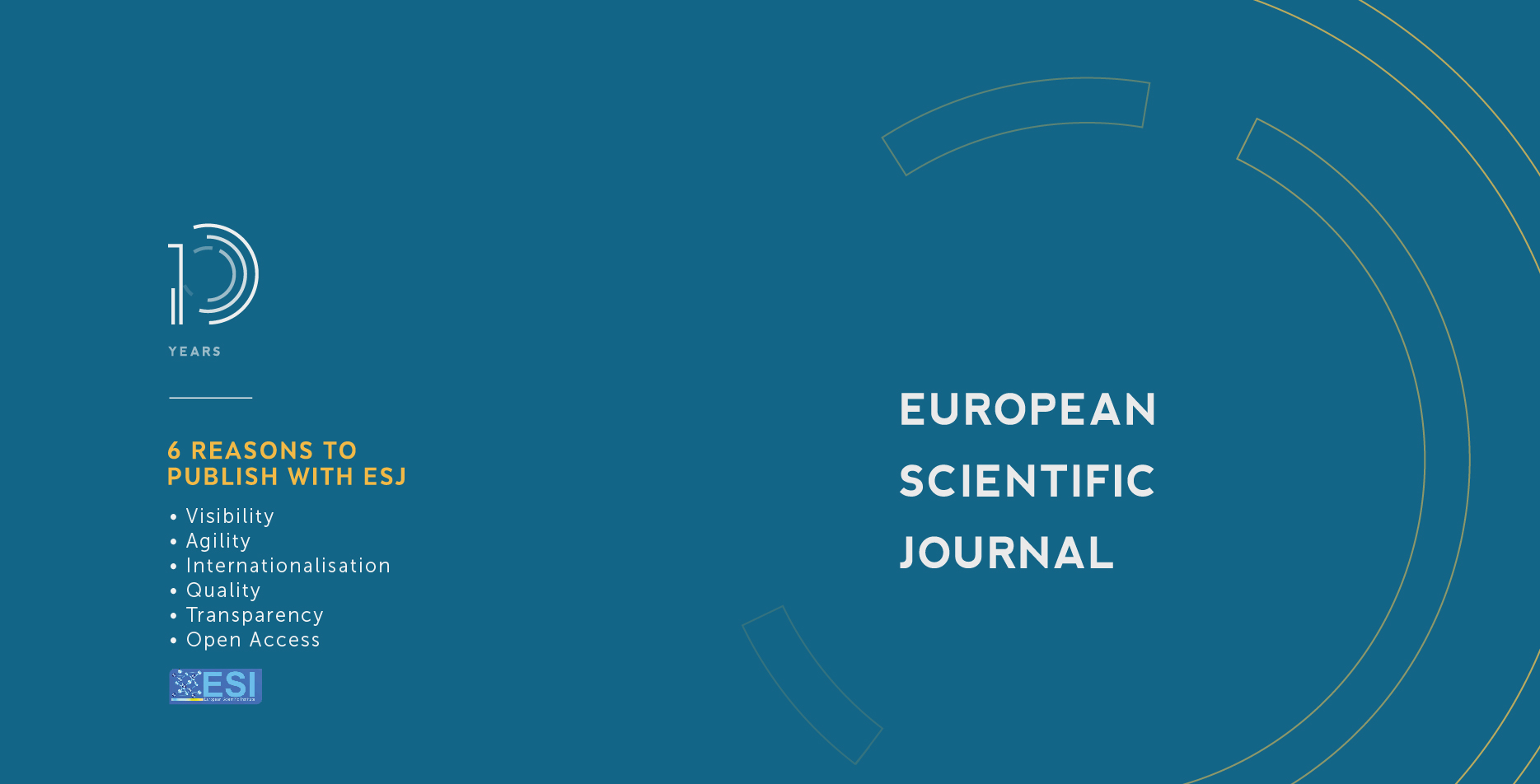 How to Cite
Sylvestre Miabangana, E. S. M., Dorelle Hondjuila Miokono, E., Nsongola, G., Clarisse Saminou Nkouka, O., & Sita, D. (2020). Inventaire Et Diversité Des Essences Commerciales Dans Deux Forêts Périurbaines De Brazzaville : Le Site Continental De La Djoumouna Et Le Site Insulaire Loufézou (République Du Congo). European Scientific Journal, ESJ, 16(27), 217. https://doi.org/10.19044/esj.2020.v16n27p217
Section
ESJ Natural/Life/Medical Sciences
Copyright (c) 2020 Edmond Sylvestre Miabangana Sylvestre Miabangana, Eminence Dorelle Hondjuila Miokono, Gilbert Nsongola, Odile Clarisse Saminou Nkouka, Dieudonné Sita
This work is licensed under a Creative Commons Attribution-NonCommercial-NoDerivatives 4.0 International License.