Les Déterminants De La Proliferation Des Activités Économiques Informelles Sur Le Boulevard Nangui Abrogoua Et Leur Impact Sur L'environnement Dans La Commune D'adjame (Cote D'ivoire)
Constance Boka Abeto

Maître-Assistante, Institut de Géographie Tropicale, Université Félix Houphouët Boigny, Côte d'Ivoire

Dakouri Guissa Desmos Francis

Maître-Assistant, Institut de Géographie Tropicale, Université Félix Houphouët Boigny, Côte d'Ivoire

Ouattara Drissa

Assistant, Institut de Géographie Tropicale, Université Felix Houphouët-Boigny de Cocody-Abidjan

Yao Lucien

Doctorant, Institut de Géographie Tropicale, Université Felix Houphouët-Boigny de Cocody-Abidjan
Keywords:
Activités économiques, Informelles, Environnement, Boulevard, Nangui Abrogoua
Abstract
La commune d'Adjamé forte de sa position au centre de la ville d'Abidjan et plaque tournante de l'économie ivoirienne est aujourd'hui, un espace d'échange national, voire sous régional. Ce rôle qu'assure Adjamé fait, du boulevard Nangui Abrogoua un espace où la prolifération d'activités économiques informelles est de mise. La présente étude a pour objectif de mettre en évidence les déterminants de la prolifération des activités économiques informelles sur ce boulevard et leur conséquence sur l'environnement. La méthodologie utilisée combine la recherche bibliographique, une enquête de terrain et des entretiens. Les résultats obtenus indiquent que la maximisation du gain, la facilité d'accès au boulevard, l'échec des opérations de déguerpissement et la politique de « laisser-faire » sont autant de facteurs qui expliquent la prolifération des activités économiques informelles sur le boulevard Nangui Abrogoua. Par ailleurs, ces activités pratiquées sur ce boulevard sont source d'insalubrité, de désordre spatial et des embouteillages permanents.
The town of Adjamé, with its strong position in the center of the city of Abidjan and the hub of the Ivorian economy, is today a space for national and even sub-regional exchange. This role played by Adjamé makes Boulevard Nangui Abrogoua a space where the proliferation of informal economic activities is in order. This paper focuses on highlighting the determinants of the proliferation of informal economic activities on this boulevard and their impact on the environment. The methodology used combines bibliographical research, a field survey and interviews. The results obtained indicate that maximization of profit, ease of access to the boulevard, the failure of eviction operations, and the "laissez-faire" policy are all factors that explain the proliferation of informal economic activities on Boulevard Nangui Abrogoua. Moreover, these activities practiced on this boulevard serve as a source of insalubrity, spatial disorder, and permanent traffic jams.
Downloads
Download data is not yet available.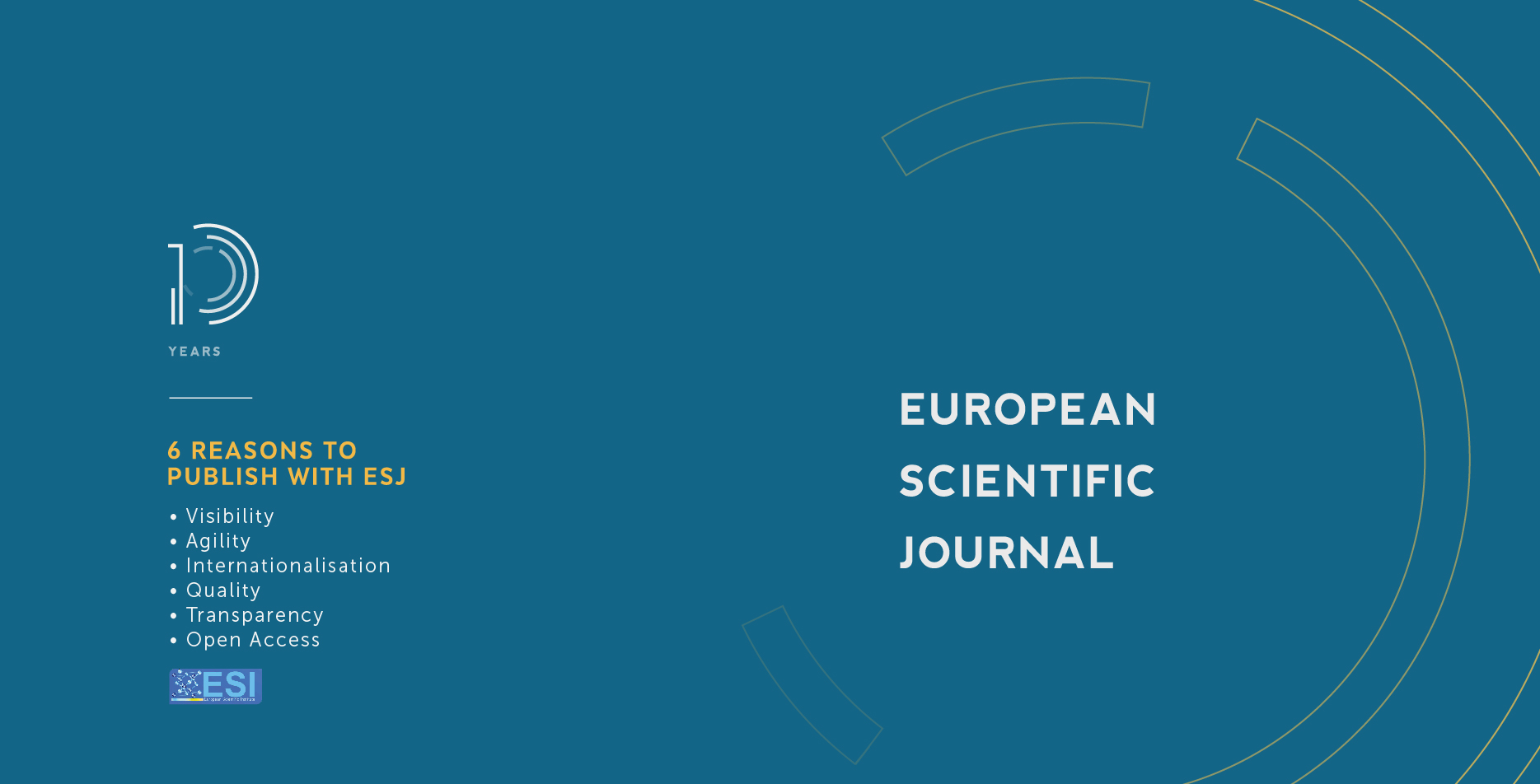 How to Cite
Boka Abeto, C., Guissa Desmos Francis, D., Drissa, O., & Lucien, Y. (2020). Les Déterminants De La Proliferation Des Activités Économiques Informelles Sur Le Boulevard Nangui Abrogoua Et Leur Impact Sur L'environnement Dans La Commune D'adjame (Cote D'ivoire). European Scientific Journal, ESJ, 16(30), 135. https://doi.org/10.19044/esj.2020.v16n30p135
Section
ESJ Natural/Life/Medical Sciences
Copyright (c) 2020 Constance Boka Abeto, Dakouri Guissa Desmos Francis, Ouattara Drissa, Yao Lucien
This work is licensed under a Creative Commons Attribution-NonCommercial-NoDerivatives 4.0 International License.