Lutte Contre l'Insalubrité au sein des Communautés Locales de la Mairie de Bujumbura : Analyse du Rôle de la Coopérative ''Isuku Iwacu'' de la Zone Kinama
Alexis Ndabarushimana

Docteur en Sociologie du développement rural de l'Université Félix Houphouët Boigny d'Abidjan/Côte d'Ivoire, Professeur Associé à l'Ecole Nationale d'Administration (ENA) du Burundi, Vice -Président de l'Institut de Recherche Scientifique pour le Développement (IRSD) de l'Université Espoir d'Afrique (UEA) et membre du Conseil Scientifique du Programme de Mastère de Socio-Anthropologie de l'Université du Burundi

Côme Ndikumana

Expert en Développement Communautaire
Keywords:
Zone Kinama, Coopérative, Insalubrité, Assainissemen, population
Abstract
De nos jours l'utilisation intensive et abusive des ressources et le rejet des déchets dans l'environnement continuent à détériorer notre milieu. Cette situation n'est pas sans effet néfaste sur la santé humaine, l'économie, la production alimentaire, le tourisme et l'écologie. Chaque jour la pollution de notre environnement augmente, la santé humaine est de plus en plus mise en danger, mais nous nous n'en préoccupons pas comme il faut.
L'étude porte sur l'analyse du rôle de la Coopérative ''Isuku iwacu'' de la Zone Kinama dans la lutte contre l'insalubrité au sein des communautés locales de la Mairie de Bujumbura. Mais alors, quelles sont les causes de l'insalubrité au sein des communautés locales en zone Kinama? Et quelles sont les conséquences de l'insalubrité sur la santé des populations de la zone Kinama?
L'insalubrité dans la zone Kinama est très critique. Des immondices, caniveaux bouchés et les restaurants qui déversent des restent des épluchures au bord des rues causent l'insalubrité et la raison d'être de la coopérative « Isuku iwacu » est la lutte contre cette insalubrité.
Les méthodes qualitative et quantitative ont été utilisées. 95 chefs de ménages ont été enquêtés à l'aide d'un questionnaire. Le superviseur de la coopérative « Isuku iwacu », les chefs des quartiers ainsi que le chargé d'hygiène dans la zone de Kinama ont été interviewés. Le logiciel statistique pour les sciences sociales (SPSS) version 22 nous ont guidés à obtenir les résultats.
Le manque de dépotoir, la non évacuation des déchets des ménages, le refus de payer la coopérative, le manque de sensibilisation de la part des autorités et le manque des camions en bon état ont été identifiées par les enquêtés comme causes de l'insalubrité en zone Kinama, respectivement à 86,3 %, 94,7%, 82,1%, 94,7% et 76.8%. Les mauvaises odeurs, les maladies des mains salles, la dysenterie, les vers intestinaux, la malaria, la diarrhée et les maladies de la peau ont été identifiées, respectivement à 35,8%, et 98,9%, 87,4%, 81,1%, 53,7%, 88,4% et 65,3% comme étant les conséquences majeures de l'insalubrité en zone Kinama.
            Nowadays the intensive and abusive use of resources and the discharge of waste into the environment continue to deteriorate our environment. This situation is not without negative effects on human health, the economy, food production, tourism and ecology. Every day the pollution of our environment increases, human health is more and more endangered, but we are not caring about it properly.
            The study focuses on the analysis of the role of the ''Isuku iwacu''cooperative of the Kinama Zone in the fight against insalubrity within the local communities of the Bujumbura Mayorship. So what are the causes of the insalubrity within local communities in the Kinama zone? And what are the consequences of insalubrity on the health of the populations of the Kinama zone?
            The insanitary conditions in the Kinama area are very critical. Rubbish, blocked gutters and restaurants that dump leftover peelings on the edges of the streets cause unsanitary conditions and the reason of being of the "Isuku iwacu" cooperative is to fight against these unsanitary conditions.
            Qualitative and quantitative methods were used. 95 heads of households were interviewed using a questionnaire. The supervisor of the "Isuku iwacu" cooperative, the heads of the districts as well as the hygiene officer in the Kinama area were interviewed. The statistical software for the social sciences (SPSS) version 22 guided us to obtain the results.
            The lack of dump, the non-evacuation of household waste, the refusal to pay the cooperative, the lack of awareness on the part of the authorities, and the lack of trucks in good condition were identified by the interviewees as causes of unsanitary conditions in Kinama zone, respectively at 86.3%, 94.7%, 82.1%, 94.7%, and 76.8%. Bad odors, hand-held diseases, dysentery, intestinal worms, malaria, diarrhea, and skin diseases were identified, respectively at 35.8%, and 98.9%, 87.4%, 81.1%, 53.7%, 88.4%, and 65.3% as being the major consequences of unsanitary conditions in the Kinama zone.
Downloads
Download data is not yet available.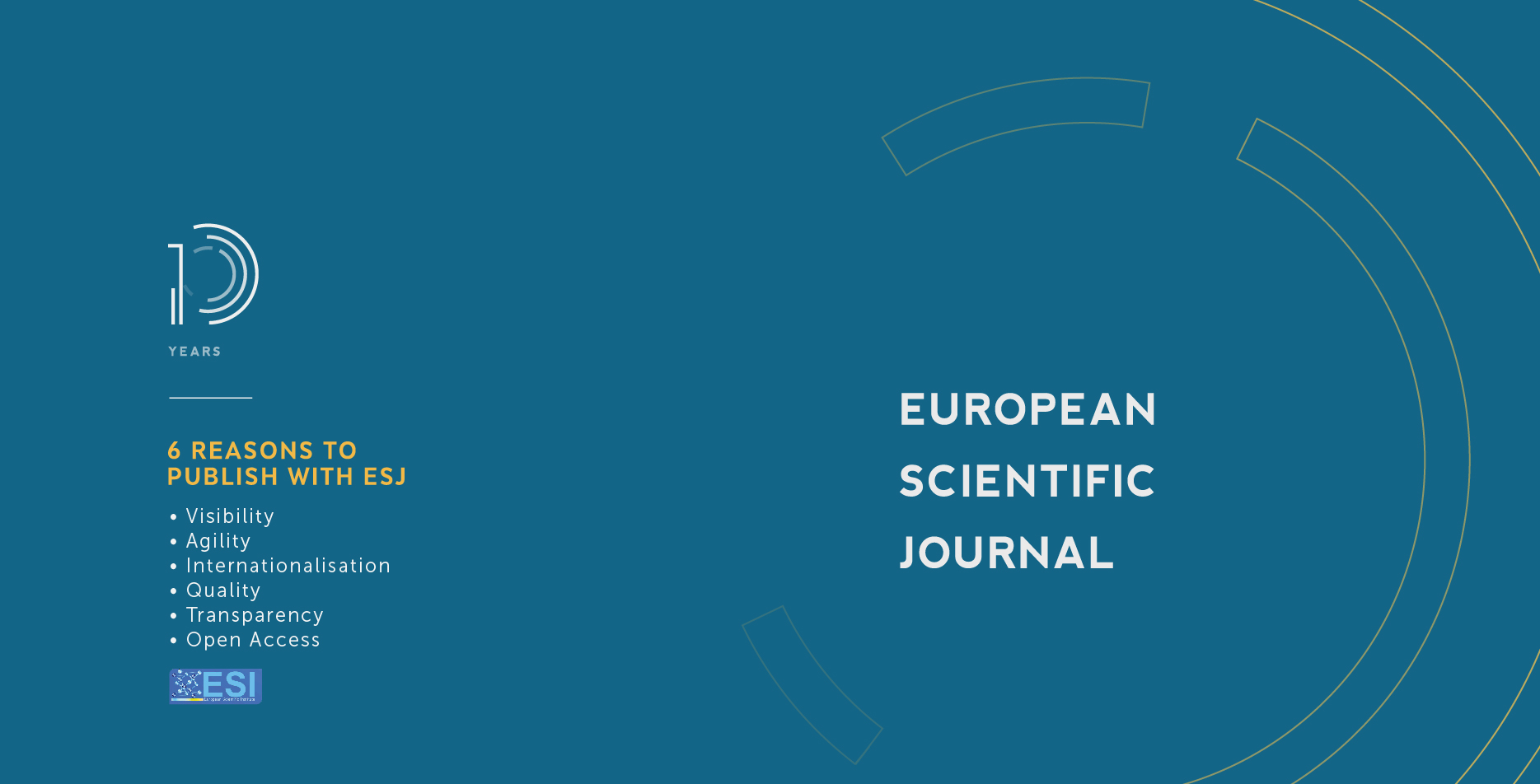 How to Cite
Ndabarushimana, A., & Ndikumana, C. (2020). Lutte Contre l'Insalubrité au sein des Communautés Locales de la Mairie de Bujumbura : Analyse du Rôle de la Coopérative ''Isuku Iwacu'' de la Zone Kinama. European Scientific Journal, ESJ, 16(32), 78. https://doi.org/10.19044/esj.2020.v16n32p78
Copyright (c) 2020 Alexis Ndabarushimana, Côme Ndikumana
This work is licensed under a Creative Commons Attribution-NonCommercial-NoDerivatives 4.0 International License.