Effet De Quelques Propriétés Du Sol Sur L'occurrence Et L'abondance De Lippia Multiflora M. (Verbenaceae) Dans Le Système Savanicole De Tiébissou, Au Centre De La Côte d'Ivoire
Alui Konan Alphonse

Université Peleforo Gon Coulibaly, Ufr Des Sciences Biologiques, Département Géosciences, Unité Pédagogique Et De Recherche (Upr) D'agroPédologie,Côte D'ivoire

Yao Saraka Didier Martial

Université Peleforo Gon Coulibaly, Ufr Des Sciences Biologiques, Département BiochimieGénétique, Unité Pédagogique Et De Recherche (Upr) De Génétique,Côte D'ivoire

N'Guetta Adélaïde Adélaïde

Centre National de Recherche Agronomique, Côte d'Ivoire

Yao-Kouamé Albert

Université Félix Houphoüet-Boigny, Ufr Des Sciences De La Terre Et Des Ressources Minières, Département Des Sciences Du Sol
Keywords:
Lippia Multiflora, Sols, Occurrence, Tiébissou, Côte d'Ivoire
Abstract
Les données sur les caractéristiques physiques, physico-chimiques et chimiques du sol qui affecteraient l'occurrence de Lippia multiflora et son abondance dans les zones savanicoles de la Côte d'Ivoire sont moins fournies dans la littérature. L'objectif de la présente étude est de mettre en évidence les propriétés du sol qui favorisent l'apparition des peuplements naturels et l'abondance de L. multiflora dans la savane à Tiébissou, en moyenne Côte d'Ivoire. La méthode d'échantillonnage a consisté dans un premier temps à inventorier la présence ou l'absence de L. multiflora et autres végétaux associés dans le système savanicole étudié. Secondairement, des échantillons de sols ont été prélevés à une profondeur allant de 0 à 60 cm aux pieds des plants de L. multiflora et où il n'y a pas de présence de la plante puis analysés au laboratoire. Les résultats ont montré que L. multiflora est une espèce qui est de type constant dans le système savanicole de Tiébissou avec une fréquence d'occurrence de 65,22% dans la partie Sud et 52,17% dans la partie Nord. Les tests de régression logistique réalisés indiquent que l''occurrence de L. multiflora serait liée au sol par le pH (5,4 à 5,6), les teneurs en, azote (0,25 g.kg-1 à 0,26 g.kg-1), limons (11,02 à 11,36 g.kg1), sables (76,27à 75,81 g.kg-1) et argiles (12,12 à 12,60 g.kg-1). Pour réussir la culture de L. multiflora il faut retenir qu'il s'accommode bien sur les sols pauvres, moyennement acides à neutres, poreux et de structure grumeleuse à tendance particulaire.
Data about the physical, physicochemical and chemical characteristics of the soil that would affect the occurrence of Lippia multiflora and its abundance in the savannah areas of Côte d'Ivoire are less provided in the literature. The objective of this study is to highlight the properties of the soil which favor the emergence of natural populations and the abundance of L. multiflora in the savannah in Tiébissou, centre of Côte d'Ivoire. The sampling method consisted firstly an inventory of the presence or absence of L. multiflora and other associated plants in the studied savannah system. Secondly, soil samples were taken at a depth ranging from 0 to 60 cm under the L. multiflora plants and where there is no presence of the plants and then analyzed in the laboratory. The results showed that L. multiflora is a species which is constant type in the savannah system of Tiébissou with a frequency of occurrence of 65.22% in the Southern part and 52.17% in the Northern part of the studied savannah system. The logistic regression tests carried out indicate that the occurrence of L. multiflora would be linked to the soil through the soil parameters such as pH (5.4 to 5.6), the nitrogen (0.25 g.kg-1 to 0.26g.kg-1), silts (11.02 to 11.36 g.kg-1), sands (76.27 to 75.81 g.kg-1) and clays (12.12 to 12.60 g. kg-1) contents. To grow L. multiflora successfully, it must be remembered that it adapts well to poor, moderately acidic to neutral, porous soils with a lumpy structure with a particle tendency.
Downloads
Download data is not yet available.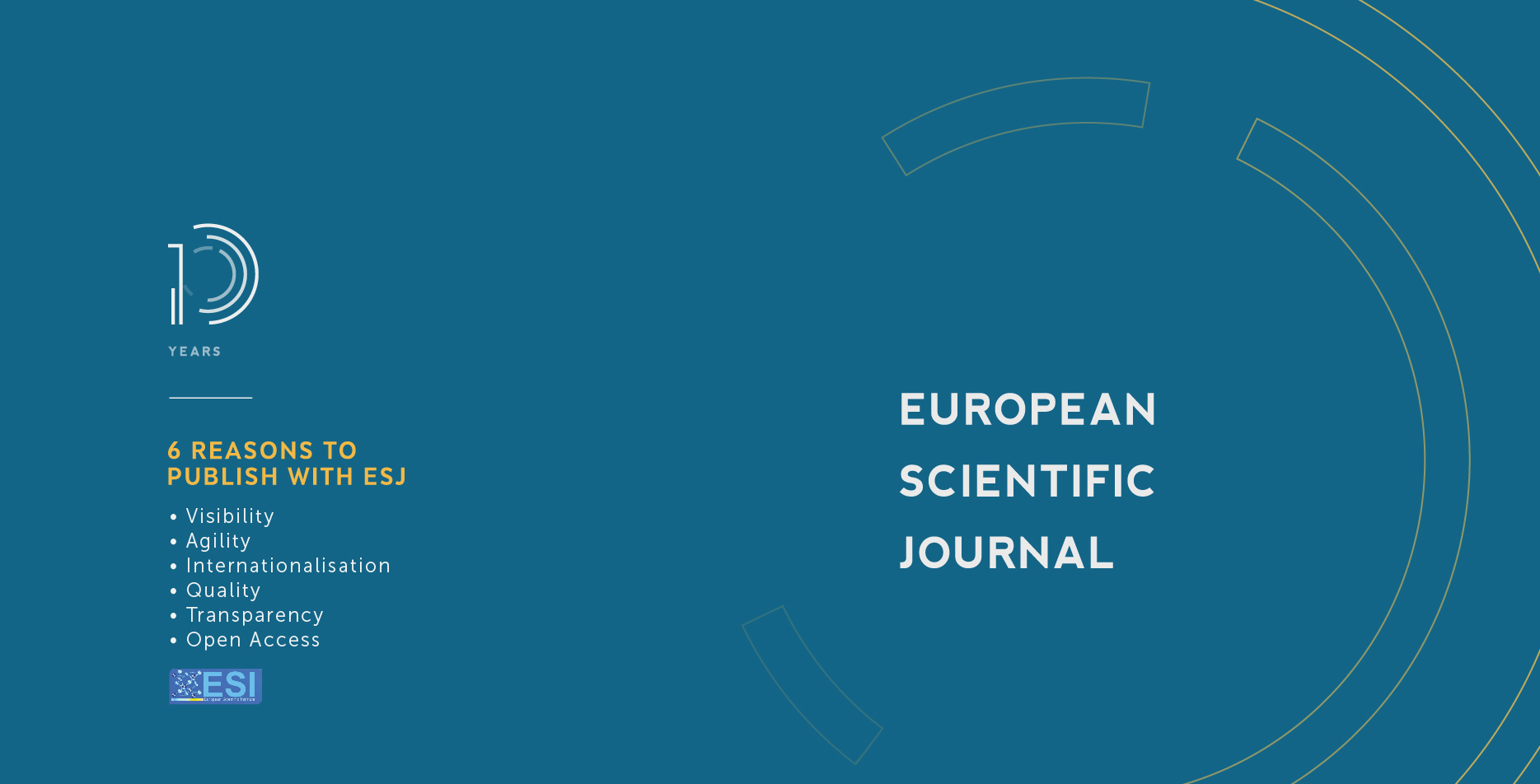 How to Cite
Alphonse, A. K., Didier Martial, Y. S., Adélaïde, N. A., & Albert, Y.-K. (2020). Effet De Quelques Propriétés Du Sol Sur L'occurrence Et L'abondance De Lippia Multiflora M. (Verbenaceae) Dans Le Système Savanicole De Tiébissou, Au Centre De La Côte d'Ivoire. European Scientific Journal, ESJ, 16(36), 158. https://doi.org/10.19044/esj.2020.v16n36p158
Section
ESJ Natural/Life/Medical Sciences
Copyright (c) 2020 Alui Konan Alphonse, Yao Saraka Didier Martial, N'Guetta Adélaïde Adélaïde, Yao-Kouamé Albert
This work is licensed under a Creative Commons Attribution-NonCommercial-NoDerivatives 4.0 International License.