Prise En Charge Des Plaies Pénétrantes De L'abdomen À L'hôpital National De Niamey
Hama Y

Département de chirurgie de la faculté des sciences de la santé de l'Université Abdou Moumouni de Niamey-Niger, Département de chirurgie de l'hôpital national de Niamey-Niger

Mohamed AA

Département de chirurgie de la faculté des sciences de la santé de l'Université Abdou Moumouni de Niamey-Niger, Département de chirurgie de l'hôpital national de Niamey-Niger

Kadi I

Département de chirurgie de l'hôpital national de Niamey-Niger

James Didier L,

Département de chirurgie de la faculté des sciences de la santé de l'Université Abdou Moumouni de Niamey-Niger, Département de chirurgie de l'hôpital national de Niamey-Niger

Sani R

Département de chirurgie de la faculté des sciences de la santé de l'Université Abdou Moumouni de Niamey-Niger, Département de chirurgie de l'hôpital national de Niamey-Niger
Keywords:
Plaies Pénétrantes De L'abdomen, Plaies Par Armes Blanches, Éviscération, Plaie Abdominale.
Abstract
Objectif : rapporter les résultats de la prise en charge des plaies pénétrantes de l'abdomen à l'hôpital national de Niamey au Niger. Patients et méthodes : il s'agissait d'une étude rétrospective et descriptive sur une période de 2 ans. L'étude a concerné tous les patients de tout âge pris en charge à l'hôpital national de Niamey pour plaie pénétrantes de l'abdomen. Résultats : l'étude incluait 51 patients, soit 0,88% des traumatismes. Il s'agissait de 6 femmes et 45 hommes, soit un sex ratio de 7,5. L'âge moyen des patients était de 28 ans [±10,2]. Le délai moyen d'admission était de 4,86 heures [±2,08]. Dans 84,32% des cas les patients étaient transportés à l'hôpital dans un véhicule non médicalisé. Les agressions représentaient 78,44% des circonstances de survenue et la plaie abdominale s'intégrait dans un contexte de polytraumatisme chez 21,53% des patients. Une éviscération était présente chez 31,37% des patients. Le traitement était opératoire chez 90,19% des patients avec 19,56% de laparotomie non thérapeutique. L'organe le plus lésé était l'intestin grêle dans 31,37% des cas suivi du colon dans 23,52% des cas. La morbidité globale était de 33,37% dominée par les hémorragies postopératoires dans 8,69% des cas. La mortalité était de 13,73% avec 50,14% de décès en postopératoire immédiat par hémorragie secondaire ; 28,58% de décès par retard de l'hémostase chirurgicale et 14,28% de décès par défaut de compensation des pertes sanguines en urgence.Conclusion : les plaies de l'abdomen sont fréquentes chez l'adulte jeune de sexe masculin. Elles sont souvent dues à une agression par armes blanches avec un taux élevé de décès.
Objective: to report the results of the management of the penetrating abdominal wounds at the national hospital of Niamey. Patients and method: it was a retrospective and descriptive study over 2 years. The study included the patients of all ages managed for penetrating abdominal wounds at national hospital of Niamey in Niger. Results: the study includes 51 patients whether 0.88 % of trauma. They were 45 men and 6 women, with a sex ratio of 7.5. The average age was 28 [±10.2] years old. The average intake time was 4.86 [2.08] hours. In 84. 32% of cases, patients were transported to the hospital in non-medical vehicle. The assault accounted for 78.44% of the circumstances of the occurrence and the penetrating abdominal wound was integrated into a polytrauma in 21.53% of cases. An evisceration was present in 31.37 % of cases. The management was operative in 90.19% of cases with 19.56% of non-therapeutic laparotomy. The most injured organ was the small intestine in 31.37% of cases followed by the colon in 23.52% of cases. The overall morbidity was 33.37%, dominated by postoperative hemorrhages in 8.69% of cases. The mortality was 13.73% with 50.14% of immediate deaths by secondary hemorrhage, 28.58% of deaths by delay of the surgical hemostasis and 14.28% of deaths by a failure of compensation of the blood losses in emergency room. Conclusion: the penetrating abdominal wounds are common in young adult males. They are often due to a stabbing assault with a high death rate.
Downloads
Download data is not yet available.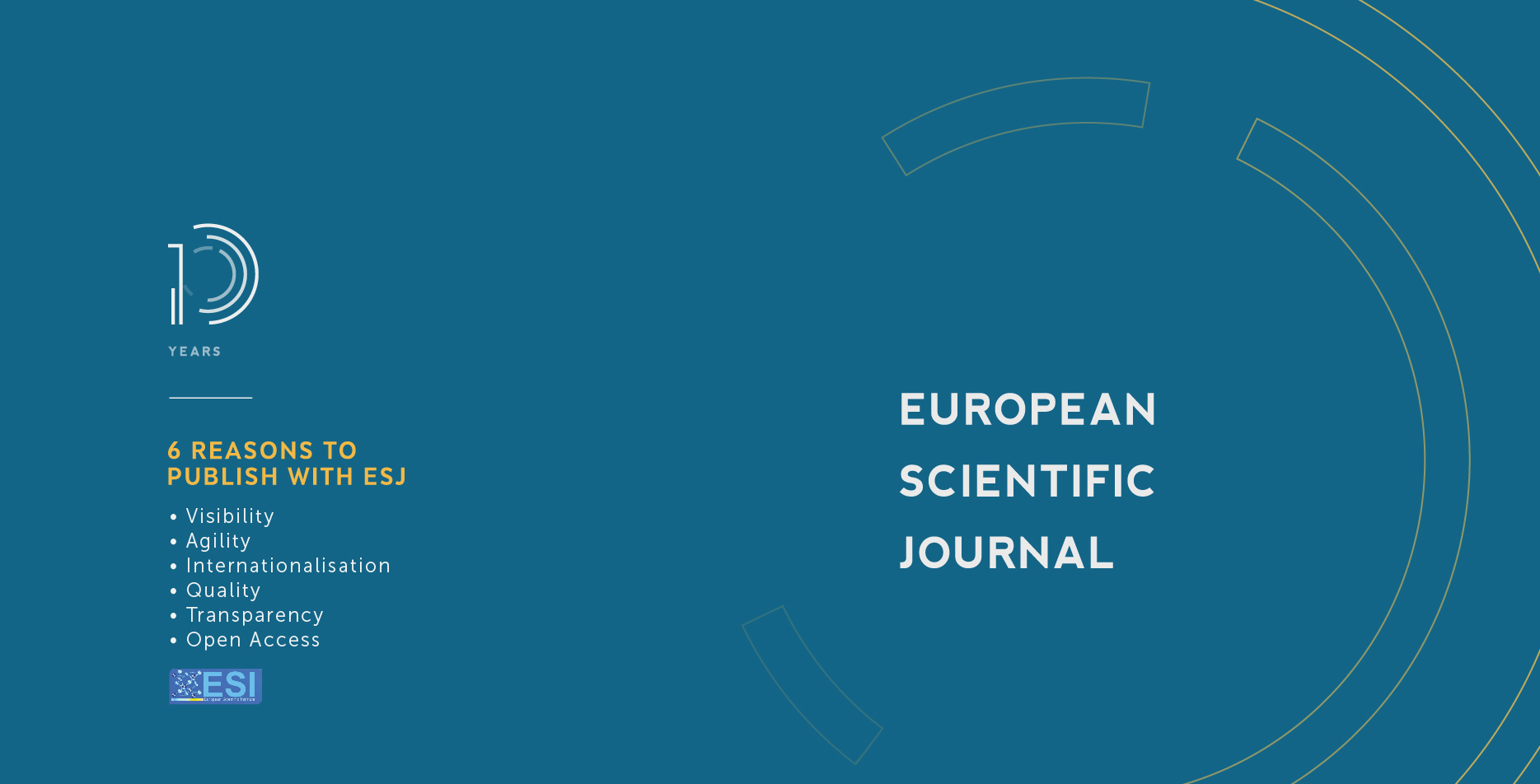 How to Cite
Y, H., AA, M., I, K., Didier L, J., & R, S. (2020). Prise En Charge Des Plaies Pénétrantes De L'abdomen À L'hôpital National De Niamey. European Scientific Journal, ESJ, 16(36), 212. https://doi.org/10.19044/esj.2020.v16n36p212
Section
ESJ Natural/Life/Medical Sciences
Copyright (c) 2020 Hama Y, Mohamed AA, Kadi I, James Didier L,, Sani R
This work is licensed under a Creative Commons Attribution-NonCommercial-NoDerivatives 4.0 International License.