Régénération assistée du karité (Vitellaria paradoxa C. F. Gaertn.) dans les parcs agroforestiers au Burkina Faso
Yempabou Hermann Ouoba

Université Nazi BONI / Unité de Formation et de Recherche en sciences et Techniques, Bobo-Dioulasso, Burkina Faso

Brigitte Bastide

Centre National de la Recherche Scientifique et Technologique, INERA / DEF, Station de Farako Bâ, Bobo-Dioulasso, Burkina Faso

Pascaline Coulibaly-Lingani

Centre National de la Recherche Scientifique et Technologique,INERA / DEF, Ouagadougou, Burkina Faso

Sibiry Albert Kaboré

Université Thomas Sankara / Centre universitaire de Tenkodogo

Sylvie Christiane Yaméogo-Gaméné

Centre National de Semences Forestières, Ouagadougou, Burkina Faso

Souleymane Ganaba

Centre National de la Recherche Scientifique et Technologique INERA / DEF, Ouagadougou, Burkina Faso

Paulin Ouoba

Université Nazi BONI / Unité de Formation et de Recherche en sciences et Techniques, Bobo-Dioulasso, Burkina Faso

Joseph Issaka Boussim

Université Ouaga1 Joseph KI-Zerbo, Unité de Formation et de Recherche en Sciences de la Vie et de la Terre, Ouagadougou, Burkina Faso
Keywords:
karité, gestion des parcs agroforestiers, techniques de régénération, secteurs phytogéographiques, Burkina Faso
Abstract
Le karité (Vitellaria paradoxa C. F. Gaertn.) présente une importance sociale, culturelle, économique et alimentaire pour le Burkina Faso où il occupe la quatrième place dans les produits d'exportation. La pérennité de cette espèce dont les populations rurales sont tributaires, est compromise par de multiples phénomènes dont le manque de régénération, les pratiques culturales et la coupe abusive du bois pour satisfaire les besoins énergétiques. L'objectif de cette étude est de proposer des méthodes adéquates pour rajeunir les parcs à karité au Burkina Faso. Cinq sites de recherche ont été choisis suivant un gradient phytogéographique : Sobaka, Noumoudara et Kakoumana (secteur sud soudanien), Gonsé (secteur nord soudanien) et Bouria (secteur sub sahélien). Les essais effectués dans chaque parcelle choisie, ont comporté trois répétitions et 7 traitements, représentés par les différentes techniques de régénération (plantation, transplantation, semis direct libre, semis dans les buissons, régénération naturelle assistéeRNA-, induction de drageon, induction de pousse adventive). Les résultats indiquent que le taux de survie de la régénération naturelle assistée est audessus de 70% après deux années de suivi. Les plantations et les semis directs dans les buissons sont aussi des techniques efficaces pour la régénération/restauration des parcs à karité, avec respectivement des taux de survie de 13,33% et 6,67% dans le secteur sub sahélien, 12,22% et 6% dans le nord soudanien, et 55,56% et 25,33% dans le sud soudanien après la troisième année de suivi. En conclusion, la régénération assistée est la technique la plus efficiente pour restaurer les parcs à karité.
The Shea (Vitellaria paradoxa C. F. Gaertn.) is of enormous social, cultural, economic and nutritional importance for Burkina Faso where it ranks fourth in exports. The sustainability of this species on which rural populations depend is compromised by multiple phenomena, including the lack of regeneration of shea tree and the abusive cutting of wood to meet energy needs. This work aimed to propose adequate methods for rejuvenating shea parkland in Burkina Faso. Five sites distributed along a phytogeographic gradient were selected for tests : Sobaka, Noumoudara and Kakoumana (South-Sudanian phytogeographic zone), Gonsé (NorthSudanian phytogeographic zone) and Bouria (sub-Sahelian phytogeographic zone). The field trials included three repetitions by regeneration technique (planting, transplanting, direct sowing free, sowing in bushes and assisted natural regeneration -ANR-, sucker induction, induction of adventitious growth). The results indicate that the survival rate of assisted natural regeneration is above 70% after two years of follow-up. Planting and direct seeding in bushes are also effective techniques for the regeneration / restoration of shea tree parks with respectively survival rates of 13.33% and 6.67% in the sub sahelian sector, 12.22% and 6% in north sudanian, and 55.56% and 25.33% in south sudanian, after the third year of monitoring. In conclusion, in order to restore the shea parks, all seedlings regardless of their origins, will need to be assisted in
Downloads
Download data is not yet available.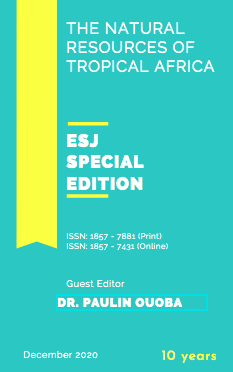 How to Cite
Ouoba, Y. H., Bastide, B., Coulibaly-Lingani, P., Kaboré, S. A., Yaméogo-Gaméné, S. C., Ganaba, S., Ouoba, P., & Boussim, J. I. (2020). Régénération assistée du karité (Vitellaria paradoxa C. F. Gaertn.) dans les parcs agroforestiers au Burkina Faso. European Scientific Journal, ESJ, 16(40), 23. https://doi.org/10.19044/esj.2020.v16n40p23
Copyright (c) 2020 Yempabou Hermann Ouoba, Brigitte Bastide, Pascaline Coulibaly-Lingani, Sibiry Albert Kaboré, Sylvie Christiane Yaméogo-Gaméné, Souleymane Ganaba, Paulin Ouoba, Joseph Issaka Boussim
This work is licensed under a Creative Commons Attribution-NonCommercial-NoDerivatives 4.0 International License.