Caractérisation Physico-Chimique Et Minéralogique Des Argiles De La Carrière De Mirriah, Région De Zinder, Utilisées Dans La Poterie
Moussa Issaka Abdoulkader

Faculté des Sciences et Techniques, Département des Sciences Géologiques en Environnementales (SGE), Université de Zinder

Issa Malam Salmanou Souleymane

Faculté des Sciences et Techniques, Département des Sciences Géologiques en Environnementales (SGE), Université de Zinder

Hassane Bouba

Faculté des Sciences et Techniques, Département de Géologie, Université Abdou Moumouni de Niamey

Abdourhamane Toure Amadou

Faculté des Sciences et Techniques, Département de Géologie, Université Abdou Moumouni de Niamey

Garba Zibo

Faculté des Sciences et Techniques, Département de Géologie, Université Abdou Moumouni de Niamey

Wagani Ibrahim

Faculté des Sciences et Techniques, Département de Géologie, Université Dan Dicko Dankoulodo de Maradi
Keywords:
Argiles, Poterie, Diffraction X, Analyse Chimique, Mirriah, Zinder
Abstract
In order to contribute to the valuation of clay materials from the Zinder Region, the clays taken from the quarry and used for the pottery of Mirriah have been characterized from a physico-chemical and mineralogical point of view. So the five samples were taken and the composite sample representative of the quarry were subjected to chemical and mineralogical analyzes.The chemical analysis showed that the six samples all consisted of more than 60% aluminosilicates with a high silica/alumina ratio estimated at 2.5 on average. This report shows that the samples of this study are rich in clay minerals; this is in agreement with the estimate of the fine or clay fraction which is 39.5% of the initial mass of the raw sample. This chemical analysis also made it European Scientific Journal, ESJ ISSN: 1857-7881 (Print) e - ISSN 1857-7431 January 2021 edition Vol.17, No.3 www.eujournal.org 122 possible to highlight, at the level of these Mirriah clays, a significant iron oxide content of 32%, which gives them a brick red color. The main mineralogical phases detected by X-ray diffraction in the raw sample and its fine fraction are kaolinite, a mica structure close to illite and quartz, all weathering products of granite. This characterization indicates that the clays mined at the Mirriah quarry are very favorable materials for formulations of pottery products.
Dans le but de contribuer à la valorisation des matériaux argileux de la Région de Zinder, les argiles prélevées à la carrière et utilisées pour la poterie de Mirriah ont été caractérisées du point de vue physico-chimique et minéralogique. Ainsi les cinq échantillons ont été prélevés et l'échantillon composite représentatif de la carrière, ont été soumis à des analyses chimiques et minéralogiques. Il ressort de l'analyse chimique que les six échantillons sont tous constitués à plus de 60 % d'aluminosilicates avec un rapport silice/alumine élevé estimé à 2,5 en moyenne. Ce rapport montre que les échantillons de cette étude sont riches en minéraux argileux ceci est en accord avec l'estimation de la fraction fine ou argileuse qui est de 39,5 % de la masse initiale de l'échantillon brut. Cette analyse chimique a aussi permis de mettre European Scientific Journal, ESJ ISSN: 1857-7881 (Print) e - ISSN 1857-7431 January 2021 edition Vol.17, No.3 www.eujournal.org 121 en évidence, au niveau de ces argiles de Mirriah, une teneur importante en oxyde de fer de 32% ceci leur induit une couleur rouge brique. Les phases minéralogiques principales détectées par diffraction des rayons X dans l'échantillon brut et sa fraction fine sont de la kaolinite, une structure de mica proche de l'illite et du quartz, tous des produits d'altération du granite. Cette caractérisation indique que les argiles exploitées à la carrière de Mirriah sont des matériaux très favorables aux formulations des produits de poterie.
Downloads
Download data is not yet available.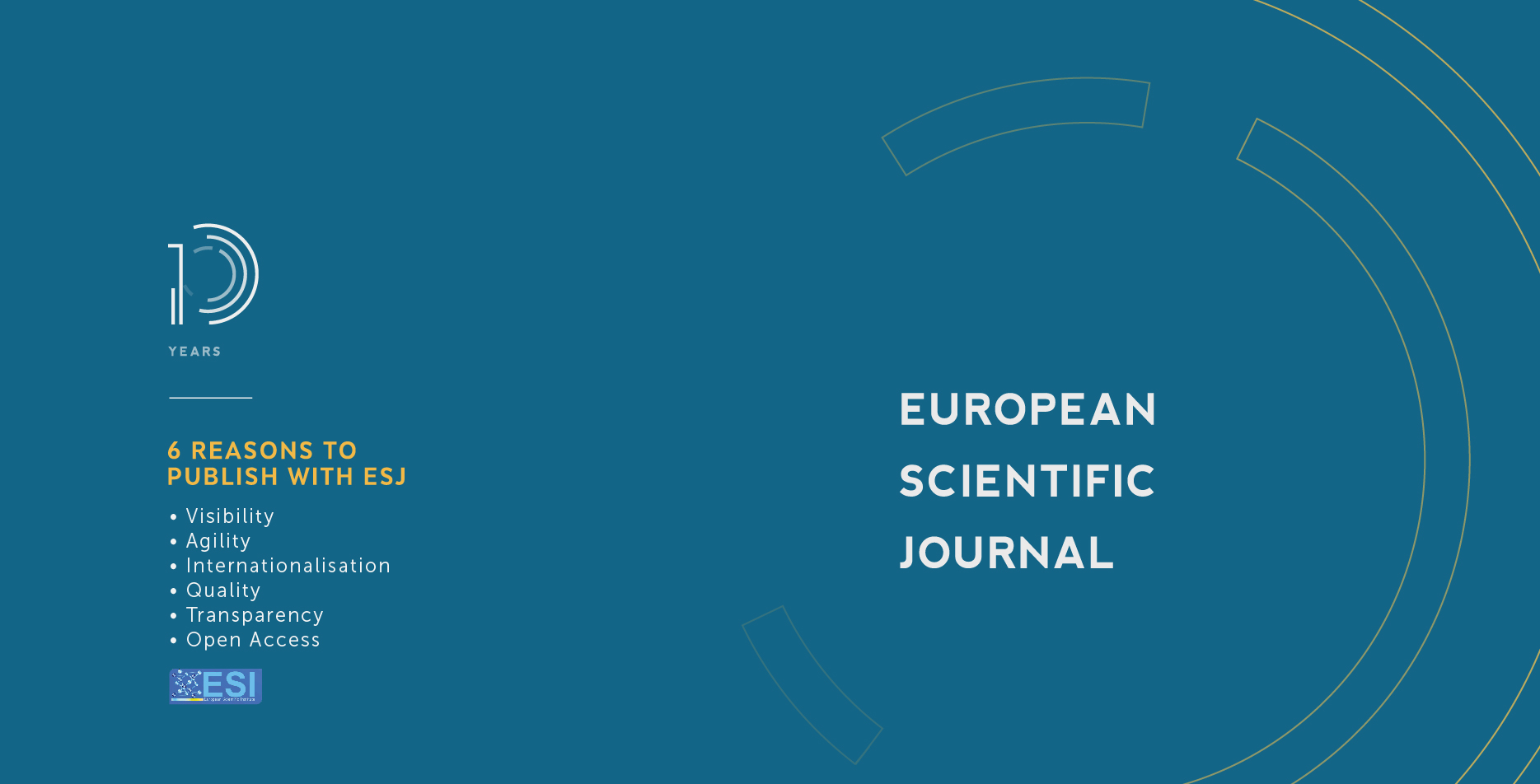 How to Cite
Issaka Abdoulkader, M., Salmanou Souleymane, I. M., Bouba , H., Toure Amadou, A., Zibo, G., & Ibrahim, W. (2021). Caractérisation Physico-Chimique Et Minéralogique Des Argiles De La Carrière De Mirriah, Région De Zinder, Utilisées Dans La Poterie. European Scientific Journal, ESJ, 17(3), 120. https://doi.org/10.19044/esj.2021.v17n3p120
Section
ESJ Natural/Life/Medical Sciences
Copyright (c) 2021 Moussa Issaka Abdoulkader, Issa Malam Salmanou Souleymane, Hassane Bouba , Abdourhamane Toure Amadou, Garba Zibo, Wagani Ibrahim
This work is licensed under a Creative Commons Attribution-NonCommercial-NoDerivatives 4.0 International License.