Valeur Nutritive Des Especes Herbacees Appetees Par Les Ruminants Sur Les Parcours Naturels Du Nord-Est Du Benin
Badarou Kadidjatoulaï Opéyémi

Laboratoire de Recherches Zootechniques, Vétérinaire et Halieutique (LRZVH) Centre de Recherches Agricoles d'Agonkanmey, Institut National des Recherches Agricoles du Benin (INRAB), Cotonou, Bénin

Adehan Safiou Bienvenu

Laboratoire de Recherches Zootechniques, Vétérinaire et Halieutique (LRZVH) Centre de Recherches Agricoles d'Agonkanmey, Institut National des Recherches Agricoles du Benin (INRAB), Cotonou, Bénin

Bello Orou Daouda

Laboratoire de Biologie Végétale (LBV) Faculté des Sciences Agronomiques, Université d'Abomey-Calavi (FSA/UAC)

Adjolohoun Sébastien

Laboratoire d'Agrostologie et d'Innovations Agricoles pour le Développement. Faculté des Sciences Agronomiques, Université d'Abomey-Calavi, Jéricho, Cotonou, Bénin

Oumorou Madjidou

Laboratoire de Recherche en Biologie Appliquée (LaRBA), Ecole Polytechnique d'Abomey –Calavi (EPAC), Université d'Abomey-Calavi (UAC), Cotonou, Bénin

Gbego Tossa Isidore

Laboratoire de Recherches Zootechnique, Vétérinaire et Halieutique (LRZVH) Centre de Recherches Agricoles d'Agonkanmey, Institut National des Recherches Agricoles du Benin (INRAB, Cotonou, Bénin

Babatounde Séverin

Laboratoire de Zootechnie, Faculté des Sciences Agronomiques, Université d'Abomey-Calavi, Cotonou, Bénin
Keywords:
Valeur Nutritive, Herbacées, Bovins, Nord - Est Du Bénin
Abstract
Au Nord - Est du Bénin, les systèmes d'élevage sont encore principalement traditionnels et les informations disponibles actuellement sur la valeur nutritive des fourrages sont souvent fragmentaires, voire disparates. L'objectif de l'étude était de contribuer à une meilleure connaissance des valeurs nutritives des espèces herbacées appétées afin de les faire entrer dans les systèmes d'alimentation de ces ruminants. Pour ce faire, le suivi des animaux au pâturage et la récolte des fourrages appétés par les bovins avaient permis d'identifier 26 espèces herbacées appétées par les ruminants. 500g de chaque herbacée appétée a été prélevé dans des sachets et laissé à l'air libre avant d'être convoyé au laboratoire. Une fois au laboratoire, ils ont séjourné dans une étuve jusqu'à obtention de poids constant. Les échantillons ont été ensuite moulu et 20gr de chaque herbacées a été identifié et mi en sachet pour les analyses. Les échantillons des herbacées appétées ont été analysés par spectrométrie dans le proche infrarouge (SPIR). Le résultat du regroupement des différentes espèces herbacées présenté sous la forme de dendrogramme permettait d'identifié 5 groupes. En fin de saison pluvieuse, les espèces fourragères du groupe 1 2 et 5 ont des taux moyens élévés en matières azotées digestibles (MAD = 117,81 ± 14,25 g/kg MS) et en énergies nettes (UFL = 0,82±0,04 et UFV = 0,73±0,03/ kg de MS). La lignocellulose (ADF) et les valeurs énergétiques nettes (UFL, UFV) étaient négativement corrélées (r =- 0,74 ; p ˂ 0,01). Par contre, le couple (UFL, UFV) était positivement corrélé (r = 0,55 ; p ˂ 0,01) aux valeurs MAD. En ce qui concerne ces espèces fourragères, l'effet dépressif de la teneur en cellulose brute (CB) sur la valeur MAD (r = -0,63) apparaissait très hautement significatif (p ˂ 0,001). Les herbacées telles que Andropogon tectorum, Boerhavia erecta Brachiaria falcifera Pennisetum polystachion Crotalaria macrocalyx et Spermacoce stachydea, Commelina benghalensis et Eleusine indica sont de bonnes qualités nutritives.
In the north-east of Benin, livestock systems are still mainly traditional and the information currently available on the nutritional value of fodder is often fragmentary or even disparate. The objective of the study was to contribute to a better knowledge of the nutritional values of the herbaceous species being fed in order to include them in the feeding systems of these ruminants. To this end, the monitoring of animals on pasture and the harvesting of forages appeared by cattle had made it possible to identify 26 herbaceous species appeared by ruminants. 500g of each appeared grass was collected in bags and left outdoors before being transported to the laboratory. Once at the laboratory, they were kept in an oven until constant weight was obtained. The samples were then ground and 20gr of each herb was identified and half in bags for analysis. Samples of the palatable herbs were analyzed by near infrared spectrometry (NIRS). The result of the grouping of the different herbaceous species presented in the form of a dendrogram allowed the identification of 5 groups. At the end of the rainy season, the forage species of group 1 2 and 5 have high average rates of digestible nitrogenous matter (MAD = 117.81 ± 14.25 g/kg DM) and net energy (UFL = 0.82±0.04 and UFV = 0.73±0.03/kg DM). Lignocellulose (ADF) and net energy values (UFL, UFV) were negatively correlated (r =- 0.74; p ˂ 0.01). In contrast, torque (UFL, UFV) was positively correlated (r = 0.55; p ˂ 0.01) with DSM values. For these forage species, the depressing effect of crude fibre (CB) content on the MAD value (r = -0.63) appeared very highly significant (p ˂ 0.001). Grasses such as Andropogon tectorum, Boerhavia erecta Brachiaria falcifera Pennisetum polystachion Crotalaria macrocalyx and Spermacoce stachydea, Commelina benghalensis and Eleusine indica have good nutritional qualities.
Downloads
Download data is not yet available.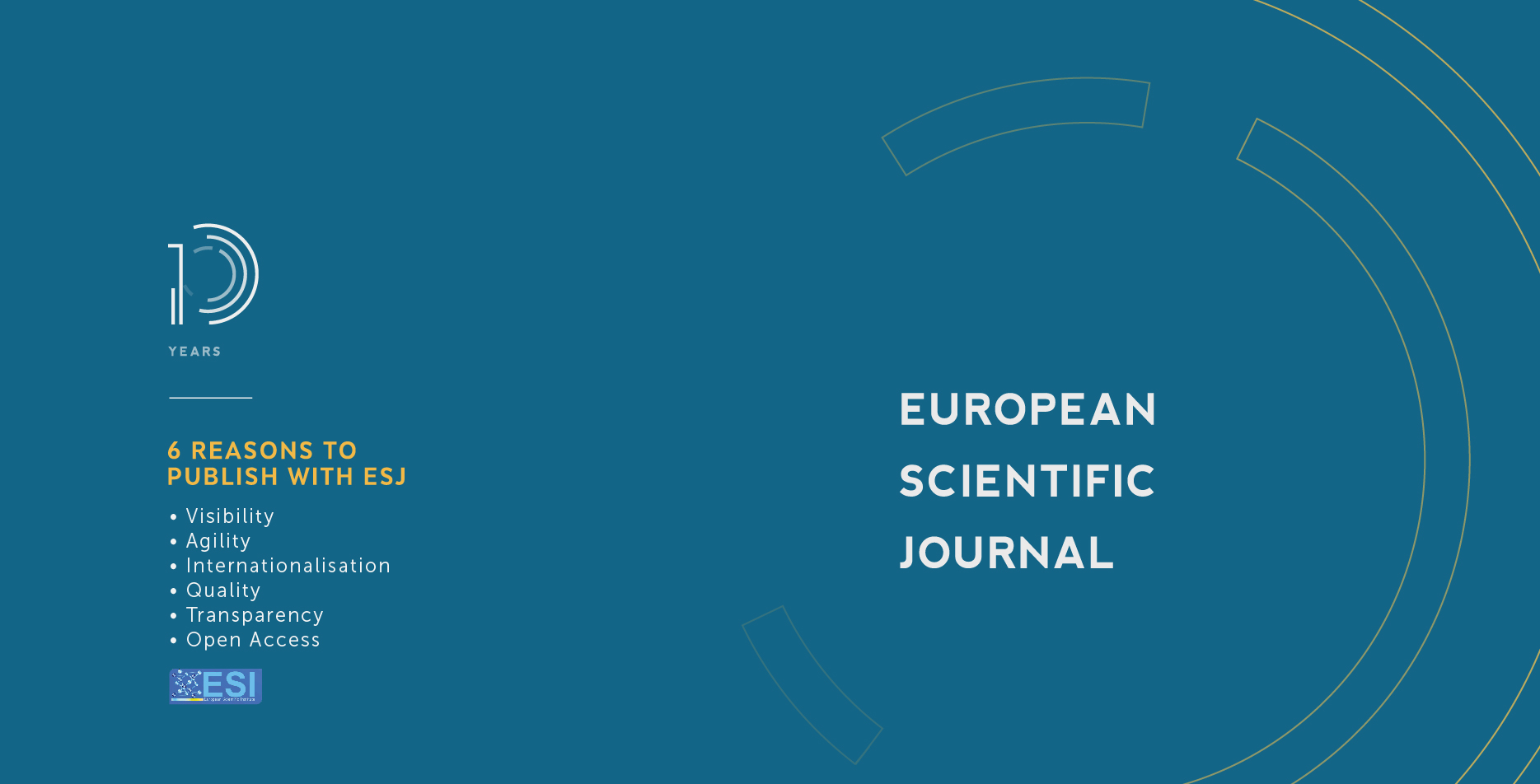 How to Cite
Kadidjatoulaï Opéyémi, B., Safiou Bienvenu, A., Orou Daouda, B., Sébastien, A., Madjidou, O., Tossa Isidore, G., & Séverin, B. (2021). Valeur Nutritive Des Especes Herbacees Appetees Par Les Ruminants Sur Les Parcours Naturels Du Nord-Est Du Benin. European Scientific Journal, ESJ, 17(3), 265. https://doi.org/10.19044/esj.2021.v17n3p265
Section
ESJ Natural/Life/Medical Sciences
Copyright (c) 2021 Badarou Kadidjatoulaï Opéyémi, Adehan Safiou Bienvenu, Bello Orou Daouda, Adjolohoun Sébastien, Oumorou Madjidou, Gbego Tossa Isidore, Babatounde Séverin
This work is licensed under a Creative Commons Attribution-NonCommercial-NoDerivatives 4.0 International License.