El Comportamiento del Consumidor Baby Boom en Época del COVID-19 un Estudio en México, Colombia y Ecuador
Laura Fischer

Universidad Nacional Autónoma de México, Mexico

Emigdio Larios-Gómez

Benemérita Universidad Autónoma de Puebla, México

Diana López

Universidad Jorge Tadeo Bogotá, Colombia

Mayra Ortega-Vivanco

Universidad Técnica Particular de Loja, Ecuador
Keywords:
Baby Boomers, Consumo Generacional, Consumo En Crisis, Consumo En COVID-19, Nuevos Consumidores De Tecnología
Abstract
La generación baby boomers (nacidos entre 1946 y 1964) es la generación que se ha visto más afectada por el virus SARS-CoV-2 o COVID19, por el número de muertes que ha cobrado esta pandemia a nivel mundial, el confinamiento que los países han decretado por esta emergencia sanitaria, se ha visto reflejado en los cambios en el consumo en especial en este segmento de la población. El objetivo de este trabajo de investigación es conocer los cambios en el consumo de las personas de esta generación en México, Ecuador y Colombia por la situación de aislamiento producto del COVID-19, Se realizó un estudio cuantitativo a una muestra de 376 personas. Los resultados muestran que los baby boomers ha cambiado sus hábitos de comportamiento en especial en la forma de socializar con su familia y amigos, teniendo que aprender nuevas tecnologías en línea, así mismo para la compra de sus alimentos, ya que esta generación ha tenido que adaptarse al uso de compran en línea. No encontrando diferencias significativas entre hombres y mujeres en este tipo de comportamiento.
Baby boomers have been the most affected by COVID-19 due to the number of deaths worldwide. This study focuses on knowing the changes in their consumption due to confinement as a result of the pandemic in Mexico, Ecuador, and Colombia. A quantitative study was carried out using a sample of 371 people. The results show that they had to learn and adapt to new digital technologies to socialize with their family and friends and to buy their food. No significant differences were found between men and women in this type of behavior.
Downloads
Download data is not yet available.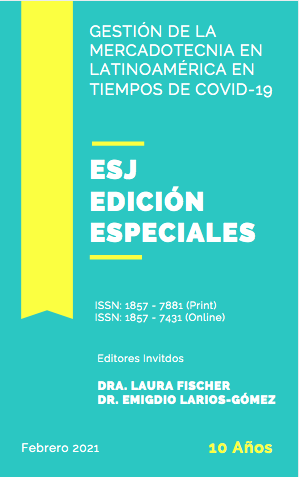 How to Cite
Fischer, L., Larios-Gómez, E., López, D., & Ortega-Vivanco, M. (2021). El Comportamiento del Consumidor Baby Boom en Época del COVID-19 un Estudio en México, Colombia y Ecuador. European Scientific Journal, ESJ, 17(4), 28. https://doi.org/10.19044/esj.2021.v17n4p28
Copyright (c) 2021 Laura Fischer, Emigdio Larios-Gómez, Diana López, Mayra Ortega-Vivanco
This work is licensed under a Creative Commons Attribution-NonCommercial-NoDerivatives 4.0 International License.