Mercadotecnia Digital Como Estrategia de Innovación Para el Impulso del Turismo Mexicano en el Contexto de Seguridad Sanitaria
José Leonardo Vázquez Islas

Universidad Autónoma del Estado de Hidalgo, Mexico

Noemi Vega Lugo

Universidad Autónoma del Estado de Hidalgo, Mexico

Laura Elena Islas Márquez

MALVE Consultoría Educativa, Mexico
Keywords:
Pandemia, Crisis, Turismo, Mercadotecnia Digital, Innovación
Abstract
A partir de diciembre de 2019, inicia en China una enfermedad que nadie imaginó que en poco tiempo afectaría al resto del mundo, con el consiguiente colapso social y económico. En este sentido, para el año 2020, como consecuencia de la emergencia sanitaria, el sector turístico se ha convertido en uno de los escenarios más críticos que requiere una capacidad de reacción en el impulso a las políticas públicas que propicien su resurgimiento, el reforzamiento de la infraestructura de comunicaciones y servicios para consumidores y prestadores de servicio, incremento a los presupuestos para reforzar la promoción de los destinos turísticos, entre otros.Sin embargo, hoy por hoy, el componente más importante en la recuperación del sector turístico mexicano es la Innovación, como estrategia gubernamental y empresarial para el desarrollo y aprovechamiento de tecnología inteligente para la creación de soluciones transformadoras para los retos a los que ya se enfrenta el mercado actual. De esta manera, surge un área de oportunidad muy relevante representada por la Mercadotecnia Digital y el uso de las Redes Sociales, que en alianza estratégica con el Turismo, se constituye como un medio para diseñar un modelo integral de gestión para la actividad turística. El presente artículo establece como objetivo identificar las necesidades específicas que presenta el sector turístico y que requieren ser atendidas por la Mercadotecnia Digital como estrategia innovadora mediada por las tecnologías de la información y comunicación, redes sociales y plataformas digitales. Esta investigación de tipo exploratorio, fue diseñada para realizarse de carácter mixto, con enfoque tanto cualitativo como cuantitativo. En su primera etapa muestra los puntos de vista de usuarios frecuentes de las redes sociales en su conocimiento, frecuencia de uso, tipo de canal como rubros que reflejan las necesidades que cubren el criterio de "comunicación efectiva". Ya en el ámbito turístico, se reflejan los intereses específicos sobre la consulta de páginas web, ubicación de servicios, búsqueda de ofertas y diversidad de productos turísticos comercializados por los diferentes proveedores.
As of December 2019, there was a disease outbreak in China that no one imagined would affect the rest of the world within a short time, resulting to the social and economic collapse of many countries. In this sense, by 2020, as a consequence of the health emergency, the tourism sector has become one of the most critical scenarios that need a reaction capacity in promoting public policies that promote its resurgence, the reinforcement of communications infrastructure and services for consumers and service providers, and increased budgets to reinforce the promotion of tourist destinations among others. Today, the most important component in the recovery of the Mexican tourism sector is innovation. Innovation, therefore, is the strategy used by the government and businesses for the development and use of smart technology to create transformative solutions for the challenges it is already facing. Due to the current market, a very relevant area of opportunity arises by using Digital Marketing and Social Networks. In strategic alliance with tourism, it serves as a means of designing a comprehensive management model for tourism activity. This paper focuses on identifying the specific needs presented by the tourism sector and how to meet this needs using digital marketing as an innovative strategy mediated by information and communication technologies, social networks, and digital platforms. This exploratory research was designed to be carried out on a mixed basis, with both qualitative and quantitative approach. In its first stage, it shows the points of view of frequent users of social networks based on its knowledge, frequency of use, and type of channel as items that reflect the needs that cover the criterion of "effective communication". In the tourism field, specific interests are reflected on the consultation of web pages, location of services, search for offers, and diversity of tourism products marketed by different providers.
Downloads
Download data is not yet available.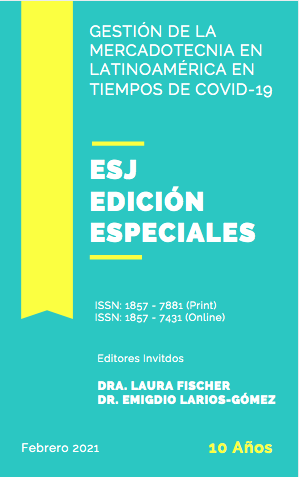 How to Cite
Vázquez Islas, J. L., Lugo, N. V., & Islas Márquez, L. E. (2021). Mercadotecnia Digital Como Estrategia de Innovación Para el Impulso del Turismo Mexicano en el Contexto de Seguridad Sanitaria. European Scientific Journal, ESJ, 17(4), 44. https://doi.org/10.19044/esj.2021.v17n4p44
Copyright (c) 2021 José Leonardo Vázquez Islas, Noemi Vega Lugo, Laura Elena Islas Márquez
This work is licensed under a Creative Commons Attribution-NonCommercial-NoDerivatives 4.0 International License.