Reinvención de las PYMES con el uso de Herramientas y Estrategias de Mercadotecnia ante la Pandemia del COVID-19
Lida Zoraida Jiménez Calixto

Universidad Tecnológica de Huejotzingo, Puebla, México

María Gabriela Pérez Ramos

Universidad Tecnológica de Huejotzingo, Puebla, México
Keywords:
Pymes, herramientas, estrategias de mercadotecnia, promoción de ventas
Abstract
Durante el proceso de estadía práctica en el sector empresarial, que llevaron a cabo los alumnos de la carrera: de Ingeniería en Desarrollo Empresarial (IDE) en el periodo enero – abril 2020 y los de Técnico Superior Universitario en Desarrollo de Negocios área Mercadotecnia (DNM), en el período mayo-agosto 2020, de la Universidad Tecnológica de Huejotzingo (UTH), se recuperaron las experiencias del trabajo que se realizó con las PyMEs ubicadas en diferentes lugares del estado de Puebla en México, que abarcó dos etapas, la primera que coincide con el inicio del confinamiento, y una segunda fase que abarca el periodo donde se llevó a cabo el cierre total de los negocios, por lo que, se considera que a partir de la pandemia las PyMEs tuvieron que reinventarse a través de la implementación de nuevas estrategias y herramientas que para el caso que se analiza se enfoca en el ámbito de la mercadotecnia. Específicamente los casos que se analizaron, tienen que ver con un proceso de cambio y adaptación de las empresas que emigraron del comercio tradicional, al uso e incorporación de procesos desconocidos por decirlo de alguna manera, y que les permitió seguir a flote con sus ventas durante la pandemia. Para algunas empresas es una realidad el que por primera vez aplicaron herramientas mercadológicas que en ese momento fueron totalmente nuevas, esa transformación les permitió continuar a pesar de las circunstancias y la incertidumbre. Los beneficios alcanzados se muestran en los resultados y giran en torno de cómo se implementó el uso de las herramientas y estrategias para cada negocio, que van desde quienes hicieron uso de las redes sociales como WhatsApp, Facebook, hasta los que implementaron nuevas formas de pago por medios electrónicos, el uso de envío por mercado libre, así como los que se decidieron por el comercio electrónico. Finalmente, se muestra como los propietarios, rompieron paradigmas al aceptar la implementación de los cambios, queda demostrado que la reinvención de las PyMEs es posible aún en tiempos de pandemia.
The lockdown affected the business sector, students of Business Development Engineering (IDE) in the period between January - April 2020, and those of Higher University Technician in Business Development Marketing area (DNM) in the period May-August 2020 at the Technological University of Huejotzingo (UTH). The experiences of the work that was carried out with SMEs located in different places of the state of Puebla in Mexico covered two stages: the first stage coincides with the beginning of the confinement, while the second stage covers the period where the total closure of the businesses took place. It is considered that from the time the pandemic started, the SMEs had to reinvent themselves through the implementation of new strategies and tools which focuses on the field of marketing. Specifically, the cases that were analyzed have to do with a process of change and adaptation of companies that emigrated from traditional commerce to the use and incorporation of unknown processes. It also allowed them to stay afloat with their sales during the pandemic. For some companies, it is a reality that for the first time, they applied marketing tools that were totally new at that time. This transformation allowed them to continue despite the circumstances and uncertainty. The benefits achieved are shown in the results, and it revolves around how the use of the tools and strategies was implemented for each business. This ranges from those who made use of social networks such as WhatsApp and Facebook to those who implemented new forms of payment by electronic means, or the use of free market shipping, as well as those who decided on electronic commerce. Finally, it shows how the owners broke paradigms by accepting the implementation of the changes. It has therefore been demonstrated that the reinvention of SMEs is possible even in times of pandemic.
Downloads
Download data is not yet available.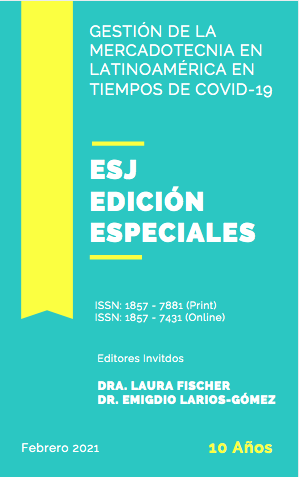 How to Cite
Jiménez Calixto, L. Z., & Pérez Ramos, M. G. (2021). Reinvención de las PYMES con el uso de Herramientas y Estrategias de Mercadotecnia ante la Pandemia del COVID-19. European Scientific Journal, ESJ, 17(4), 61. https://doi.org/10.19044/esj.2021.v17n4p61
Copyright (c) 2021 Lida Zoraida Jiménez Calixto, María Gabriela Pérez Ramos
This work is licensed under a Creative Commons Attribution-NonCommercial-NoDerivatives 4.0 International License.