Perspectivas de eCommerce y los Hábitos de Consumo Tras COVID-19
Alejandra Vega Barrios

Universidad Autónoma del Estado de Hidalgo, Hidalgo, México

Arlen Cerón Islas

Universidad Autónoma del Estado de Hidalgo, Hidalgo, México

Juan Gabriel Figueroa Velázquez

Universidad Autónoma del Estado de Hidalgo, Hidalgo, México
Keywords:
eCommerce, Hábitos De Consumo, Nueva Normalidad
Abstract
El presente artículo tiene como finalidad estudiar las tendencias de compra en línea dadas las condiciones actuales de aislamiento que se establecieron por la pandemia COVID-19; por lo que se realiza un análisis cualitativo basado en la metodología de la Teoría Fundamentada, con la identificación y categorización de variables sobre los hábitos de consumo y la experiencia de la compra por Comercio Electrónico (eCommerce). Para la construcción de este trabajo se realizaron entrevistas semiestructuradas a consumidores en la ciudad de Pachuca, Hidalgo; quienes hicieron compras por comercio electrónico en el periodo comprendido de marzo a agosto del año 2020, durante el confinamiento. Los resultados obtenidos en esta primera etapa proporcionan información para la incorporación del eCommerce como parte de las estrategias de exposición y venta de productos para el cambio en los hábitos de consumo dada la "nueva normalidad".
The purpose of this article is to study ECommerce trends between conditions of isolation established by the COVID-19 pandemic. The research was done by a qualitative analysis, that is performed based on the Grounded Theory methodology with the identification and categorization of variables on consumption habits and the experience of buying by eCommerce. Semistructured consumer interviews were conducted for the construction of this work in the city of Pachuca, Hidalgo; the customers have made purchases by eCommerce in the period from March to August 2020, during the confinement. The results obtained in this first stage provide information for the incorporation of eCommerce as part of sales strategies products in the change in consumption habits given the "new normal".
Downloads
Download data is not yet available.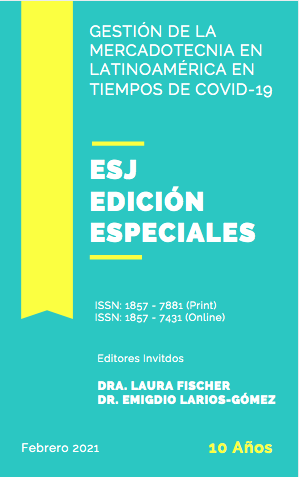 How to Cite
Vega Barrios, A., Cerón Islas, A., & Figueroa Velázquez, J. G. (2021). Perspectivas de eCommerce y los Hábitos de Consumo Tras COVID-19. European Scientific Journal, ESJ, 17(4), 112. https://doi.org/10.19044/esj.2021.v17n4p112
Copyright (c) 2021 Alejandra Vega Barrios, Arlen Cerón Islas, Juan Gabriel Figueroa Velázquez
This work is licensed under a Creative Commons Attribution-NonCommercial-NoDerivatives 4.0 International License.