Nueva Normalidad en las Micro Unidades Económicas Turísticas de la Sierra Norte de Puebla
Ana Luisa Gamboa Gochis

Universidad el Valle de Puebla, Mexico

Edgar Hernández Zavala

Universidad el Valle de Puebla, Mexico

Anaid Guerra García

Benemérita Universidad Autónoma de Puebla, Mexico
Keywords:
MUE turísticas, planeación estratégica, nueva normalidad empresarial
Abstract
La actividad turística, una de las más dañadas en la Sierra Norte del Estado de Puebla (México) por la crisis del coronavirus COVID-19 provocó el cierre parcial o total de decenas de Micro Unidades Económicas (MUE), poblaciones como Cuetzalan del Progreso y Chignahuapan donde se realizó el presente estudio, reconocen que deberán adaptarse a las nuevas circunstancias, tanto en espacio, capacitación y difusión para mantener su presencia en los consumidores a través de sus servicios; de ahí que los giros empresariales como Hoteles, Tours, Restaurantes entre otros, deberán mantener una comunicación continua, información oportuna y adaptarse rápidamente a las normas que se dicten oficialmente en la materia con el fin de reinsertarlos a la dinámica económica de la región. Se realizó un análisis metodológico mixto de UE con giros turísticos, de donde se identificaron factores organizacionales externos, internos y de comunicación, cuyos resultados reflejaron numerosas áreas de oportunidad para una toma la de decisiones para diseñar y proponer estrategias de mercadotecnia, adaptadas a las tendencias internacionales que se toman debido a la afectación del SARS CoV2.
The COVID-19 crisis affected a lot of activities in the Sierra Norte of the State of Puebla (Mexico) including tourism activity. This resulted to the partial or total closure of dozens of Micro Economic Units (EUTM). This study was carried out in Cuetzalan del Progreso and Chignahuapan and they realised the need to adapt to the new circumstances both in space, training, and dissemination to maintain their consumers through their services. For this reason, business tours such as hotels and restaurants must maintain a continuous communication, timely information, and adapt quickly to the rules that are officially dictated in this field in order to reinsert them to the economic dynamics of the region. A mixed EU methodological analysis was carried out from which external, internal, and communication organizational factors were identified. This resulted to numerous areas of opportunity for decision-making to design and propose marketing strategies, which are adapted to international trends that are taken due to the involvement of SARS CoV2.
Downloads
Download data is not yet available.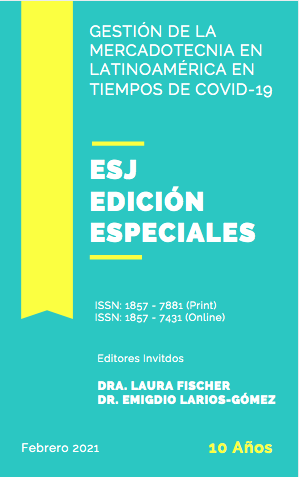 How to Cite
Gamboa Gochis, A. L., Hernández Zavala, E., & García, A. G. (2021). Nueva Normalidad en las Micro Unidades Económicas Turísticas de la Sierra Norte de Puebla. European Scientific Journal, ESJ, 17(4), 259. https://doi.org/10.19044/esj.2021.v17n4p259
Copyright (c) 2021 Ana Luisa Gamboa Gochis, Edgar Hernández Zavala, Anaid Guerra García
This work is licensed under a Creative Commons Attribution-NonCommercial-NoDerivatives 4.0 International License.