Cuarentena por COVID-19, factor asociado al consumo de drogas legales en estudiantes de enfermería
Carlos Enrique Fernández Hernández

Universidad Veracruzana, Mexico

Javier Salazar Mendoza

Universidad Veracruzana, Mexico

María Esperanza Conzatti Hernández

Universidad Veracruzana, Mexico

Edith Castellanos Contreras

Universidad Veracruzana, Mexico

María de los Ángeles Onofre Santiago

Universidad Veracruzana, Mexico

Oscar Daniel Luna Hernández

Universidad Veracruzana, Mexico

Ivett Rodríguez Muñoz

Universidad Veracruzana, Mexico

Ernestina Méndez Cordero

Universidad Veracruzana, Mexico
Keywords:
Pandemia, COVID-19, cuarentena, drogas y estudiantes de Enfermería
Abstract
Introducción: en la pandemia por COVID-19 se han implementado políticas de salud poco usuales como la cuarentena en la población, modificando entornos sociales, laborales y escolares siendo los jóvenes los más afectados ya que no todos estaban preparados para acatar esas indicaciones, generando estrés o ansiedad, afecciones que generalmente son remediadas por el consumo de drogas psicoactivas como alcohol y tabaco. Objetivo: determinar si la cuarentena por COVID-19, es un factor de consumo de drogas legales en estudiantes de Enfermería. Método: investigación cuantitativa, descriptiva, correlacional, prospectiva y trasversal, en una muestra de 266 estudiantes de la Licenciatura de Enfermería de la Región Orizaba de la Universidad Veracruzana, con muestreo no probabilístico por cuota. Se aplicó el AUDIT y ASSIST de la OMS. Resultados: 86.1% posee conocimiento alto sobre COVID-19, 63.5% ingirió alcohol en la vida, 30.8% toma de 1 a 2 copas y 93.3% nunca perdió la noción de lo que sucedía. Por otro lado, 59.0% probó tabaco, 16.2% consumieron 1 o 2 veces en tres meses y 100% negó padecer problemas por este hábito. Conclusión: 20.4% son hombres y 79.6% mujeres de distintas edades y semestres, 92.5% no tuvo COVID-19, 53.0% son consumidores ocasionales de alcohol y 29.5% fuman con riesgo bajo, en aquellas personas que tuvieron resultados bajos de conocimiento de COVID-19, aumentó el uso de alcohol (rs= -.121, p <0.05), para el uso de tabaco no hubo cambios; los resultados se contraponen con otros autores.
Introduction: during the COVID-19 pandemic, unusual health policies such as quarantine have been implemented in the population, modifying social, work and school environments, with young people being the most affected since not all of them were prepared to comply with these indications, generating stress or anxiety, conditions that are generally remedied by the consumption of psychoactive drugs such as alcohol and tobacco. Objective: to determine whether COVID-19 quarantine is a factor in the consumption of legal drugs in nursing students. Method: quantitative, descriptive, correlational, prospective and transversal research, in a sample of 266 students of the Nursing Degree of the Orizaba Region of the Universidad Veracruzana, with non-probabilistic sampling by quota. The AUDIT and ASSIST of the WHO were applied. Results: 86.1% had a high knowledge of COVID-19, 63.5% had ingested alcohol in their lifetime, 30.8% had 1 to 2 drinks and 93.3% had never lost track of what was happening. On the other hand, 59.0% tried tobacco, 16.2% consumed 1 or 2 times in three months and 100% denied suffering problems due to this habit. Conclusion: 20.4% are men and 79.6% women of different ages and semesters, 92.5% did not have COVID-19, 53.0% are occasional alcohol consumers and 29.5% smoke with low risk, in those people who had low COVID-19 knowledge results, alcohol use increased (rs= -.121, p <0.05), for tobacco use there were no changes; the results are in contrast with other authors.
Downloads
Download data is not yet available.
PlumX Statistics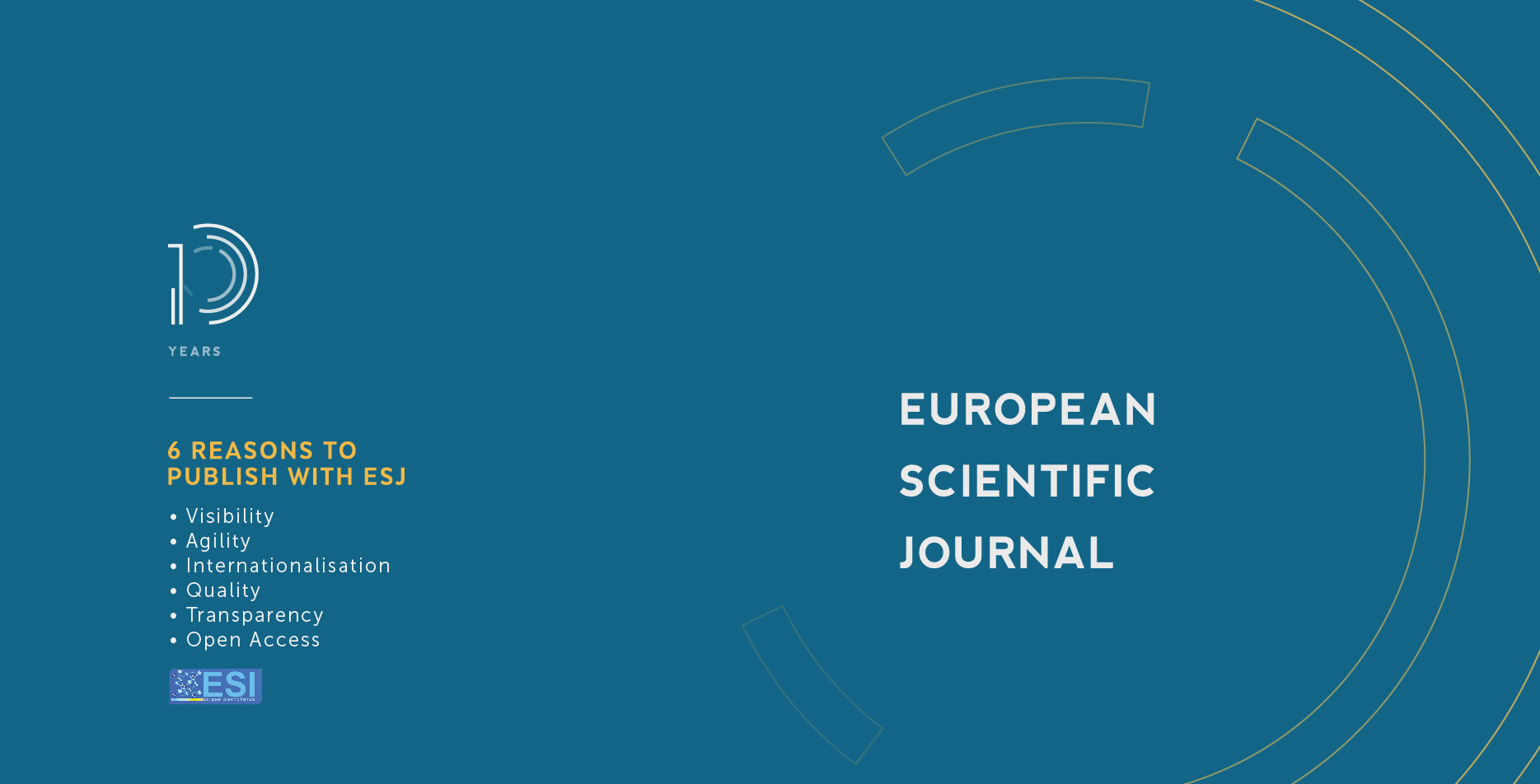 How to Cite
Fernández Hernández, C. E., Mendoza, J. S., Conzatti Hernández, M. E., Contreras, E. C., Onofre Santiago, M. de los Ángeles, Hernández, O. D. L., Rodríguez Muñoz, I., & Méndez Cordero, E. (2021). Cuarentena por COVID-19, factor asociado al consumo de drogas legales en estudiantes de enfermería. European Scientific Journal, ESJ, 17(10), 1. https://doi.org/10.19044/esj.2021.v17n10p1
Section
ESJ Natural/Life/Medical Sciences
Copyright (c) 2021 Carlos Enrique Fernández Hernández, Javier Salazar Mendoza, María Esperanza Conzatti Hernández, Edith Castellanos Contreras, María de los Ángeles Onofre Santiago, Oscar Daniel Luna Hernández, Ivett Rodríguez Muñoz, Ernestina Méndez Cordero
This work is licensed under a Creative Commons Attribution-NonCommercial-NoDerivatives 4.0 International License.