Relación entre el desequilibrio de músculos flexores y extensores de rodilla y las lesiones musculares en atletas de la Selección Mexicana de Taekwondo
José Luis Reyes Salazar

Universidad Autónoma de Querétaro, México

Ivonne Stefanie Curiel Sigler

Universidad Autónoma de Querétaro, México

Gustavo Argenis Hernández Segura

Universidad Autónoma de Querétaro, México
Keywords:
Fuerza muscular, cuádriceps, músculos isquiotibiales
Abstract
Introducción: El taekwondo es un arte marcial moderna y actualmente uno de los deportes de combate olímpico más populares, se caracteriza por técnicas de patadas y altos niveles de fuerza en la musculatura extensora y flexora de rodilla. El alto índice de lesiones musculares y la suspensión de la actividad deportiva que conlleva han ocasionado que aumente cada vez más el interés en la atención pero sobre todo en la prevención de la lesión. Objetivo: Identificar la relación entre el desequilibrio y las lesiones musculares, específicamente de los músculos isquiotibiales, en una población de atletas de taekwondo de alto rendimiento. Metodología: Se trata de un estudio transversal, descriptivo y correlacional. El estudio se realizó con 15 atletas de la Selección Mexicana de Taekwondo siendo el principal criterio de exclusión el que no estuvieran en proceso para juegos olímpicos 2021, las variables estudiadas fueron el desequilibrio muscular medido a través de dinamometría isocinética y el número de lesiones musculares en isquiotibiales en el último año. El estudio fue aprobado por el comité de bioética de la Universidad Autónoma de Querétaro y está apegado al código de Nuremberg, la declaración de Helsinki y la Ley General de salud. Resultados: Para las variables cuantitativas se utilizó la prueba exacta de Fisher para datos categóricos y examinar la asociación. El 47% de la muestra reportó un desequilibrio muscular significativo y al menos una lesión muscular en isquiotibiales en el último año del mismo lado que el desequilibrio (p=.007) y destacó la extremidad izquierda con el mayor grado de desequilibrio con un 57%. Conclusión: La alta incidencia de lesiones musculares en el ámbito deportivo y específicamente en esta población, debe ser atendida de manera integral por un equipo multidisciplinario mediante la aplicación de test y evaluaciones regulares, que permitan identificar focos de alarma que puedan predisponer al atleta a una lesión deportiva en el futuro.
Introduction: Taekwondo is a modern martial art and currently one of the most popular Olympic combat sports, it is characterized by kicking techniques and high levels of strength in the knee flexor and extensor muscles. The high rate of muscle injuries and the suspension of sports activity that it entails have caused an increasing interest in care but especially in injury prevention. Objective: To identify the relationship between muscle imbalance and injuries, specifically of the hamstrings, in a population of highperformance taekwondo athletes. Methodology: This is a cross-sectional, descriptive and correlational study. The study was carried out with 15 athletes from the Mexican Taekwondo National Team, the main exclusion criterion being that they were not in process for the 2021 Olympic games, the variables studied were muscle imbalance measured through isokinetic dynamometry and the number of muscle injuries in hamstrings in the past year. The study was approved by the bioethics committee of the Autonomous University of Querétaro and is attached to the Nuremberg Code, the Declaration of Helsinki, and the General Health Law. Results: For quantitative variables, Fisher's exact test was used for categorical data and the association was examined. 47% of the sample reported a significant muscle imbalance and at least one hamstring muscle injury in the last year on the same side as the imbalance (p = .007) and highlighted the left limb with the highest degree of imbalance with 57%. Conclusion: The high incidence of muscle injuries in the sports field and specifically in this population must be comprehensively addressed by a multidisciplinary team through the application of regular tests and evaluations, which block the identification of sources of alarm that may predispose the athlete to a future sports injury.
Downloads
Download data is not yet available.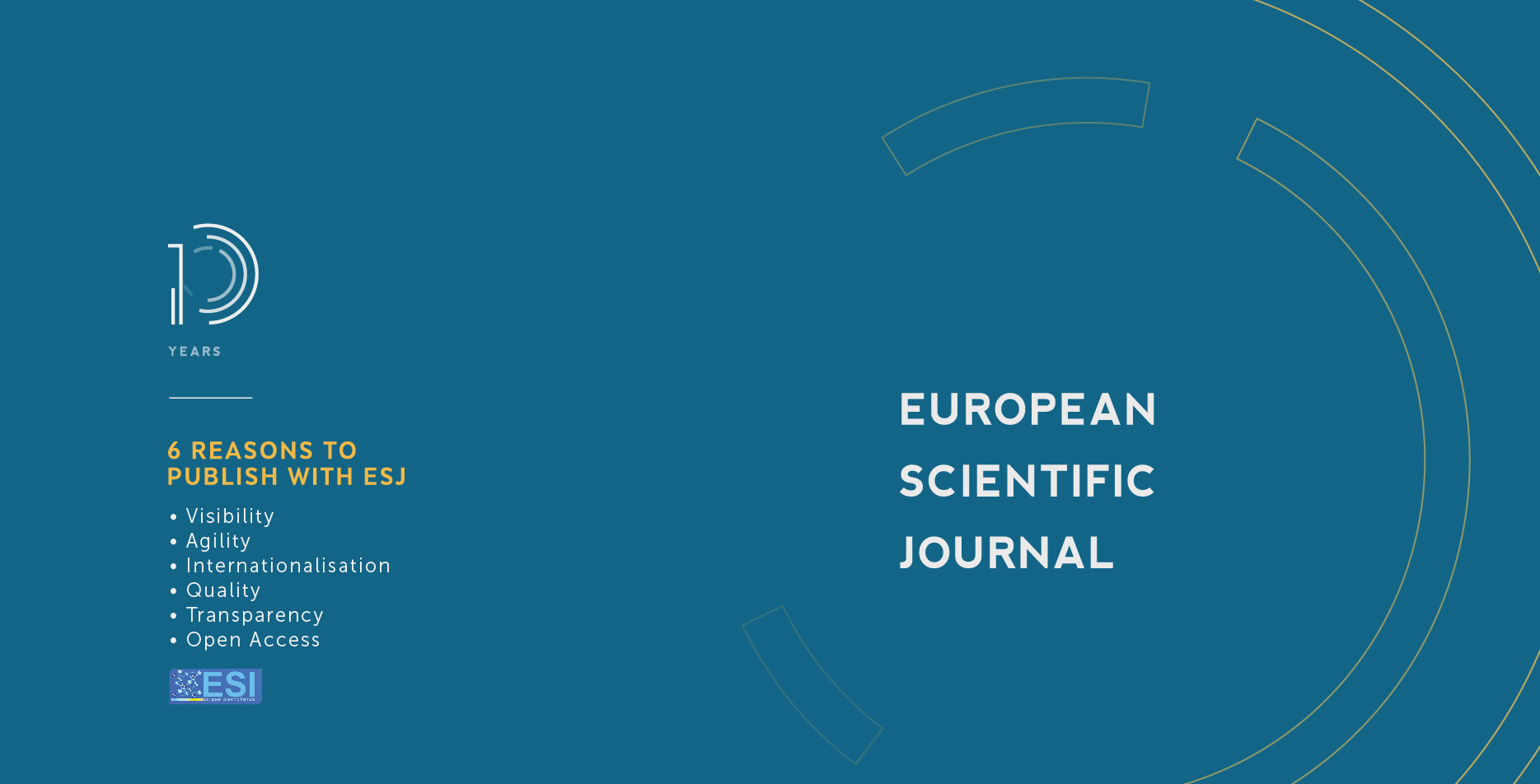 How to Cite
Reyes Salazar, J. L., Curiel Sigler, I. S., & Hernández Segura, G. A. (2021). Relación entre el desequilibrio de músculos flexores y extensores de rodilla y las lesiones musculares en atletas de la Selección Mexicana de Taekwondo. European Scientific Journal, ESJ, 17(10), 64. https://doi.org/10.19044/esj.2021.v17n10p64
Section
ESJ Natural/Life/Medical Sciences
Copyright (c) 2021 José Luis Reyes Salazar, Ivonne Stefanie Curiel Sigler, Gustavo Argenis Hernández Segura
This work is licensed under a Creative Commons Attribution-NonCommercial-NoDerivatives 4.0 International License.