Tourism Sector in Albania: Post-Pandemic Challenges Require New Mindsets
Loren Lazimi

Assistant Lecturer, Faculty of Economy, University of Tirana, Albania
Keywords:
Tourism, COVID-19, pandemic, GDP, Albania, economy
Abstract
COVID-19 is a pandemic unknown to mankind, which has turned into a global economic risk that will have long-term consequences. Tourism is one of the hardest-hit sectors by this pandemic and will most likely be the last sector to recover once this story is over. There is a great deal of uncertainty as to what will happen in the future, and this depends mainly on external factors such as the release of a vaccine in the medium term, the health situation in the markets of major suppliers, and the psychological approach to long-term travel in segments like leisure-travels, business-travels, and mass events. It is clear that recovery requires coordinated actions by all stakeholders. In this paper, a survey was carried out between August and the beginning of September 2020 on the perceived impact of COVID-19 on the Albania tourism sector. Representatives of hotels and accommodation units interviewed in Albania gave their views on COVID-19's impact on the sector. This paper shows the real situation and its impact on the operations of organizations, financial situation, and potential strategies in overcoming the crisis. This paper also focuses on creating some scenarios from the perception of COVID-19 impact, and it also gave some strategies to overcome the challenges of post pandemic.
Downloads
Download data is not yet available.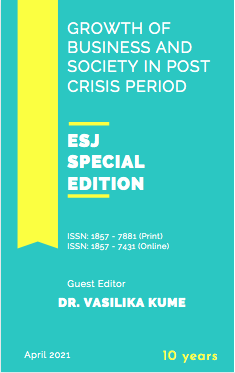 How to Cite
Lazimi, L. (2021). Tourism Sector in Albania: Post-Pandemic Challenges Require New Mindsets. European Scientific Journal, ESJ, 17(11), 35. https://doi.org/10.19044/esj.2021.v17n11p35
Copyright (c) 2021 Loren Lazimi
This work is licensed under a Creative Commons Attribution-NonCommercial-NoDerivatives 4.0 International License.