Prevalencia de lateralidad y lenguaje receptivo en niños de 5 y 6 años del municipio de Corregidora Querétaro, México
Nadia Edith García Medina

Docente investigadora de la Facultad de Enfermería, Universidad Autónoma de Querétaro, México

Yatziri Airaly Iñiguez Gasca

Estudiante de la Licenciatura en Fisioterapia, Facultad de Enfermería, Universidad Autónoma de Querétaro, México

Alejandra Ugalde Hurtado

Estudiante de la Licenciatura en Fisioterapia, Facultad de Enfermería, Universidad Autónoma de Querétaro, México

Karina González Zúñiga

Docente investigadora de la Facultad de Enfermería, Universidad Autónoma de Querétaro, México

Ángel Salvador Xeque Martínez

Docente investigador Facultad de Enfermería, Universidad Autónoma de Querétaro, México
Keywords:
Lateralidad, lenguaje receptivo, trastorno de aprendizaje
Abstract
Introducción: La lateralidad es la preferencia del uso de una mitad del cuerpo sobre la otra, y toma en cuenta la dominancia de mano, ojo, oído y pie. Una lateralidad definida refiere la correcta comunicación entre los hemisferios cerebrales; la falta de consolidación de afirmación de la misma, se relaciona con trastornos en el aprendizaje del lenguaje y la lectoescritura. El test de Harris identifica la lateralidad en los niños y permite crear estrategias didácticas para lograr una afirmación en el niño, mientras que el test de Peabody da a conocer el nivel de lenguaje receptivo a partir de los 2 años. Objetivo: Determinar la prevalencia de lateralidad y lenguaje receptivo en niños de 5 y 6 años. Método: Estudio cuantitativo, transversal, descriptivo y observacional, realizado en niños de preescolar y primaria del municipio de Corregidora, Querétaro, México. A 229 estudiantes se les aplicó el Test de Harris y Peabody. Resultados: Mediante estadística descriptiva, se obtuvo que el 52% son preescolares, y el 48% de primero de primaria, siendo 53.3% niños y 46.7% niñas. Donde el 95.6% tiene lateralidad mal afirmada, mientras un 4.4% fueron diestros, además no hubo estudiantes con lateralidad cruzada o zurdos. El nivel de lenguaje receptivo en preescolares fue de alto a muy alto en un 56.1% de la población, mientras que los niveles de bajo a muy bajo solo fue el 43.8%, mientras que en primaria el lenguaje receptivo mostró que el 66.6% de los estudiantes tienen niveles de alto a muy alto y solo un 32.4% de bajo a moderadamente bajo. Conclusión: Se muestra una falta de consolidación de la lateralidad debido a que un alto porcentaje de estudiantes manifiesta lateralidad mal afirmada, mientras que el lenguaje receptivo se adquiere adecuadamente con respecto a la edad.
Introduction: Laterality is the preference of using one half of the body over the other, and takes into account the dominance of hand, eye, ear and foot. A defined laterality refers to the correct communication between the brain hemispheres; the lack of consolidation of affirmation of itself, is related to disorders in language learning and literacy skills. The Harris test identifies laterality in children and allows them to create teaching strategies to achieve an affirmation in the child, while the Peabody test shows the level of receptive language from the age of 2. Objective: To determine the prevalence of laterality and receptive language in 5 and 6 year old children. Method: Quantitative, transversal, descriptive and observational study, carried out with kindergarten and elementary children of the municipality of Corregidora, Querétaro, México. The Harris and Peabody tests were applied to 229 students. Results: Through descriptive statistics, 52% were preschoolers, and 48% were from first grade, 53.3% are boys and 46.7% girls. The 95.6% has poorly stated laterality, and 4.4% were right-handed, besides there weren't students with cross-laterality or left-handedness. The level of receptive language in preschoolers was from high to higher in 56.1% of the population, while low to lower levels were only 43.8%, while in elementary the receptive language showed that 66.6% of students have levels from high to higher and only 32.4% from low to moderately low level. Conclusion: A lack of laterality consolidation is shown because a high percentage of students demonstrate poorly asserted laterality, while receptive language is properly acquired within the age.
Downloads
Download data is not yet available.
PlumX Statistics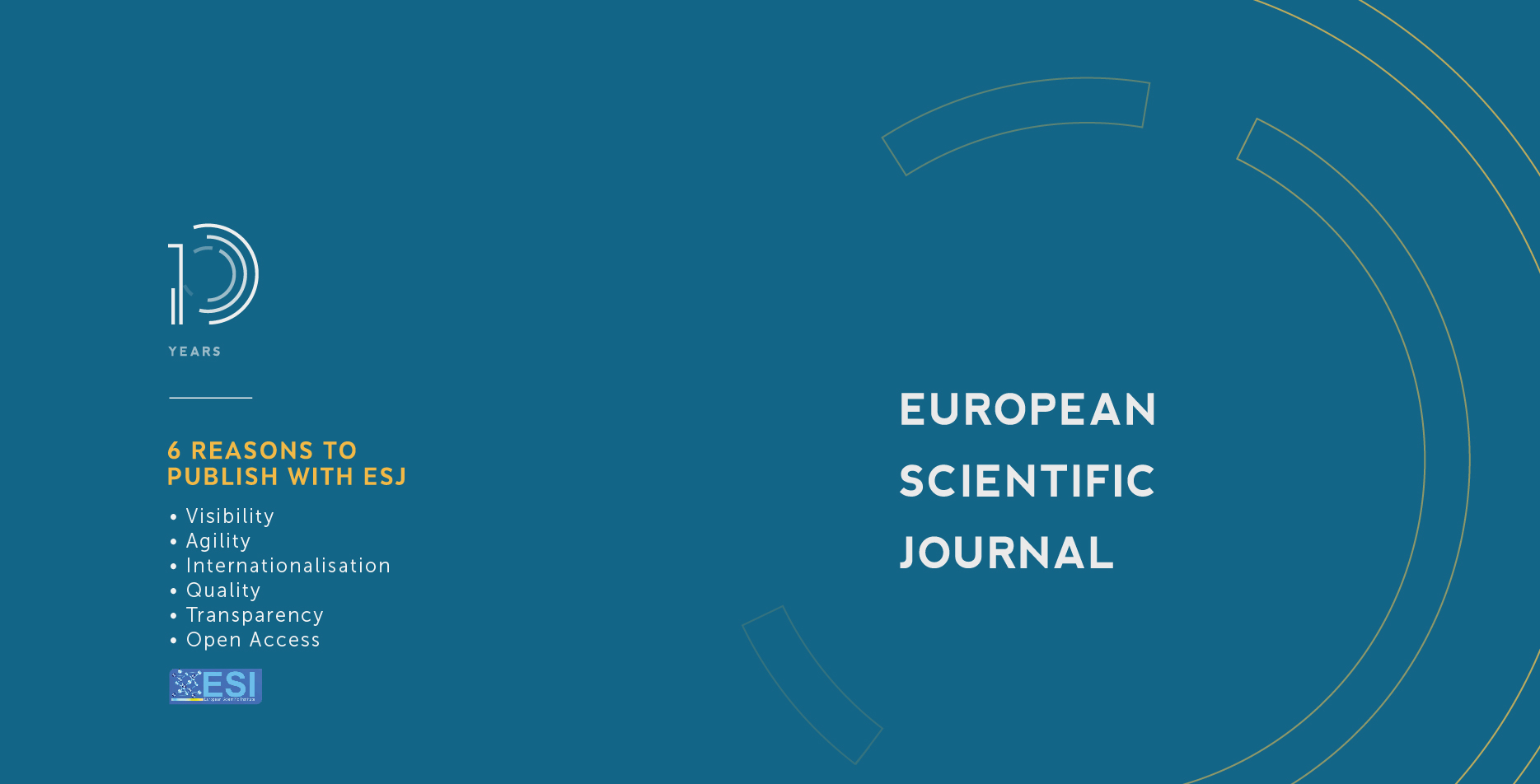 How to Cite
García Medina, N. E., Iñiguez Gasca, Y. A., Hurtado, A. U., Zúñiga, K. G., & Xeque Martínez, Ángel S. (2021). Prevalencia de lateralidad y lenguaje receptivo en niños de 5 y 6 años del municipio de Corregidora Querétaro, México. European Scientific Journal, ESJ, 17(14), 1. https://doi.org/10.19044/esj.2021.v17n14p1
Section
ESJ Natural/Life/Medical Sciences
Copyright (c) 2021 Nadia Edith García Medina, Yatziri Airaly Iñiguez Gasca, Alejandra Ugalde Hurtado, Karina González Zúñiga, Ángel Salvador Xeque Martínez
This work is licensed under a Creative Commons Attribution-NonCommercial-NoDerivatives 4.0 International License.