Tuberculose pulmonaire en milieu carcéral au Niger : aspects épidémiologiques, diagnostiques, thérapeutiques et évolutifs
Kadri Sani

Service de Médecine Interne, Centre Hôpital Régional de Maradi, Niger

Harouna Amadou Mahaman Laouali

Service des maladies Infectieuses, Centre Hôpital Régional de Maradi, Faculté des Sciences de la Santé de l'Université de Maradi, Niger

Ada Mahaman Laminou

Service de Médecine Interne, Hôpital National de Niamey, Niger

Garba Abdoul Azize

Service de Médecine Interne, Hôpital National de Niamey, Faculté des Sciences de la Santé, Université ABDOU M. Niamey, Niger

Daou Mamane

Service de Médecine Interne, Hôpital National de Niamey, Faculté des Sciences de la Santé, Université ABDOU M. Niamey, Niger

Alberto Piubello

Service de Médecine Interne, Hôpital National de Niamey, Faculté des Sciences de la Santé, Université ABDOU M. Niamey, Niger

Adehossic Eric

Service de Médecine Interne, Hôpital National de Niamey, Faculté des Sciences de la Santé, Université ABDOU M. Niamey, Niger
Keywords:
Tuberculose, prison, Niger
Abstract
Objectif : Décrire les aspects épidémiologiques, diagnostiques, thérapeutiques et évolutifs de la tuberculose pulmonaire en milieu carcéral au Niger. Il s'agissait d'une étude transversale réalisée sur 3ans incluant tous les cas confirmés de tuberculose pulmonaire à microscopie positive (TPM+), les co-infections VIH/ tuberculose et les cas de tuberculose pulmonaire à microscopie négative (TPM-). Résultats : Au total 3322 étaient détenus avec une prévalence de la tuberculose de 0,84%. Tous les patients étaient des hommes. La moyenne d'âge était de 36 ans avec des extrêmes allant de 21 à 62 ans. 17,85% exerçaient dans le secteur informel.35, 71% provenaient des milieux urbains. Sur le plan juridique 71,48% des patients étaient des condamnés et 36% des patients avaient une durée de détention de plus de 3ans au moment du diagnostic. La triade faite de toux (100% de cas) –fièvre (92,85% de cas) -expectoration (67,85% de cas) dominait le tableau clinique. L'amaigrissement (46,42% de cas) et la cachexie (42,46% de cas) constituaient l'essentiel des signes généraux. Le taux de co-infection VIH/SIDA- tuberculose s'élevait à 21,42%. Sur le plan thérapeutique 82,14% des patients étaient de la catégorie 1. 53,56% des patients avaient fait l'objet d'une hospitalisation tandis que 46,44% avaient observé le traitement selon un mode ambulatoire. La guérison était de 46,42% de cas, le décès était 28,53 %. Conclusion : Des mesures préventives et thérapeutiques efficaces sont indispensables en milieu pénitencier.
Objectives: Describe the epidemiological, diagnostic, therapeutic and evolutionary aspects of pulmonary tuberculosis in prisons in Niger. This was a cross-sectional 3-year study that included all confirmed cases of smear-positive pulmonary tuberculosis, HIV / TB co-infections, and smearnegative pulmonary tuberculosis (TPM-). Results: A total of 3322 inmates and the prevalence of tuberculosis was 0.84%. All the patients were men. The average age was 36 years old with extremes ranging from 21 to 62 years old. 17.85% were in the informal sector. 35 71% came from urban areas. In legal terms, 71.48% of patients were convicted and 36% of patients had a detention period of more than 3 years at the time of diagnosis. The triad made of cough (100% of cases) -fever (92.85% of cases) -expectoration (67.85% of cases) dominated the clinical picture. Weight loss (46.42% of cases) and cachexia (42.46% of cases). The clinical signs, the bacteriological examination of the sputum as well as the x-ray (50% of the patients) formed the basis of the diagnosis with miliary predominance. The HIV / AIDS-TB co-infection rate was 21.42%. 82.14% of patients were in Category 1. 53.56% of patients had been hospitalized while 46.44% had been on ambulatory therapy. The therapeutic success was 46, 42% and the death rate was 28.53%. Conclusion: Effective preventive and therapeutic measures are essential in a penitentiary environment.
Downloads
Download data is not yet available.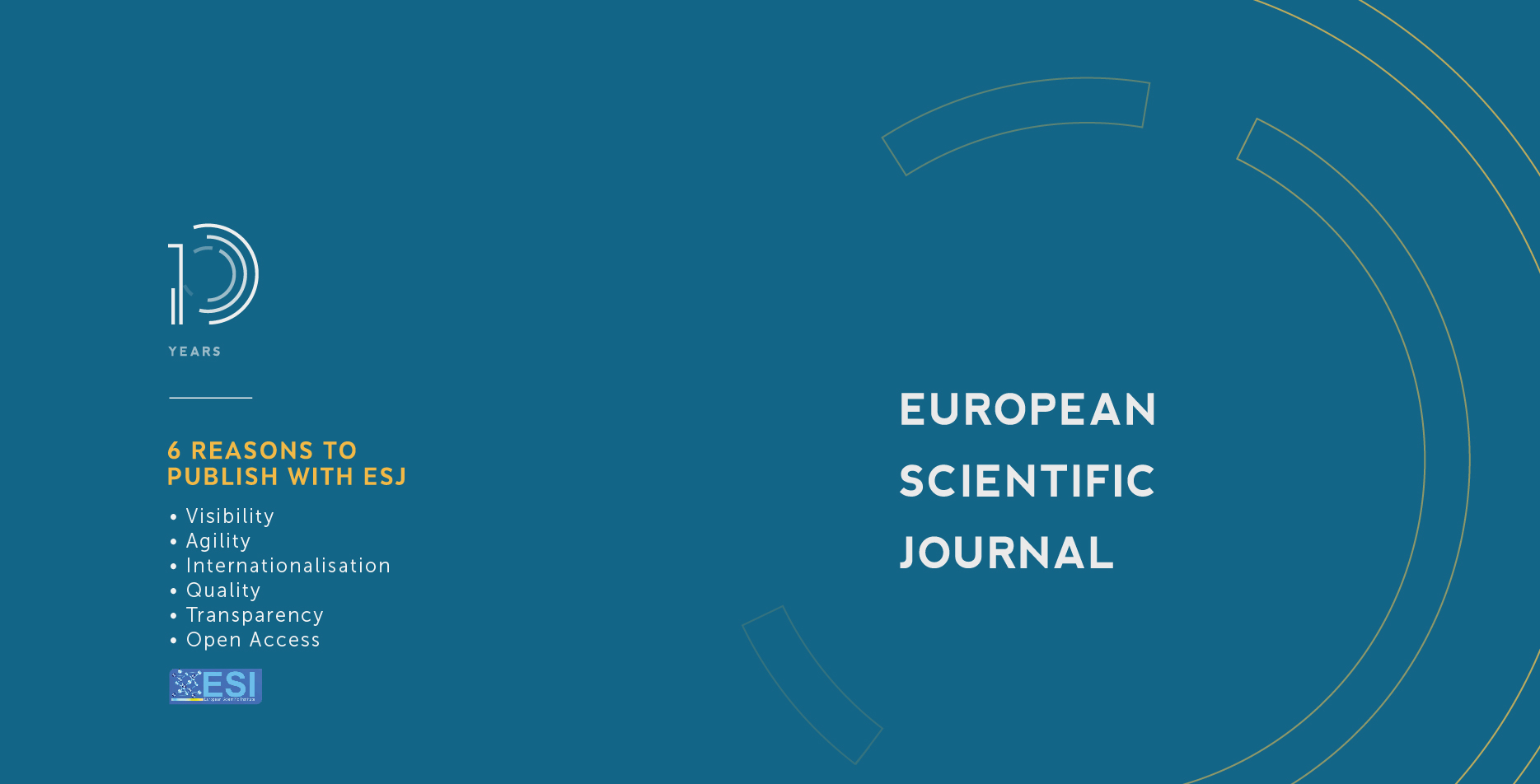 How to Cite
Sani, K., Mahaman Laouali, H. A., Laminou, A. M., Azize, G. A., Mamane, D., Piubello, A., & Eric, A. (2021). Tuberculose pulmonaire en milieu carcéral au Niger : aspects épidémiologiques, diagnostiques, thérapeutiques et évolutifs. European Scientific Journal, ESJ, 17(14), 41. https://doi.org/10.19044/esj.2021.v17n14p41
Section
ESJ Natural/Life/Medical Sciences
Copyright (c) 2021 Kadri Sani, Harouna Amadou Mahaman Laouali, Ada Mahaman Laminou, Garba Abdoul Azize, Daou Mamane, Alberto Piubello, Adehossic Eric
This work is licensed under a Creative Commons Attribution-NonCommercial-NoDerivatives 4.0 International License.