Etude Chimique et Micro-Cartographique De Roches Carbonatées : Cas Des Calcaires Lumachelliques De l'Oligocène Inferieur Du Bassin Emergé de Côte d'Ivoire
Assalé Fori Yao Paul

Université Félix Houphouët Boigny, UFR des Sciences de la Terre et des Ressources Minières, Abidjan, Côte d'Ivoire

Gbangbot Jean Michel Kouadio

Université Lorougnon Guédé de Daloa, Côte d'Ivoire

Kessé Touvalé Marcel

Institut National Polytechnique Houphouët Boigny, Yamoussoukro, Côte d'Ivoire

Kplohi Yaba Hervé

PETROCI, Centre d'Analyses et de Recherche (CAR), Abidjan, Côte d'Ivoire

Féa Isaac

PETROCI, Centre d'Analyses et de Recherche (CAR), Abidjan, Côte d'Ivoire
Keywords:
Silicification, Calcaire lumachellique, Micro-cartographie chimique
Abstract
Dans le présent travail, une étude minéralogique et cartographique chimique des calcaires lumachelliques de l'Oligocène inférieur du bassin émergé de Côte d'Ivoire a été effectuée. Les analyses ont été réalisées au M.E.B, équipé d'un spectromètre à diffusion d'énergie. L'objectif est de comprendre les processus post-diagénétiques qui se sont produits dans les calcaires lumachelliques au cours de la transgression de l'Oligocène inférieur. Les résultats ont montré que les calcaires lumachelliques sont composés de plus de 80% de calcium qui sont accompagnés par ordre d'abondance de silicium (6,73%), de soufre (1,94%), de fer (1,62%), d'aluminium (1,57%) et de magnésium (1,44%). Les résultats révèlent également qu'au cours de la transgression de l'Oligocène inférieur, des inclusions minéralogiques ont été formées dans l'ordre chronologique suivant : la glauconite et la pyrite. Durant cette transgression une silicification (quartzification) de certains bioclastes s'est produite et cela entre les profondeurs 3000 m et la zone de compensation des carbonates (CDD) expliquant ainsi la présence de silice dans ces calcaires par la micro-cartographie chimique. Ce nouvel environnement de dépôt (marin profond) a occasionné encroûtement de leur surface donnant ainsi un hardground.
In the present work, a mineralogical and chemical cartographic study of shelly limestones from the Lower Oligocene of Côte d'Ivoire Ivorian emerged basin was carried out. The analyzes were realized under a scanning microscope which is equipped with an energy diffusion spectrometer (SEMEDS). The objective is to understand the post-diagenetic processes which occurred in shelly limestones during Lower Oligocene Transgression. The results showed that shelly limestones are composed of more than 80% of calcium which are accompanied in order of abundance of silicon (6.73), sulfur (1.94%), iron (1.62%), aluminum (1.57%) and magnesium (1.44%). The results also reveal during the Lower Oligocene Transgression, mineralogical inclusions were formed in chronological order: glauconite and pyrite. During this transgression, silicification (quartzification) of some bioclasts occurred between depths 3000 m and calcite compensation depth (CCD) explaining the presence of silica in these limestones by chemical micro-mapping. This new marine deposit (deeper sea) has caused the formation of hard-ground on shelly limestones surface.
Downloads
Download data is not yet available.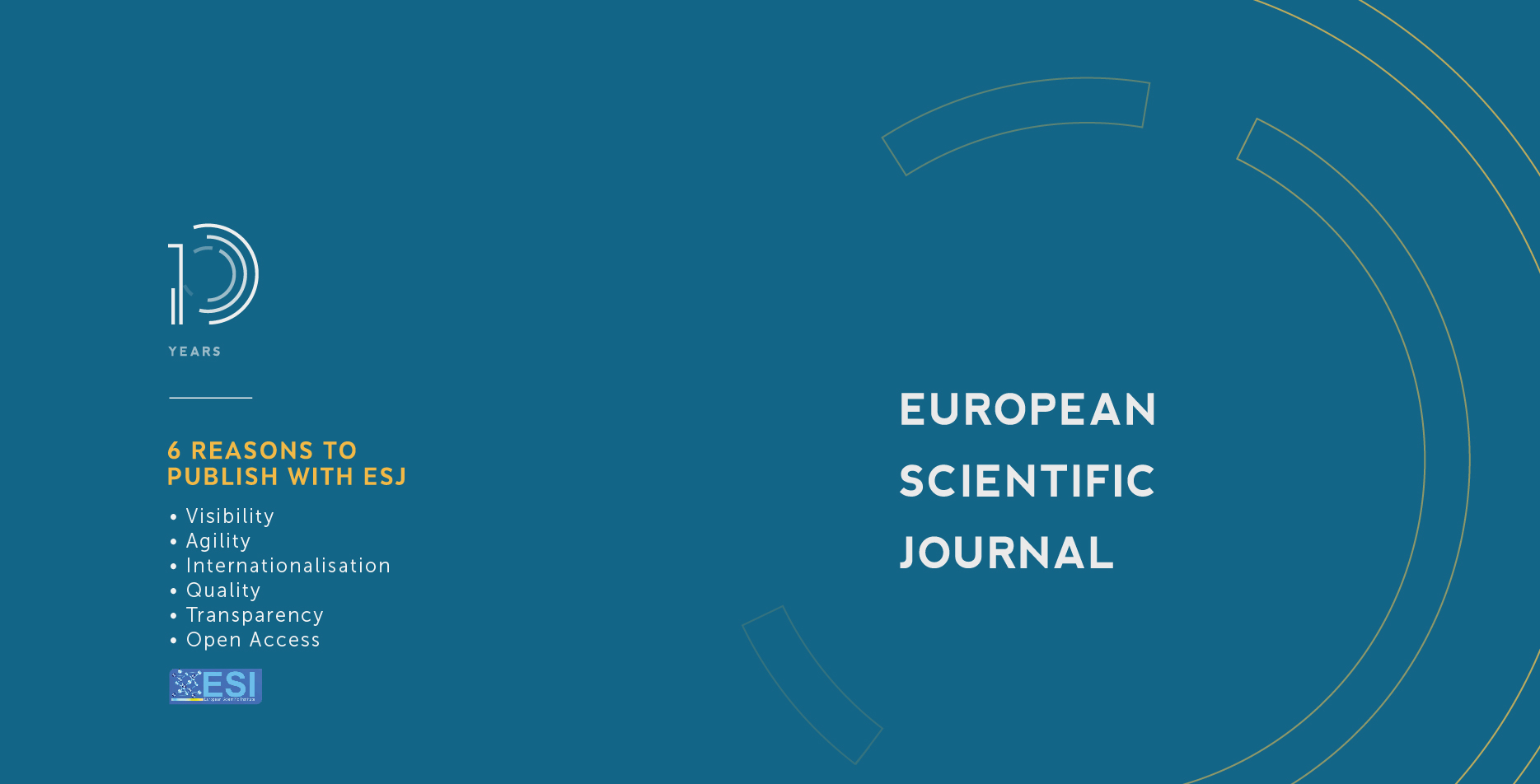 How to Cite
Yao Paul, A. F., Michel Kouadio, G. J., Marcel, K. T., Hervé, K. Y., & Isaac, F. (2021). Etude Chimique et Micro-Cartographique De Roches Carbonatées : Cas Des Calcaires Lumachelliques De l'Oligocène Inferieur Du Bassin Emergé de Côte d'Ivoire. European Scientific Journal, ESJ, 17(14), 52. https://doi.org/10.19044/esj.2021.v17n14p52
Section
ESJ Natural/Life/Medical Sciences
Copyright (c) 2021 Assalé Fori Yao Paul, Gbangbot Jean Michel Kouadio, Kessé Touvalé Marcel, Kplohi Yaba Hervé, Féa Isaac
This work is licensed under a Creative Commons Attribution-NonCommercial-NoDerivatives 4.0 International License.