Effet de la fertilisation organique des étangs à partir des fientes de poulets sur la survie et la croissance des alevins de Oreochromis niloticus (Linnaeus, 1758)
Amon Yao Nicolas

Université Peleforo GON COULIBALY, UFR-Sciences biologiques, Département de Biologie Animale, Korhogo, Côte d'Ivoire

Coulibaly André

Université de MAN, UFR-Ingénierie Agronomique Forestière et Environnementale, Man, Côte d'Ivoire

Kouakou N'Gouan Akpolët

Université Peleforo GON COULIBALY, UFR-Sciences biologiques, Département de Biologie Animale, Korhogo, Côte d'Ivoire

Yao Kouakou

Université NANGUI ABROGOUA, UFR-SN, Laboratoire de Biologie et Cytologie Animales, Abidjan, Côte d'Ivoire
Keywords:
Fertilisation organique, croissance, survie, Oreochromis niloticus
Abstract
Pour apprécier l'efficacité de l'engrais organique dans la production piscicole, une étude a été réalisée sur l'effet des fientes de poulets sur la survie et la croissance des alevins de Oreochromis niloticus en phase de prégrossissement en étang. Pour ce faire, 24000 alevins de cette espèce de poids moyens compris entre 3,93 ± 0,62get 3,97 ± 0,31g ont été sélectionnés et répartis équitablement dans six (6) étangs de 200 m2 à la densité de 20 alevins/m2 . Trois étangs ont reçu une application de fientes de poulet à la dose 10 kg/m2 /mois tandis que les trois autres, pris comme témoins, n'ont pas été fertilisés. Les alevins ont été nourris trois fois par jour à l'aide d'un aliment farineux titrant 35% de protéines à la ration journalière de 10% de la biomasse durant deux mois. Les résultats relatifs aux performances de croissance indiquent que le Gain Moyen Quotidien (GMQ) a été plus important au niveau des poissons élevés dans les étangs fertilisés que celui enregistré au niveau des étangs non fertilisés (1,04 ± 0,17 g/j contre 0,69 ± 0,11 g/j). En ce qui concerne le taux de croissance spécifique pondéral, son évolution a été semblable à celui du GMQ. La valeur enregistrée a été de 4,71 ± 0,22%/j pour les poissons des étangs fertilisés contre 4,07 ± 0,01%/j pour les poissons des étangs non fertilisés. Quant à la survie, de l'ordre de 95%, elle a été sensiblement identique dans tous les milieux d'élevage. Ces résultats suggèrent que l'apport de fertilisant (fientes) contribue à la croissance des poissons par l'augmentation de la production primaire, source supplémentaire de nourriture.
To assess the effectiveness of organic fertilizer in fish production, a study was carried out on the effect of chicken droppings on the survival and growth of Oreochromis niloticus fry in the first stages of their breeding in ponds. To do this, 24 000 fry of this species of average weight between 3.93 ± 0.62g and 3.97 ± 0.31g were selected and distributed equally in six (6) ponds of 200 m2 at a density of 20 fry / m2 . Three ponds received an application of chicken droppings at a dose of 10 kg / m2 / month while the other three, taken as controls, were not fertilized. The fry were fed three times a day with a floury feed containing 35% protein in the daily ration of 10% of the biomass during two months. The results relating to growth performance indicate that the Daily Weight Gain (DWG) was greater in fish reared in fertilized ponds than that recorded in unfertilized ponds (1.04 ± 0.17 g / d against 0.69 ± 0.11 g / d). Regarding the specific weight growth rate, its evolution was similar to that of the DWG. The recorded value was 4.71 ± 0.22% / d for fish from fertilized ponds against 4.07 ± 0.01% / d for fish from unfertilized ponds. As for survival, of the order of 95%, it was roughly identical in all breeding environments. These results suggest that the supply of fertilizer (droppings) contributes to the growth of fish by increasing primary production, an additional source of food.
Downloads
Download data is not yet available.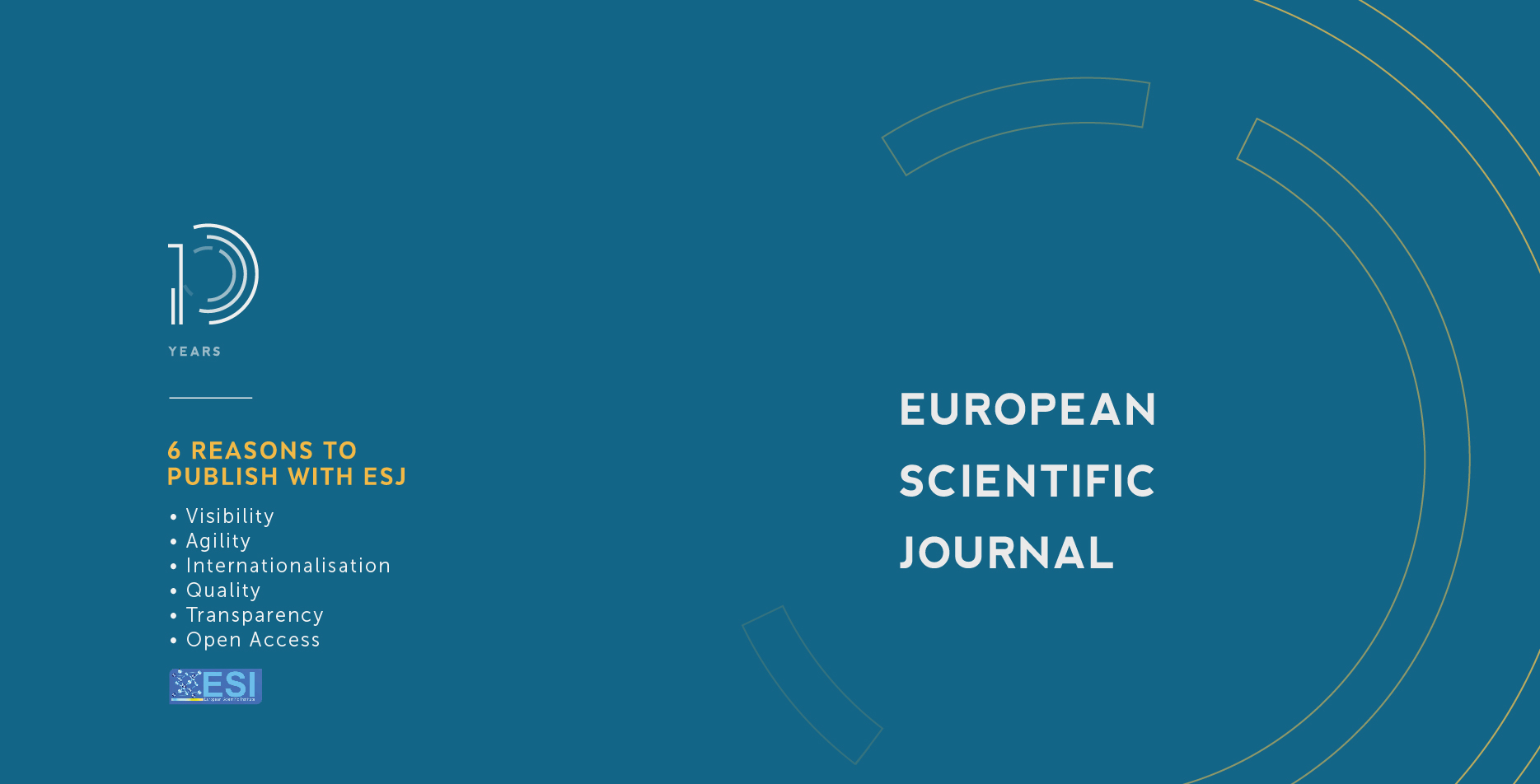 How to Cite
Nicolas, A. Y., André, C., Akpolët, K. N., & Kouakou, Y. (2021). Effet de la fertilisation organique des étangs à partir des fientes de poulets sur la survie et la croissance des alevins de Oreochromis niloticus (Linnaeus, 1758). European Scientific Journal, ESJ, 17(14), 246. https://doi.org/10.19044/esj.2021.v17n14p246
Section
ESJ Natural/Life/Medical Sciences
Copyright (c) 2021 Amon Yao Nicolas, Coulibaly André, Kouakou N'Gouan Akpolët, Yao Kouakou
This work is licensed under a Creative Commons Attribution-NonCommercial-NoDerivatives 4.0 International License.